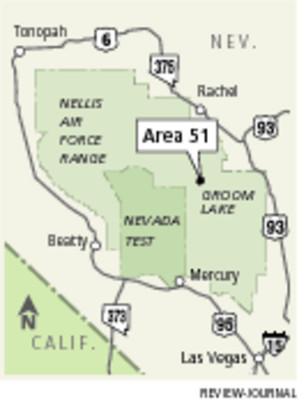 The place that didn't exist has a new name: Homey Airport.
That's what the Air Force Times is reporting about the classified but widely known installation along the dry bed of Groom Lake, often referred to as Area 51.
Over the years, stealth fighter jets and top secret high-tech aircraft have been tested against foreign radar systems and even Soviet MiG jets flown by U.S. pilots. The place has had as many aka's as someone trying to evade police — from Dreamland, to the Ranch, to the Box.
" 'Homey Airport' now appears as the official name for a certain air base near a certain dry lake bed in Nevada," the Air Force Times reported in its Wednesday edition, citing other Web site reports including one by the Aircraft Owners and Pilots Association.
But a Nellis Air Force Base spokeswoman, Capt. Jessica Martin, denied the "official" status of the installation's name in a telephone interview late Thursday with the Review-Journal, saying about Homey Airport: "That's not something that we designated. We're not sure where that came from.
"Most of it is classified," she said about the place that Presidents Clinton and George W. Bush have issued exemptions for in the past, invoking national security that allows the Air Force to keep mum about its operations at Groom Lake.
Earlier Thursday Martin deferred to the Federal Aviation Administration's Western-Pacific Region office, however, a spokesman there, Ian Gregor, wrote in an e-mail that the FAA does not assign names to military bases.
"We do establish the three-letter identifiers for airports (such as LAS, SFO, LAX, ORD etc.), and we also assign names to approach and departure routes into and out of airports. But we don't name bases," Gregor wrote.
A story titled, "Don't ask, don't tell: Area 51 gets airport identifier," posted on the Aircraft Owners and Pilots Association's Web site, says for the past year Area 51 has been identified as KXTA on flight-planning software and handheld GPS receivers.
"KXTA (standing for what, extraterrestrial?)" the association's story asserts as a reference to aviation lore that the base is secret because space aliens have been held there.
Attempts to reach association officials late Thursday in Frederick, Md., were unsuccessful.
The government's official stance on keeping Area 51 exempt from public disclosures dates back to 1995 when Clinton issued the first exemption in response to two lawsuits filed by injured workers who sought information about environmental compliance at Groom Lake.
They claimed, as John Does, that they became sick and at least two died from inhaling toxic fumes from radar-evading, stealth coatings that were burned in open pits at Area 51 in violation of environmental laws.
Jonathan Turley, the George Washington University law professor who represented the workers and two widows said, "As humorous as this naming may be, it produces very bitter feelings among those of us who have tried to disclose the crimes at the facility."
Turley had argued that secrecy for Area 51 was used for legal rather than national security reasons.
In 2003, a three-judge panel in the 9th U.S. Circuit Court of Appeals determined that the Justice Department, representing federal defendants, did not abuse national security when information was struck from court documents in the two 1994 cases.
"The fact they now give the place a name is because they now believe officials are no longer held accountable for their crimes," Turley said by telephone from Chicago.
"Whatever its name is, it will remain a symbol of how the government has the ability to avoid any accountability for environmental crimes that may have killed three people," he said.
Contact reporter Keith Rogers at krogers@reviewjournal.com or (702) 383-0308.
WEB EXTRA
Area 51