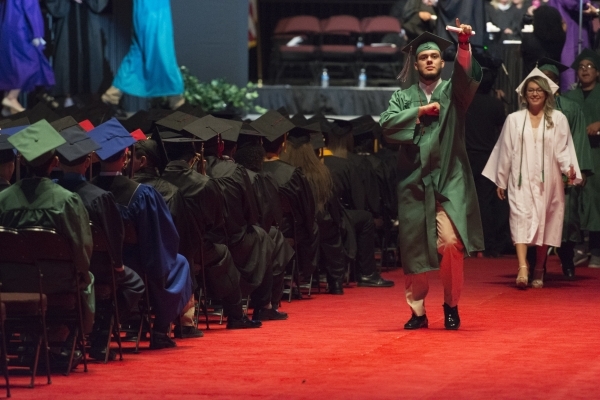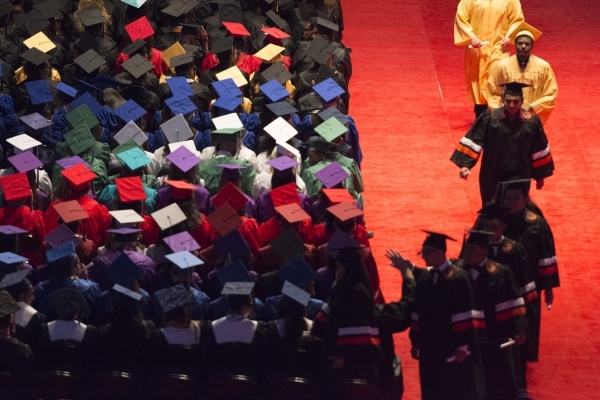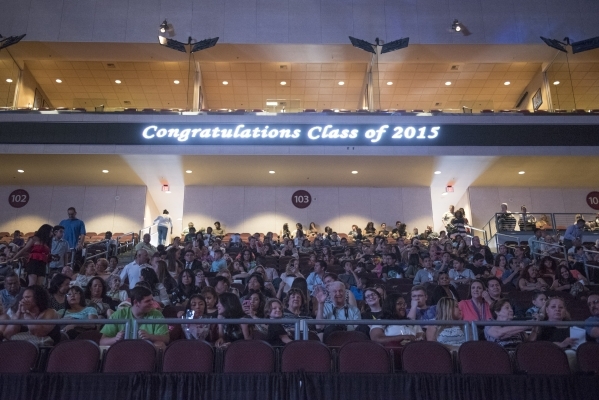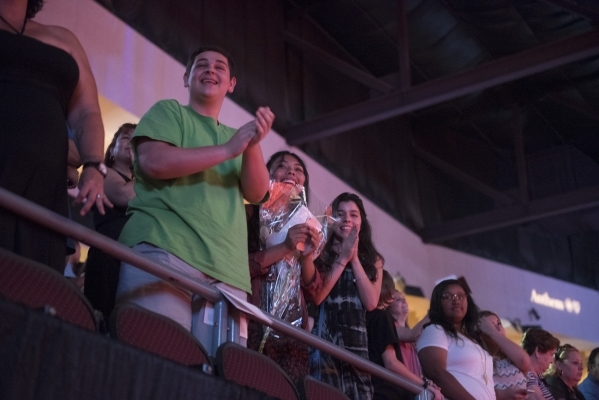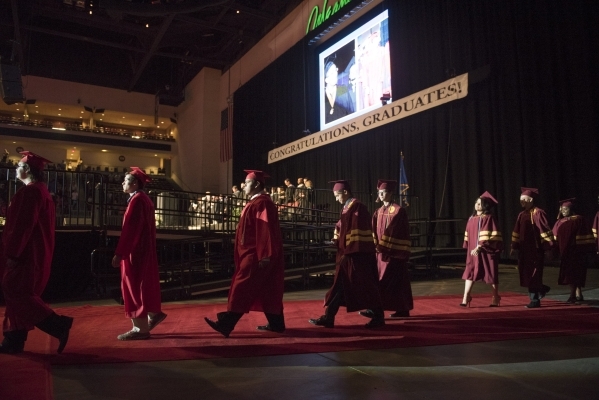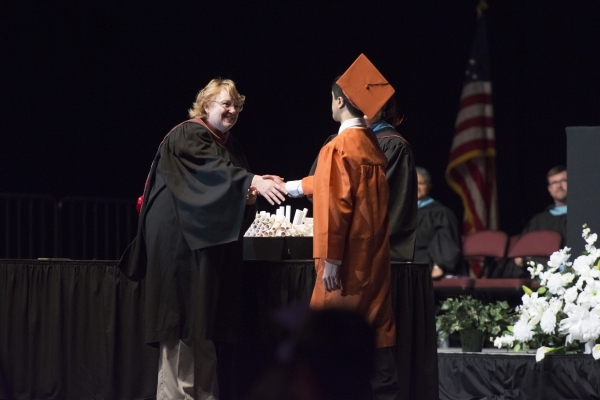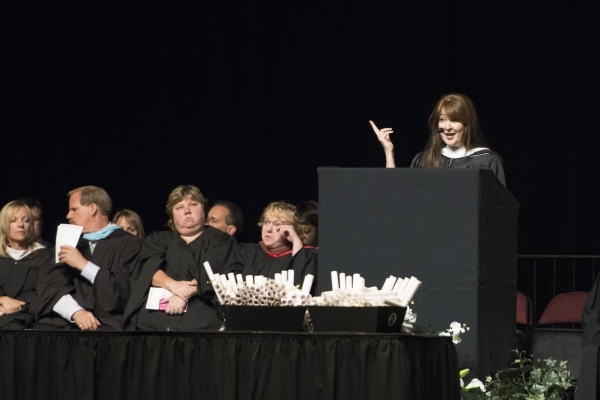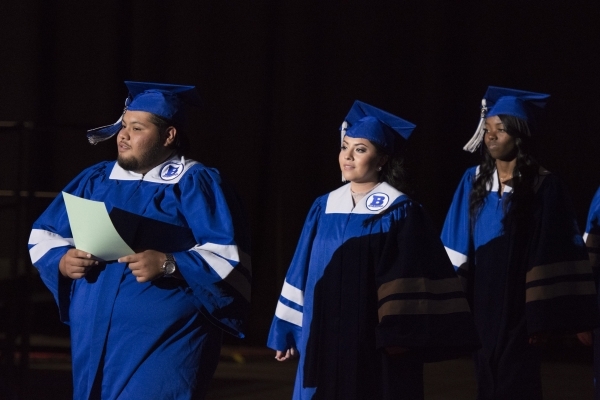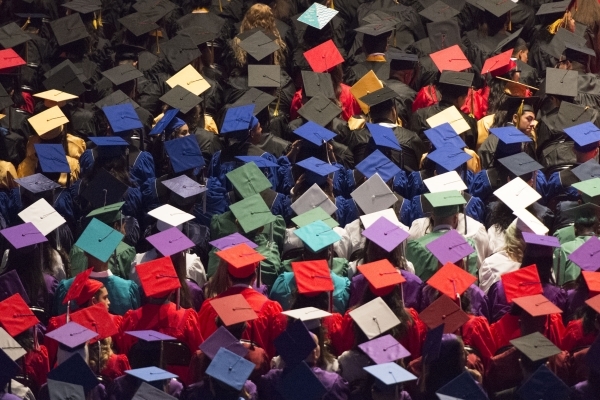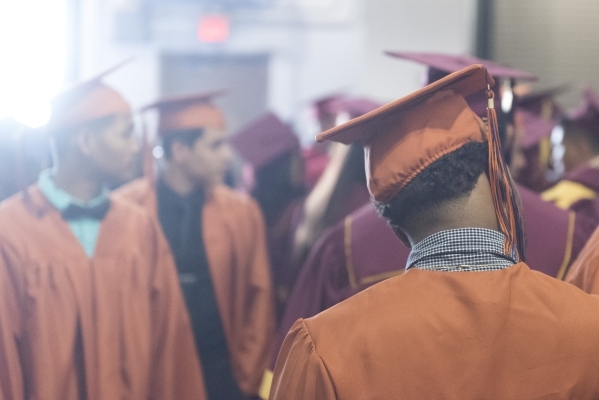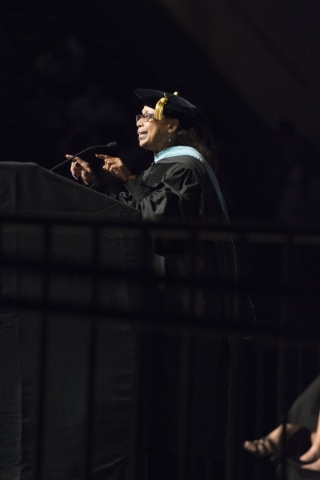 While many Clark County students spent their summer break working, playing video games or enjoying the outdoors, Cassie Charles completed seven online courses to earn her high school diploma a year early.
The 17-year-old, who on Tuesday was the first Clark County School District student to walk across the stage at a summer commencement ceremony at the Orleans Arena, studied and tested out of U.S. history, government and English in a matter of weeks.
"I worked really hard to take the next year off," Charles said.
A student at the virtual Nevada Learning Academy, Charles plans to become a professional chef but decided against starting college this fall.
"I'll have a lot of time to figure out who I am and decide whether that's my passion," she said. After a year of college, "most students spend a lot of money trying to reroute their lives. I want to take my time."
Other early graduates joined Charles at the Tuesday event, but the majority of the 580 students who walked across the stage had missed the opportunity during the traditional commencement season in June because of missing credits or failed proficiency exams.
The district, which for four years has hosted the summer graduation ceremony, declined to release its preliminary graduation rates for 2014-15 until the state completes an audit of the figures later this year.
On Friday, the Nevada Virtual Academy will host another nontraditional graduation ceremony at the Aliante.
The online public charter school awarded diplomas to nearly 100 seniors in June, but Principal Orlando Dos Santos also wanted to honor about a dozen students who dedicated their summer to completing missing credits or retaking a proficiency exam.
"It's important to recognize them too," Dos Santos said.
According to Dos Santos, 16 students in the Class of 2015 participated in the academy's new dual credit program, which lets students earn college and high school credit at the same time.
The principal expects about two dozen students in the Class of 2016 to take advantage of that program.
"The hope is to get all of our kids a chance to take some dual credit classes," Dos Santos added.
"College is expensive," he said. "We pay for those classes for the students because we want to give everybody an opportunity who may not necessarily think they have the financial ability to go to college."
Contact Neal Morton at nmorton@reviewjournal.com or 702-383-0279. Find him on Twitter: @nealtmorton.