Early voting becomes popular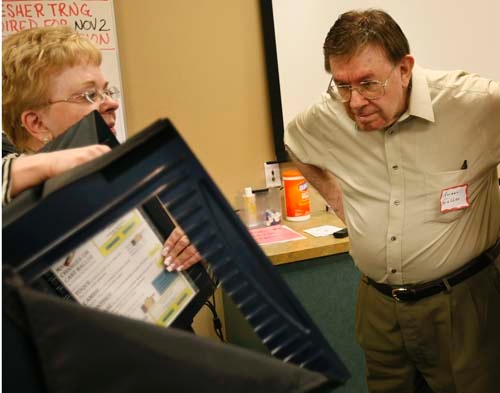 In what is swiftly becoming the new normal, more Clark County residents are expected to vote early than on primary election day itself.
County Registrar of Voters Larry Lomax predicts the now decade-long trend will continue when early voting begins today and runs through June 4. Election day is June 8.
He credits greater flexibility for early voting's growing appeal.
"It's easy and convenient, and they can do it in a place and time of their choosing," Lomax said. "Even waiting in line, they're smiling and happy."
On election day, when people must vote at a designated polling place, they tend to be more earnest and pressed for time, he said.
Most county residents by now should have received a sample ballot in the mail with instructions on how to vote early. If they didn't, they either can call the elections office or go to the department's website for information.
Although this year's primary features three marquee contests — the Republican U.S. Senate race, the Republican gubernatorial race and the County Commission's lone Democratic primary race in District G — voter turnout is expected to be lackluster.
Lomax anticipates about a 26 percent turnout, putting it in line with most primaries in the past decade. It's certain to surpass the 2008 primary, which drew a meager 14 percent because of the lack of races with broad appeal, he said.
As of the May 8 registration deadline for the primary, 692,747 were registered to vote in Clark County.
With early voting, you can pick whichever polling site is available on a given day, Lomax said, adding that many people prefer it because they can vote someplace close to where they work.
There will be 83 different sites used during early voting, including the Galleria and Meadows malls. On most days, voting will be available at 23 sites, Lomax said.
Mail-in ballots are technically considered part of early voting, but the two are put in separate categories, he said. When the two are combined, the numbers show that since 2000 more people have voted early than on election day.
Local Republican and Democratic officials agree on one thing: Early voting has become a crucial time for candidates.
Both major parties scan voter registration records to better target their campaign efforts at those who vote early, said John Hunt, former chairman of the local Democratic Party.
"Those who don't are making a big mistake," he said.
Candidates now tend to run their big-dollar, 60-second commercials the week before early voting begins, whereas 10 years ago the pricier ads were scheduled much later in the race, said Bernie Zadrowski, former chairman of the county Republican Party.
"You didn't see the blitz for early voting as you do now," Zadrowski said.
Since the county adopted early voting in the mid-1990s, it has grown from 17 percent participation in the 1996 general election to 62 percent in 2008 general election, Lomax said.
"Early voting reflects a more modern way of voting," he said.
Contact reporter Scott Wyland at swyland@reviewjournal.com or 702-455-4519.
VOTING INFORMATION
Early voting information from the Clark County elections department website or call:702-455-8683.
Latest Clark County voter registration numbers
Coming Sunday
VOTER GUIDE TO PRIMARY ELECTION