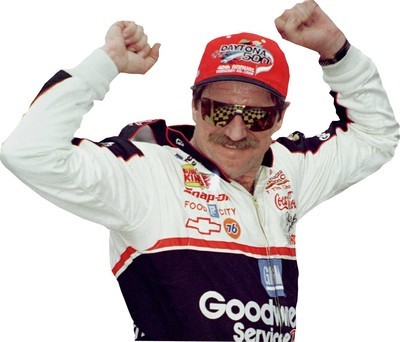 If Dale Earnhardt didn't win the race, it was rare that anyone beat him out of town.
Only the bravest of souls tried slowing down the gruff racing legend, who won 76 races and seven NASCAR Winston Cup championships. He and Richard Petty, another legend, each have won seven titles, a NASCAR record.
No sooner had Earnhardt crossed the finish line than he changed quickly into civilian clothes, said Chris Powell in a story he related to Vegas Confidential recently. Powell is a former public relations director for RJ Reynolds who is now the executive vice president and general manager of Las Vegas Motor Speedway.
One day in 1997 after a race at Sears Point Raceway (now Infineon Raceway) near San Francisco, Powell watched from the media center as drivers Sterling Marlin and Kenny Schrader played with fire.
They found Earnhardt's rental car and "put some gravy substance on his windshield and grease under door handle," said Powell, who then worked for RJR.
"They put lug nuts in his hubcaps and baby powder in the air conditioning so it blew out baby powder when it came out," recalled Powell.
Within a few minutes after the race ended, Earnhardt and his wife, Teresa, arrived at the car in a rush.
Teresa was the first victim. She grabbed a door handle and came up with goo all over her fingers.
Powell watched as Earnhardt had little luck in cleaning off the windshield.
Powell never heard the full details on how it all played out later.
"I don't know how he got them back," said Powell, " but I heard he got them back big time."
THE SCENE AND HEARD
Seven-foot center Chris Mihm, traded to the Memphis Grizzlies last week by the Los Angeles Lakers, got the VIP treatment for the very large on Wednesday at "Phantom: The Las Vegas Spectacular" at The Venetian. After Mihm arrived with his date, it was quickly apparent that a regular-sized theater seat would not suffice, and a special seat was brought in for him.
SIGHTINGS
Pittsburgh Steelers quarterback Ben Roethlisberger racing Wednesday at Fast Lap Indoor Kart Racing. Roethlisberger, who has been in town all week, was also spotted at the Palms' ghostbar. He'll be calling shots of another kind tonight at Tao (Venetian). He and several of his teammates are gathering for a party to celebrate their Super Bowl-winning season. … "Private Practice" star Taye Diggs and a pal, taking in "KA" (MGM Grand) on Wednesday night. Afterwards, he saluted the cast in the KA training room. He showed up at CatHouse (Luxor) about 3:45 a.m. with two gal pals and ordered Patron shots. They danced until 6 a.m. … At LAX (Luxor) on Wednesday: Jamie McMurray, David Stremme, Robbie Gordon, Elliot Sadler, Denny Hamlin, Reed Sorenson and Brian Vickers. Also in the club: country music star Cowboy Troy.
THE PUNCH LINE
"(President Barack Obama) says we can overcome this crisis if we all work hard and make sacrifices — which means we are screwed." — comedian and late-night TV host Jimmy Kimmel
Norm Clarke can be reached at (702) 383-0244 or norm@reviewjournal.com. Find additional sightings and more online at www.normclarke.com.