Economy, jobs top issues in state poll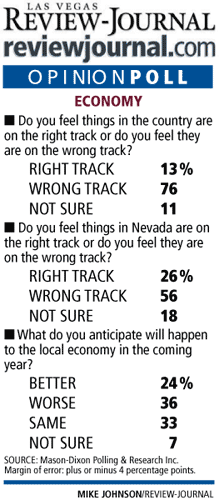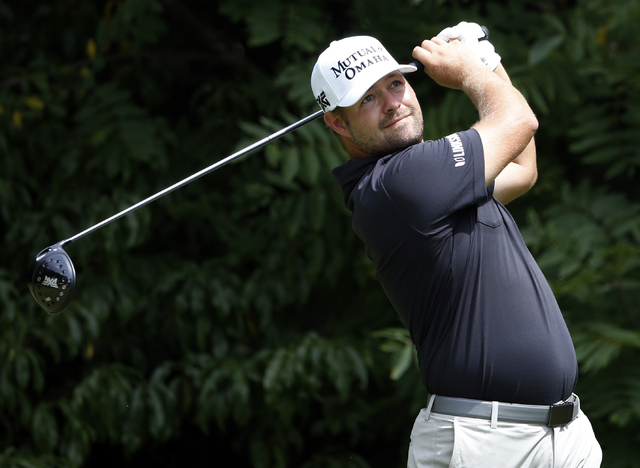 Maybe it's the nonstop ticker of reports citing dropping taxable sales and rising unemployment.
Or perhaps it's the foreclosure signs that pepper some of the city's newest subdivisions.
Those monthly releases pointing to a string of slides in the state's gaming win might be contributing as well.
Whatever the reason, the state of the economy and the health of the job market anchor Nevada voters' priorities as election season approaches. Respondents answering a new Review-Journal poll placed the economy and jobs at the top of their list of concerns this year, with economic conditions ranking well ahead of the war in Iraq and even energy prices as issues likely voters said they're watching.
Few voters feel the effects of a flagging economy like business owners, who must balance faltering sales with growing expenses, all while preserving benefits and jobs. And though many local executives agree with poll respondents on the most critical issues facing the country and the city, they rank them differently.
Cornelius Eason, owner and president of Las Vegas employment agency Priority Staffing USA, said energy and fuel costs affect his business as much as general economic woes.
Fuel costs, and even jumping food prices, have changed how he operates, leading him to institute telecommuting for his employees one day a week. He also buys his staff lunch three times a week, and his office launched a coupon-sharing program to help workers cover food expenses. Throw in fewer staffing orders from clients feeling the pinch of bigger outlays and flagging revenues, and both energy and the job market exert equal pressures on Eason's company.
Energy costs weigh on Tim Gallock as well.
The inks and other production chemicals Gallock uses at commercial print shop Black Mountain Graphics come from oil, so big gains in petroleum prices push up his outlays for materials. Gallock, president of Henderson-based Black Mountain, estimated that record oil prices have added 25 percent to his cost of doing business in the last year. Yet, stiff competition for local print jobs means Gallock can't simply raise his prices to cover new costs.
Some of the state's smallest businesses worry most about a topic that failed to break into the top five among likely voters polled for the Review-Journal.
Cheryl Blomstrom, director of the Nevada chapter of the National Federation of Independent Business, said health care served as "the topic of the week" at a national small-business summit in Washington, D.C., earlier this week. Growing insurance premiums divert company dollars away from new hires and expansions; some businesses must forgo coverage altogether, thus hurting their ability to compete for the best workers, Blomstrom said.
When business executives name the war in Iraq as a top concern, it's as a "stress on the economy," said Cara Roberts, a spokeswoman for the Las Vegas Chamber of Commerce.
The war factors into the country's economic health because spending on the conflict contributes to budget deficits, which in turn drive inflation and alter the interest rates at which banks borrow money, Eason noted.
Executives mostly agreed with the majority of poll participants who questioned the direction of the country and the state.
Likely voters expressed more doubt about the country's direction than the state's course.
The split makes sense to Gallock, who lamented the national economy and the war, but who also noted that Nevada's economy seems healthier than the business climate inside regional competitors such as California.
Wayne Laska, president of local builder StoryBook Homes, said he's especially concerned with Nevada's leadership.
Gov. Jim Gibbons "has one of the lowest rankings I've ever seen as far as whether he's doing a good job," Laska said. "He needs to get his act together if he's going to lead the state out of its current situation."
Many members of the Las Vegas Chamber of Commerce would concur that Nevada and the country are on the wrong track, Roberts said, but their problem typically rests with government spending. Business owners worry about the toll entitlement programs such as Social Security and Medicare will take on the economy as the programs slouch toward insolvency. In Nevada, businesspeople want state spending to reflect budgeting among private enterprises, Roberts noted. The nation's private sector has shed 79,000 jobs since August, while the public sector has gained 215,000 positions in the same period, according to the Bureau of Labor Statistics.
"There's a real disconnect there, and in our case, Nevada also has public-employee retirement packages that continue to add burdens to our long-term fiscal health," Roberts said.
But maybe the problem isn't the direction the state is taking so much as its lack of direction, Eason said.
"We don't have any focus right now," he said. "I don't think we're focused on the right issues, and in my mind, the right issues are transportation, health care, education and a stable tax system that sustains itself through ups and downs. I think we're very much reactionary," grappling with needs such as road construction on an annual basis as funds become available, rather than forming long-term financing plans.
Executives also largely fell in line with likely voters' expectations for the economy. More than two-thirds of poll respondents predicted the local economy would stay the same or worsen in the next year.
Contact reporter Jennifer Robison at jrobison@reviewjournal.com or 702-380-4512.