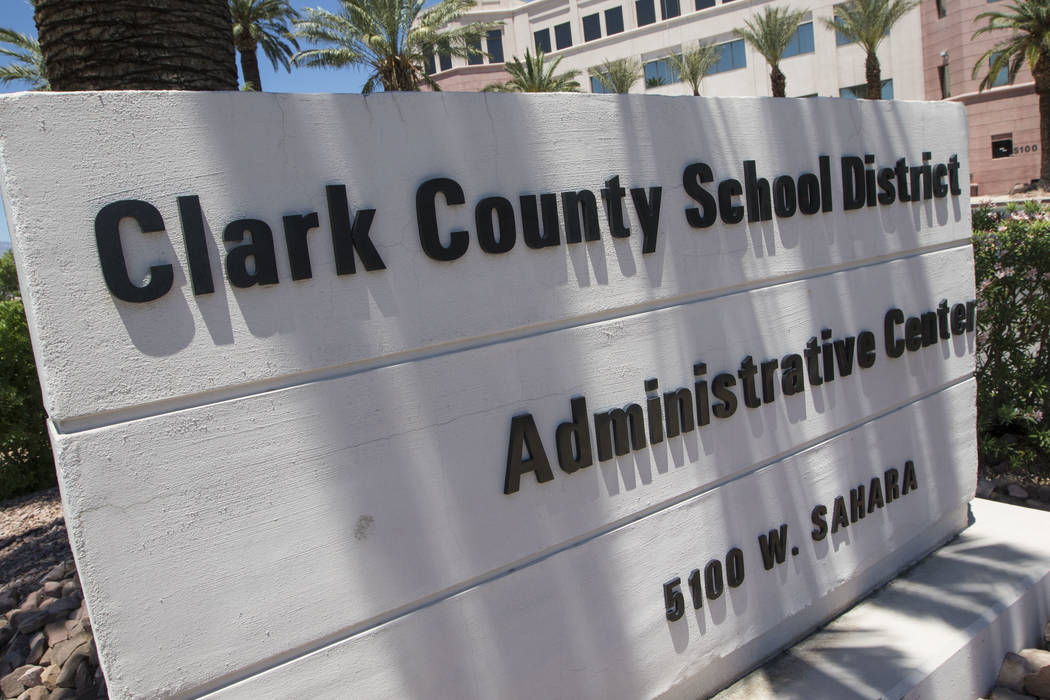 Ten struggling Clark County schools remain in the running to be partnered with a charter school through the state's Achievement School District program.
The list of schools, which included two that were also considered last year, was presented to the Nevada State Board of Education on Thursday. The remaining schools, all in Clark County, were chosen from an initial list of 24 underperforming schools in the state.
The schools, all in Las Vegas, are:
— Detwiler Elementary.
— Hal Smith Elementary.
— Herr Elementary.
— Jerome Mack Middle.
— Johnston Middle.
— Kelly Elementary.
— Lynch Elementary.
— Manch Elementary.
— Reed Elementary.
— Ronzone Elementary.
The schools all performed in the bottom 5 percent of schools statewide last year and have an average proficiency rate of 13.5 percent in Math and 21.7 percent in English language arts, according to the state. Mack Middle and Kelly Elementary also were considered for inclusion in the Achievement School District last year.
What happens next?
In the next 30 days, the state board must choose at least half of the schools on the list to move forward to the next step. The schools that go forward at that time will then be considered for partnership with one of three charter operators already approved by the state this year.
Earlier this month, the state announced three new charter operators that have met the qualifications for the ASD program. Two of the charters are new, while the third would be a branch of an all-boys charter network based in Chicago.
The charters were approved as "neighborhood options," which means they would open nearby a selected school and students currently attending that school would get first preference to attend the charter.
The program also allows for a charter to come in and takeover an existing school's building and operations. None of the charters this year was approved for that option.
Since its inception, the Achievement School District concept of a charter school taking over a traditional public school has been controversial. It also has met with resistance from Clark County district officials.
During the selection process last year, school communities members pleaded with the state to allow them to continue improvement efforts on their own. While there was no dissent at Thursday's meeting, that may have been because the charters this year want to open as a neighborhood option, as opposed to taking over an existing school.
A new network
On Thursday, the state also introduced a new "partnership network" through the Achievement School District that it intends to use improve performance of struggling public schools by sharing funding and best practices.
The plan would cover 25 schools in four different areas, all in Clark County. All schools eligible for the Achievement School District except Mack Middle School are clustered into the new network.
The Clark County School District is aware of the plan, state officials said.
"This is an opportunity to come together to drive the student outcome gains we are trying to reach as we work to become the fastest improving state in the nation," said Deputy Superintendent Brett Barley.
State officials said they started having conversations with school district leaders and will begin to talk to principals in the coming weeks. Some state board members, however, expressed concerns about the work being in the network may impose on principals.
"I don't want us to be in a position that we were last year where schools felt this was being done to them and not with them," said board member Felicia Ortiz.
The partnership network would be able to "braid together" exist funding streams to better serve students. Barley estimated about $14 million in existing funding could be leveraged to support the network in the first three years.
"Almost all of these schools are on the Rising Star school list and almost all of them share similar geographic vicinities," he said.
Contact Meghin Delaney at 702-383-0281 or mdelaney@reviewjournal.com. Follow @MeghinDelaney on Twitter.