At public meeting, CCSD trustee discloses he was victim of child rape
August 10, 2018 - 5:19 pm
Updated August 10, 2018 - 11:31 pm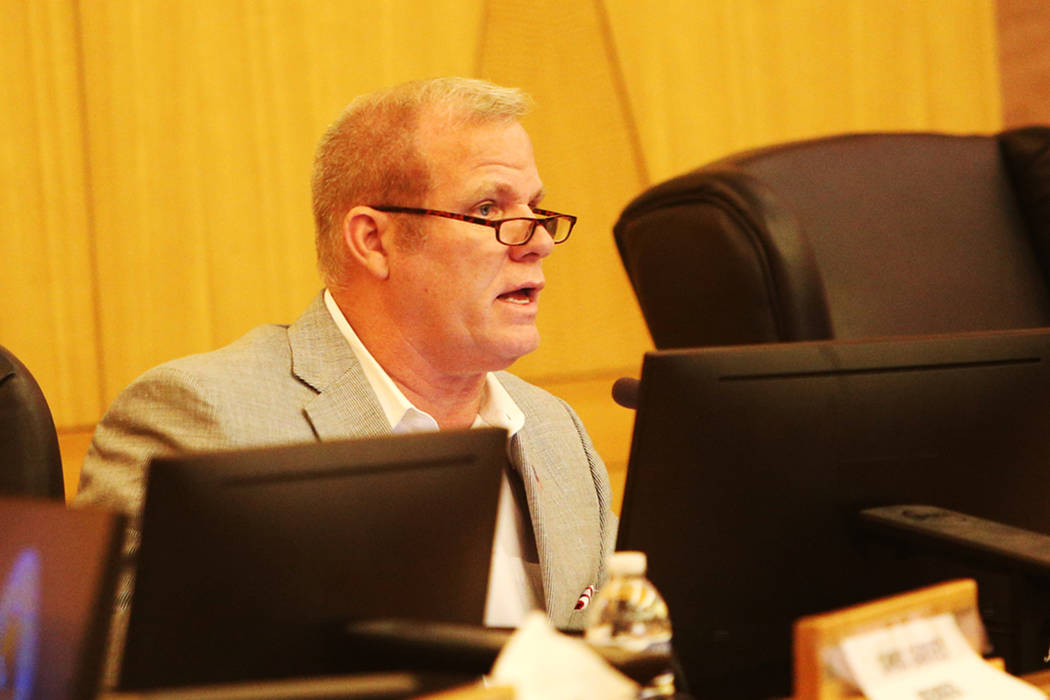 In the midst of an at-times heated debate over the Clark County School District's gender diversity policy, Trustee Kevin Child made a highly personal disclosure in an effort to illustrate his support for strengthening the state's anti-bullying law rather than putting new rules on the books for transgender and other students.
He said he had been raped as a child.
The comment came at a packed School Board meeting Thursday as Child sought to explain his opposition to the new district policy aimed at providing guidance for principals and schools to ensure the safety and well-being of students with diverse gender expressions. The trustee, who is locked in a tight re-election race, ultimately cast one of three dissenting votes as the board approved the policy by a 4-3 vote.
"I have many parents in my district that have called me, and a lot of them, they don't hate transgender kids. They don't hate different kids," Child said during the meeting.
"We have to understand each others' kids and get along with each other. I was bullied as a child. I was raped as a child. I don't blame anybody, but I'm here to help to fix the problems that are wrong in this world."
Accosted by neighbor
Child reiterated the rape allegation Friday in an interview with the Review-Journal, saying he was sexually assaulted by an older male neighbor when he was 6 years old and living in Illinois. He said he didn't tell anyone at the time because the neighbor threatened to take Child away from his parents.
The 56-year-old trustee said he also suppressed the occurrence. It was only when he underwent hypnotherapy at age 38 that he remembered the trauma, he said, since he had "shoved it so far down."
Child said that because he had been raped and because he had attention deficit disorder and dyslexia as a student, he was constantly bullied. And there was no special protection for him, which is why he believes that a special policy for transgender children is not necessary and that the state anti-bullying law should be enforced better to protect all children.
"We need to protect the bullying policy before we add something else to it. Every single child is covered by that bullying policy," he said.
New policies won't fix problems the students are facing, he added.
"We have laws that tell people they can't speed. We tell people you can't drink. The laws are there to protect people, but people don't listen to them," he said. "You just add a transgender policy, but people aren't going to listen to that."
For some in the audience, Child's comment came without context, leaving them wondering why he chose to make the personal disclosure at the meeting.
"It didn't seem like something we expected him to say or something that seemed fitting for the audience. I couldn't tell you why he decided that was the moment to bring it up," said Cassie Charles, a field organizing specialist for Planned Parenthood.
Previous concerns
Concerns have been raised about Child's behavior since April 2014, according to documents obtained by the Review-Journal. Staff members wrote to district officials after Child began having impromptu suicide talks with children in schools.
The reports obtained so far — the Review-Journal is suing the school district for a full disclosure of records — also include reports that Child commented on the "sexiness" of an employee's clothing and confronted an administrator after high school football players knelt during the national anthem at a football game.
Child has repeatedly said he has never done anything to make people uncomfortable, even after trustees settled a sexual harassment complaint lodged against the district over his behavior by former Deputy Superintendent Kim Wooden. The settlement included a provision changing Wooden's contract so she wouldn't have to work on board projects or could work from home.
After the settlement, Child threatened to sue the school district, although no lawsuit has yet been filed.
Charles also said that Child's use of his personal story to argue that transgender students don't need protections employed false logic.
"Transgender students are the most vulnerable right now," she said. "They need these protections, and if any other student group needs protections, they should get a policy as well."
Deborah Earl, vice president of Power2Parent, a group that was outspoken in opposing the new policy because they said it would take away parental rights, said she watched from home and did not hear the remark.
Informed of it Friday, she expressed empathy while also drawing connections to the gender diversity policy.
"I feel sorry for any child who has been through that," she said. "I think these issues bring up past experiences that might have been hurtful. I think a lot of people are reflecting on their own experience and thinking this (policy) isn't going to work for them."
A previous version of this article incorrectly identified the party named in former Deputy Superintendent Kim Wooden's sexual harassment complaint.
Contact Meghin Delaney at 702-383-0281 or mdelaney@reviewjournal.com. Follow @MeghinDelaney on Twitter. Review-Journal staff writer Amelia Pak-Harvey contributed to this report.