Award recognizes Kelly Elementary School for excellent food service
December 20, 2011 - 12:20 am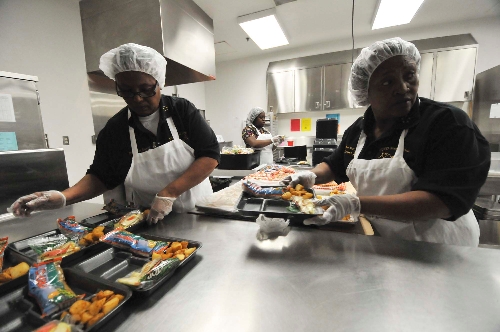 Students in the Clark County School District come into the lunchroom every day expecting a tasty meal, but few of them know the lengths that food service staff members go through to feed all 309,000 of them.
The staff members at Kelly Elementary School, 1900 N. J St. near downtown Las Vegas, stand above the rest, and they have the shirts to prove it.
The staff of four women, led by senior food service manager Shawn Spight, dons black shirts bearing five gold stars. They recently received the district's first Food Service Five Star Award for excellence in the areas of health, safety and attitude.
"It's an honor, first of all," said Spight, a 22-year veteran in the district. "It means we've taken care of our job and taken care of it well. It is just an honor."
It was years in the making, too.
The district and other health organizations perform biannual checkups at all 357 schools. Officials inspect for compliance in areas of food temperatures, preparation techniques, cleanliness, food cost, food waste, labor, supply, budgets and even customer service.
For every three consecutive checkups with no demerits, a school earns a Dining Excellence Award. Get three of those in a row, and a school earns the Five Star Award.
The district's Food Service Department began offering the award two years ago. Many schools have come close, said Carmel Salazar, senior supervisor for Hazard Analysis and Critical Control Points food compliance, but sustained excellence is no easy task.
"Our guidelines are stricter than your average restaurant," Salazar said. "We have to serve the proper portions and components. It's very difficult."
Following district instructions does not ensure a school will pass because it is easy to overlook things, Salazar said. Mistakes often are made, and a school must start over from scratch to work toward Dining Excellence and Five Star awards because of one imperfect review.
As for the customer service aspect, Spight said it is important that students get breakfast with a smiling face. She considers herself a "mom away from mom" for the kids.
Monday's breakfast is especially important, she said, since it is the first meal that some have had since Friday's lunch. Monday mornings also are the busiest in the district for kids visiting the nurse with a stomachache, she said.
Kelly is one of about 30 schools in the district that serves free breakfast to every student as part of the universal breakfast program started this school year.
"It's important the students get met in the morning with a friendly face," Spight said. "I'm the first face they see. My attitude is what starts their day."
Contact View education reporter Jeff Mosier at jmosier@viewnews.com or 224-5524.