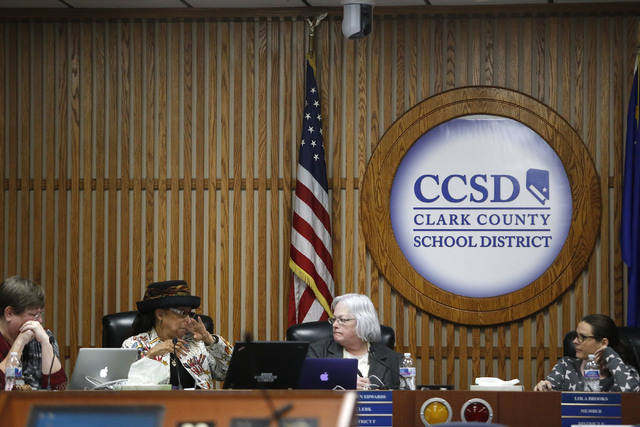 The Clark County School Board on Thursday approved student performance agreements for the school district's worst performing schools.
The move creates a locally controlled alternative to the state Department of Education's own agreements that gave those schools an exemption from joining the controversial Achievement School District.
The agreements are the district's effort to embrace accountability for under-performing schools — known as Rising Star schools — that are at risk of being converted into charter schools.
"We've already met with the principals of the schools in the Rising Stars list, and they are in full support of this," said Chief Academic Officer Mike Barton. "They know that accountability is paramount, however they feel that accountability within the local context is paramount as well."
The Achievement School District, which was largely stalled this year after the FBI raided one charter operator in California, will pair up to six under-performing schools with charter operators.
Trustees rejected a proposal to enter into compacts with the state in March — an opportunity to spare schools from the achievement district if they met certain student achievement goals.
Principals and trustees balked at the state's proposal, saying the school district was working on improving underperforming schools on its own.
Under the district's own plan, two associate superintendents would visit the schools twice a year in an attempt to remove them from the Rising Stars list, Barton told the School Board. Trustees would receive reports on the schools' improvement.
"I really appreciate this because when we talk about local control, this is exactly what we need to do," said Trustee Chris Garvey. "We need to be proactive."
Nevada Department of Education officials were unaware of the district's plan to create its own performance agreements with the most under-performing schools.
"We're very curious to see what types of commitments they're going to make in their own compacts," state Superintendent Steve Canavero said Monday. "That would be a critical point for us."
State officials said the district's version of the performance agreements likely won't be treated the same way, and those schools could still be considered for the Achievement School District.
"Having not seen them and having no sense of what's in them, it's difficult for us to answer a question as to whether they suffice," said Achievement School District Superintendent Jana Wilcox-Lavin. "We'll have to wait and see."
Contact Meghin Delaney at mdelaney@reviewjournal.com or 702-383-0281. Follow @MeghinDelaney on Twitter. Contact Amelia Pak-Harvey at apak-harvey@reviewjournal.com or 702-383-4630. Follow @AmeliaPakHarvey on Twitter.