Boxing club offers youths purpose, grit and determination
February 5, 2015 - 2:00 am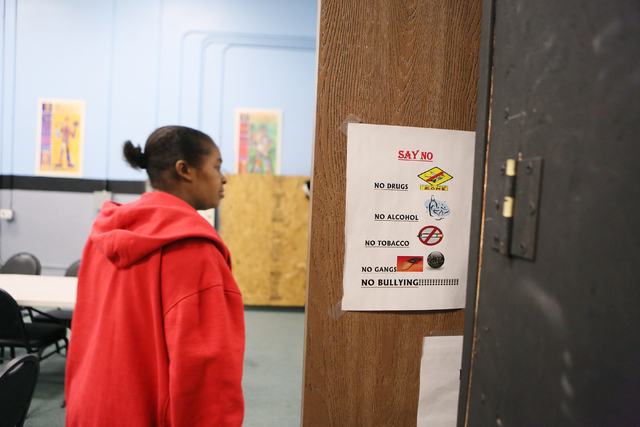 Richard Steele has experienced it all in the world of boxing.
He fought professionally for seven years with a record of 16-4, including 12 knockouts. Then, for roughly 30 years, Steele was inside the ring, refereeing some of boxing's legends, including Mike Tyson, Floyd Mayweather and Sugar Ray Leonard.
Recently, Steele was elected into the International Boxing Hall of Fame.
At 71, Steele continues to step inside the ring, but this time it's with 8- to 18-year-olds and people battling Parkinson's disease.
"Before boxing, I did lack confidence, and I never pushed myself," Steele said. "Boxing taught me that you can make something out of your life. I wanted to give back to the community. That's why I opened this club."
Steele started the Richard Steele Boxing Club, 2475 W. Cheyenne Ave., No. 110, in 2004.
STEELE'S NEXT GENERATION OF YOUTH
It's a place of sanctuary and hope for youths who are struggling with their grades, lack confidence or need a place to go after school.
"This community was in desperate need of something like this," Steele said. "Not everyone in here wants to be a boxer, but there's something in here for everyone."
The club offers boxing fitness lessons, competitive team boxing, academic support and tutoring, youth leadership development, group health and awareness classes and community outreach.
There are typically 40 to 60 youths who use the gym every month, Steele said.
Additionally, parents can use the treadmills to work out while their children participate in the program.
Some of Steele's former students have fought their way to the world title, which is what 14-year-old national champion Czarina McCoy is hoping to accomplish.
"I had anger problems before I came here, and I used to get in trouble at school a lot for it," McCoy said. "I took classes here where I learned how to control my anger, and boxing helped me release that extra energy. My goal right now is to go to the 2020 Olympics."
Taariq Muhammad, 16, said boxing has taught him to never quit and has kept him motivated in life.
"People have tried recruiting me into gangs or pressured me into drugs or to smoke. If I didn't give in they'd say, 'You ain't the homie,' " Muhammad said. "Peer pressure is nothing now. I just want to focus on my future."
The club also serves a late lunch, provided by the Culinary Academy of Las Vegas, at 4 p.m.
Homework help in math, science and social studies is available for a monthly fee of $25 and is taught by James H. Gamble, who has a bachelor's degree in science, biology and civil engineering.
"I went from having an F in math to a B," said Kylee Westphal, 11. "He's really patient and helps me learn."
Starting next month, Gamble plans to offer a 3-D design class at 4:30 p.m. Mondays and Wednesdays.
Steele said there are plans to create a scholarship program.
"A lot of kids open up to me," Steele said. "Some kids were being bullied at school or pressured into doing things they didn't want to do. Here we try to keep them on a straight path."
Steele makes it a point to teach youths to say no to drugs, alcohol, tobacco and gangs.
Free HIV and STD testing is also offered at the club from noon to 5 p.m. Tuesdays. The testing is open to the public and run by the Southern Nevada Health District.
The monthly youth membership fee is $50 per child, or $65 for two children, $75 for three or $85 for four.
BATTLING PARKINSON'S DISEASE
In partnership with the Cleveland Clinic Lou Ruvo Center for Brain Health and Sun City Summerlin, the club hosts people who are battling Parkinson's disease twice a week in a program called Rock Steady Boxing.
"Our boxers love it. They say boxing gives them new life," Steele said. "Most of our boxers are between 60 to 80 years old. They never thought they'd get a chance to do something like this."
Parkinson's disease is a degenerative movement disorder that can cause deterioration of motor skills, balance, speech and sensory function.
Former Indiana prosecutor Scott C. Newman, who is living with Parkinson's, founded the program in 2006.
After being diagnosed, Newman began intense, one-on-one boxing training and noticed dramatic improvement in his physical health, agility and daily functioning, according to the program's website, rocksteadyboxing.org.
Specialized Rock Steady Boxing sessions are designed to use every part of the body, Steele said.
Classes are taught from 10:30 a.m. to noon Mondays and Wednesdays and are open to the public. The starting cost to join the program is $150 and a subsequent $100 each month.
Steele also has plans to help people with memory loss and Alzheimer's disease.
"With boxing, you have to be the best you can," Steele said. "Losing is painful, so you have to run that extra mile and push yourself."
For more information, visit richardsteelefoundation.org or call 702-638-1308.
Contact North View reporter Sandy Lopez at slopez@viewnews.com or 702-383-4686. Find her on Twitter: @JournalismSandy.