BUSINESS SURVEY: Professionals assess school performance
January 27, 2011 - 2:03 am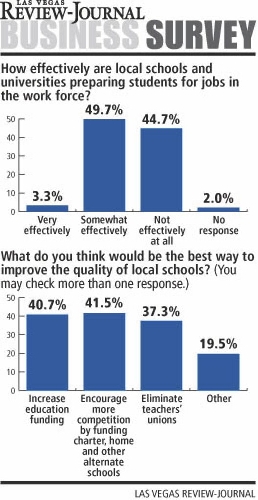 Education is a hot topic as the 2011 Legislature looms, and local professionals are wading into the debate.
A Review-Journal poll conducted online in December and early January asked area business owners and managers to grade local schools and universities, and to offer prescriptions for improvements.
Asked to evaluate how well local schools and universities are preparing students for jobs, nearly half, or 49.7 percent, of survey respondents said schools are performing somewhat effectively. Another 44.7 percent said the schools weren't doing an effective job at all, while 3.3 percent said the area's educational system was performing very effectively.
Local accountant Craig Greene said he thinks the schools are somewhat effective in prepping kids for work. The students he interviews for jobs and works with while teaching classes through the University of Nevada system have the skills businesses such as his need, he said. Plus, he's hired local high school students to perform clerical tasks for his firm, and he said they've had no trouble completing the duties he's assigned them.
"The kids are getting an education that I think as an accountant is satisfactory," said Greene, partner of Las Vegas accounting firm McGovern and Greene, CPAs.
But Bryan Lewis said he sees a two-tiered system, and he split his answer accordingly when elaborating on his response.
"I would divide it between high school and grades below that, and then the universities," said Lewis, owner of the Las Vegas law firm of Lewis & Associates. "From high school on down, it's ineffective, while the universities are somewhat effective. My opinion of the local public schools isn't that great as far as preparing the kids for college."
Lewis said he hasn't hired any attorneys from the Boyd School of Law at the University of Nevada, Las Vegas, but he has brought on UNLV graduates to work for him in administrative positions. He's found their skill sets satisfactory, he said.
For Neil Holder, owner of All American Van & Storage in North Las Vegas, local schools are a disappointment, though he praised the quality of the hires he's been able to make at his company. Even though he's in a service industry that doesn't demand highly educated workers, he still requires employees who've mastered basic skills, such as tabulating costs and writing out invoices legibly so that customers can read the statements. He estimated that roughly 60 percent of the people he hires can handle such duties with little or no training.
"I think we could do better," Holder said. "I think some kids get pushed along without having the skills to read, write and communicate."
Holder also lamented the lack of initiative he sees among area students.
"I just don't see a lot of ambitious folks. When I was in high school, I couldn't wait to get to work, set some goals or make some money," he said. "What do our students want to be when they grow up? That's where the ambition comes in: Set some sights, or set some goals."
Holder did give area schools high marks for their use of technology in training students. Virtually every economic sector is becoming more mechanized, and the moving and warehousing industry, with its new mandates to log drivers' hours electronically and its use of barcodes and other technologies to track packages, is no exception.
"I think technological education is really important. It's not going away," he said.
Some local executives said their concerns about the quality of local schools have a lot to do with perception.
"What really troubles me about our educational system is that I typically hear we're ranked at the very bottom nationally," said Jeff Grace, president and chief executive officer of local information-technology firm NetEffect and a graduate of both Clark High School and UNLV. "I don't think there's enough emphasis placed on UNLV being a research-based university, and a lack of quality education here in Las Vegas prohibits economic diversity. It really prevents people from wanting to locate here."
Fixing what ails local education will require a combination of approaches, local professionals agreed.
Asked to rate ways to improve school quality, the biggest share, 41.5 percent, said the best solution would involve encouraging more competition by funding charter schools, home schooling and other alternatives. Boosting education funding came in a close second, at 40.7 percent. The third most popular option, eliminating teachers' unions, garnered 37.3 percent of the vote. Other, unspecified options captured 19.5 percent. (Respondents could choose more than one answer.)
Whatever boosts accountability among both teachers and parents will get Holder's vote. And that means starting with pay-for-performance rules.
"That's the way I pay my employees. We have measurable and achievable goals, and they are paid accordingly," he said. "Why shouldn't teachers be paid that way? Why reward everybody at the same level? You have some excellent schoolteachers out there who deserve a lot more than they're getting."
Reducing administration inside local schools and shifting those dollars toward hiring more teachers would also make a difference, Holder said.
But it's not all on schools and teachers, he added.
"Parents need to be involved in education, no matter what," he said. "They need to be right there, helping with homework, and helping their kids achieve their goals."
Lewis agreed that school management consumes too many educational resources.
"The No. 1 thing I think they could do as far as high school and lower is to do away with a lot of administration. The schools here have too many administrators and not enough teachers," he said.
More funding would help as well, Lewis added, but only if it goes directly toward classroom instruction on basic subjects.
The idea of increasing spending also appealed to Greene.
Greene moved to Las Vegas three years ago from Chicago, where the property taxes that largely fund schools are often considerably higher than they are here.
"Being an accountant, maybe this sounds awful, but I would not object to an increase of even 20 percent in my personal real estate taxes to provide better schools to the people here in Nevada. I think in the long run, it would pay off," he said.
Increasing school funding would reap rewards for Southern Nevada in two ways: It would attract better teachers, and it would help diversify the state's economy, Greene said.
Green's daughter teaches junior high school in Illinois. She's considered transferring here, but Greene said the pay is too low to attract her.
More importantly, though, the community needs better schools if it's going to prosper in the future, he said.
"I think Las Vegas does have a lot to offer, but you need a quality school system to make it attractive for a more educated work force to move here," he said. "If you want to attract high-tech people with college and graduate degrees, you'll need better schools."
Contact reporter Jennifer Robison at jrobison @reviewjournal.com or 702-380-4512.
About the survey
The Review-Journal asked local businesspeople to participate in a wide-ranging survey in December and January. The questionnaire asked area professionals for their opinions on issues such as the local economy's prospects in 2011, expectations for the upcoming state legislative session and how to improve local schools. Nearly 1,000 people responded.
Additional stories in our survey series:
Upcoming:
• Jan. 30, Review-Journal: How would area professionals suggest diversifying the local economy?