Camp Invention puts kid-friendly spin on science and engineering
August 8, 2011 - 11:18 pm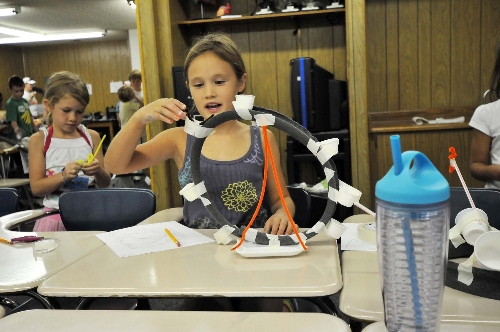 As a storm brewed nearby, kids scrambled to piece together shelters from recycled materials such as cardboard, B ubble W rap and plastic bags.
Rain fell, wind gusted, lightning struck and thunder shook the ground as kids huddled together in groups of twos and threes to sit out the squall in their makeshift cover .
Sort of.
Fyfe Elementary School teacher Leslie Baught and her two assistants actually misted the room with water from spray bottles, breezed kids with a floor fan, toggled the light switch, banged on lockers and stamped their feet, creating the closest thing to a storm these kids would experience in July.
It was all part of Camp Invention's Create program, which engages kids in hands-on activities in science and engineering.
The camp was July 18-22 at Cumorah Academy, 6000 W. Oakey Blvd., and was open to students in kindergarten through sixth grade.
It was 9-year-old Marissa Mondeau's first summer camp. She said she was enjoying her break from staying home all day.
"I like how you get to create and use your mind to build stuff," Marissa said.
In the camp's scenario, the kids have crash-landed on the alien planet ZAK and must survive the harsh conditions.
Earlier that morning the students foraged for food that lay on the other side of a treacherous swamp —- a taped-off area in the middle of the room.
Some students tiptoed across stepping stones, and others constructed tools to retrieve the precious popcorn, such as a fishing pole with a scoop on the end. One group tight rope-walked across, and another group made a boat and paddled their way to the bounty .
Marissa, a student at Mount Olive Lutheran Church and School, 3975 S. Sandhill Road, said her favorite part of the camp was building roller coasters.
Actually, the "roller coasters" were foam tubes cut in halves and contorted into inclines, declines, loops and curves, and taped to a wall. A marble zigzags nicely down along the tubes, acting as a coaster.
O'Roarke Elementary School teacher Joan Gonzales explained to the kids Isaac Newton's three laws of motion and stipulated that each group's project must illustrate at least one law they can explain to others.
Younger kids in another classroom designed eco-friendly infrastructure to save the population of Sludge City. They built a model city inside the classroom from recycled materials such as cereal boxes, egg cartons and plastic bottles.
Students made small landfills in plastic bowls and created a filtration system to remove pollution from the city's lake.
Annette Phillips, regional program manager for Camp Invention, said the scenarios were designed to promote creativity, critical thinking and teamwork among students.
"The challenge," Phillips said, "is getting them interested in science. It's learning disguised as fun.
"The hope is that we inspire some students to pursue science and engineering —- to show them that science is fun."
The nonprofit group Invent Now started Camp Invention in 1990 in Akron, Ohio. It offers programs at nearly 1,500 schools nationwide. The camp came to the Las Vegas area in 1998, and seven schools hosted camps this summer.
Wright Elementary School student Emily Johnson, 10, also enjoyed her first encounter with summer camp.
Her favorite part, she said, was exploring the internal workings of some donated electronics such as VCRs and stereos. Emily and her campmates disassembled each item and used the parts to make "rolling ball machines" that they presented on the last day of camp.
"I get to take stuff apart and make something with it," she said. "We're learning stuff I haven't even learned yet."
Camps are over for the summer but are scheduled to return next year. For more information, visit campinvention.org or call 800-968-4332.
Contact View education reporter Jeff Mosier at jmosier@viewnews.com or 224-5524.
Camp Invention
Camp Invention sessions are over for the summer but are scheduled to resume next year. For more information about the program, call 800-968-4332 or visit campinvention.org.