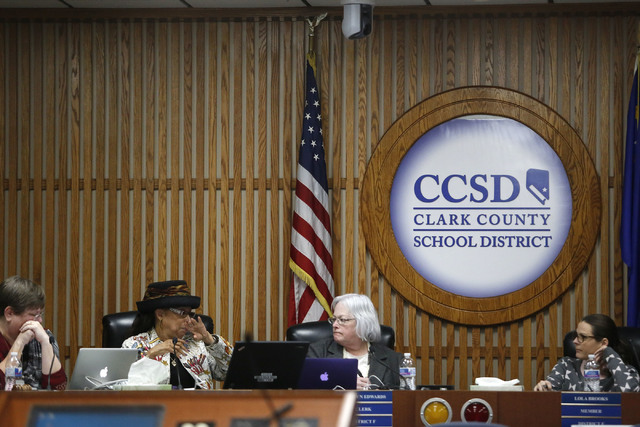 Be proactive, not just reactive.
That's the message that one expert hopes to convey about the Clark County School District's sexual misconduct issue at a public roundtable on Thursday. District officials will publicly unveil a draft policy and regulation on student-staff relationships and gather parent feedback.
"In every crisis, there is also an opportunity," said Glenn Lipson, a forensic psychologist who specializes in employee misconduct, who will be a guest speaker at the roundtable. "And my hope is that the district will take this opportunity to make some real changes that will be nation-leading in terms of addressing these problems that don't only exist here."
Board President Deanna Wright said she hopes for productive conversation.
"There's still going to be work that has to be done. I think that we're still going to have to continue talking about additional training and other pieces," she said. "This is a piece in the puzzle of trying to mitigate any inappropriate relationships."
The district roundtable follows Nevada Gov. Brian Sandoval's signing this month of two bills aimed at combating the issue statewide.
The draft policy and regulation would forbid staff from texting individual students — though it would allow texts with a group of students. It also would prohibit electronic communication between 10 p.m. and 5 a.m.
Public concern grew over inappropriate staff-student relationships this year, with 13 district employees arrested since July. Many of those improper relationships were furthered by use of social media and other electronic communication. The Las Vegas Review-Journal explored the district's issue with sexual misconduct in its recent three-part series, Broken Trust.
As of 4 p.m. Tuesday, 40 students and 700 parents had responded to an online survey collecting input on the draft rules, the district said. Other respondents include 142 employees and 18 community members.
The challenge in developing a sound policy is allowing healthy educational relationships to flourish while preventing inappropriate contact.
"In some ways, we don't want to throw the baby out with the bathwater," Lipson said. "Because every now and then you'll have student study groups that'll be getting together on the internet, there can be blogs — there's appropriate ways to use things."
Sexual misconduct is a problem that's happening not just in education, but across all professions — partly, Lipson noted, because of today's technology.
"This whole change of boundaries in the Wild West of this new exposure to (a) digital world has fueled some of what goes on in terms of inappropriate relationships," he said.
But policies to address sexual misconduct have not been widely created, Lipson noted.
"Believe it or not, this is really cutting-edge stuff," he said of the CCSD's effort. "There has not been a lot of discussion with this because the assumption has always been that teachers are your 'in loco parentis' … and they're going to act appropriately. But we know better now."
Contact Amelia Pak-Harvey at apak-harvey@reviewjournal.com or 702-383-4630. Follow @AmeliaPakHarvey on Twitter. Contact Meghin Delaney at mdelaney@reviewjournal.com or 702-383-0281. Follow @MeghinDelaney on Twitter.
What: School district officials will unveil a draft policy and regulation governing communication and relationships between staff members and students and seek public feedback.
Where: Chaparral High School theater, 3850 Annie Oakley Drive, Las Vegas.
When: Thursday, June 15, 5:30-7:30 p.m.
What if I can't attend?: Watch the Review-Journal's livestream at reviewjournal.com/brokentrust. Provide feedback by taking a survey at ccsd.net/community/protectourkids
Broken Trust bills
Two bills highlighted in the Review Journal's series, Broken Trust, were signed into law this month by Gov. Brian Sandoval.
Assembly Bill 362, sponsored by Jill Tolles, R-Reno, and Senate Bill 287, sponsored by Heidi Gansert, R-Reno, were earmarked by experts as proposals that would close some of the problems in the current background check system.
Flaws in the background checks, a lack of training and a clause in the union contract were cited as major reasons why the school district is dealing with a sexual misconduct crises between employees and students.
Both proposals add new layers of scrutiny that the Department of Education and school districts must comply with, but officials were not ready Wednesday to discuss what specific changes would be made in the hiring process to comply with the law.