Cerebral palsy can't stop Henderson second-grader
September 2, 2018 - 11:42 pm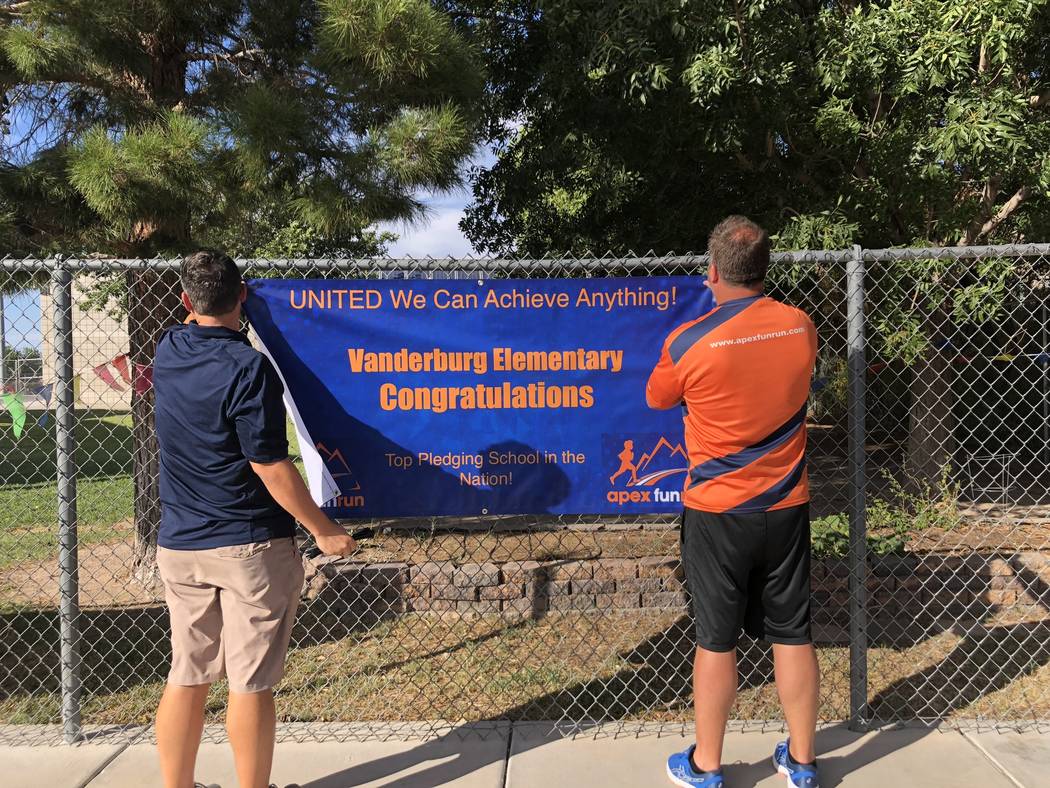 When newborn Dylan Chalmers didn't begin rolling around "on schedule," according to various baby-raising books his mother consulted, she scheduled a doctor's appointment.
Scott and Lisa Chalmers soon learned their son has cerebral palsy, a muscle disorder caused by irregular brain development that makes movement and coordination difficult. In Dylan's case, it mostly affects the lower half of his body, forcing him to use a walker or wheelchair to get around.
Dylan's diagnosis took his parents aback. Lisa, a Clark County teacher, is a former Division I field hockey player and an avid runner, and Scott's in the Air Force, and both had anticipated they'd be raising another athlete.
It turns out they are.
This summer, Dylan participated in the 2018 Desert Games Challenge hosted by the Mesa-based nonprofit Arizona Disabled Sport, where Lisa said that at age 7, he was one of the youngest competitors. He participated in a number of short wheelchair races and also threw the javelin and discus and participated in shot put.
He's also being recognized by Apex Fun Run, a nationwide organization that teaches leadership lessons and puts on fundraising fun runs at schools. The company's 2018-19 theme is "strong kids," and local organizers thought Dylan, a frequent competitor in the runs, was a perfect example of that quality.
Briana Silvernail, a team manager, and Frank Endellicate, the Nevada franchise owner, recently presented Dylan and his family with a special plaque and gave him a company smartwatch to honor his competitive spirit.
Marveling at the bright orange watch, Dylan talked about his plans to keep being strong.
"I want to get my leg and arm muscles strong, and I got extra strong with my feet when I went swimming," he said, before wheeling himself off to other after-school activities at Vanderburg Elementary School in Henderson, where he is in second grade.
Dylan has no problem telling people who may stare or ask what's wrong with him about his disability.
"I have cerebral palsy. I'm special," is his standard response.
When Dylan attended Lamping Elementary School as a pre-kindergarten student, there was never a question about whether he would participate in the Apex Fun Run fundraiser for the school, said Lisa, who teaches third grade at Vanderburg.
The annual events, run at elementary schools throughout the district, raise money by having students secure pledges and donations for every lap they complete. Organizers said the event is all-inclusive, and they make sure every child participates in one way or another.
For Dylan, that means he "runs" in his wheelchair.
"I can't run as fast," he said. "After a few laps, I have to take a few breaths."
When Silvernail and Endellicate visited earlier this month, Dylan was eagerly asking when the next run would be held.
"Soon," Silvernail said, before letting on that the next run isn't scheduled until February.
"That's so far away," said Dylan, visibly disappointed.
He quickly brightened, though, and made a special request. He said he was hoping organizers could move part of the lap onto the blacktop for him, so he could use his special racing wheelchair and complete even more laps before his arms give out.
Contact Meghin Delaney at 702-383-0281 or mdelaney@reviewjournal.com. Follow @MeghinDelaney on Twitter.