Clark County district's older schools get face-lifts
August 8, 2011 - 12:59 am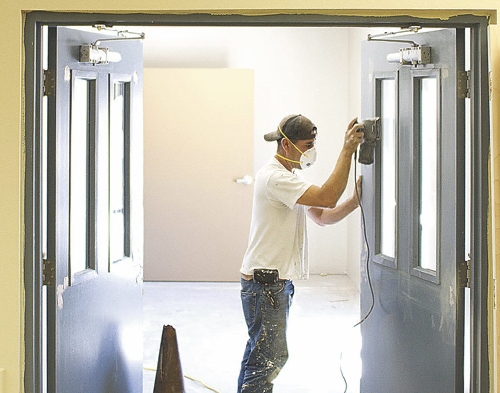 Kathy Konowalow walks past a mountain of computer monitors piled on a classroom floor. She turns down a narrow hall. A dozen doors lean against both walls, freshly painted.
Navigating another classroom becomes a game of hopscotch because of science supplies stacked on tables and the floor awaiting their homes.
It looks like another brand new school is readying for its first day of class. That wouldn't be unusual in Clark County, where 112 schools have opened since 1998, but that's not the case.
Not one new school is opening this fall.
Lowman Elementary School is getting a face-lift. Built in 1991, the school near Nellis Boulevard and Craig Road has needed a gutting for years, Konowalow said.
"We were blowing breakers like crazy because of all the computers we use," she said. "And a guy would be out here for the A/C every day."
But Lowman's time never came, until now. Over the past decade, the Clark County School District's priority had been keeping up with one of the largest student invasions in the nation. From 1998 to 2010, the district added 12,000 students each year, nearly doubling the student population.
With 309,500 students, the district is the fifth-largest in the nation.
To give all those students a desk, the district spent $4.9 billion to erect 112 schools, using a bond approved in 1998.
Only $3.5 billion was expected, but bond revenue — coming from a portion of property taxes, real estate sales, and hotel room tax — far exceeded anyone's forecasts thanks to county growth.
Now the invasion has subsided. And so has the building, said Jeff Wagner, project manager for Lowman's renovations.
Enrollment has flatlined. The district expects it to fall by 300 students this school year, spokesman David Roddy said.
The last time fewer students returned, besides 2009-2010, was in 1983-1984.
At last, the district can catch its breath.
The district is using this lull to bring aging schools up to par, Wagner said Thursday while checking on progress at Lowman, one of 10 schools undergoing renovations under his watch.
Throughout the district, 28 schools are getting the same extensive rehab — floors ripped up, heating and air conditioning systems replaced, utilities upgraded and new teaching technologies installed.
There couldn't be a better time to tackle these projects.
The recession, the same thing that halted the persistent climb in student numbers, has slashed the price tag for construction, Wagner said.
Lowman's work will total $2.5 million, half of what it would have cost a few years ago, he said. The money came from leftover 1998 bond funds.
"We could build two schools for the price of one, but now we don't need them," he said. "A Catch-22."
The district was "constantly" upgrading schools while building new ones over the past decade, Wagner said.
"It's just become top priority," he said.
The 40-year-old schools are all up to speed, he said. The district is now focusing on those built in the 1980s and early 1990s.
Contact reporter Trevon Milliard at tmilliard@reviewjournal.com or 702-383-0279.