Clark County School Board approves 2013-14 budget with modest spending increases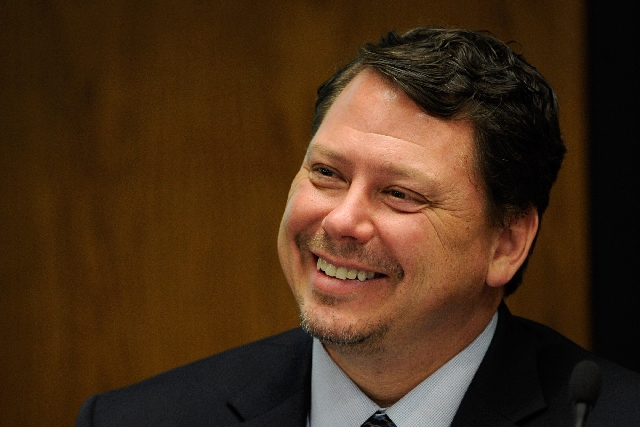 Clark County School District officials aren't betting on Gov. Brian Sandoval's $484 million increase to K-12 education spending, which would largely land in Las Vegas Valley schools if approved by the Legislature. Clark County schools enroll 70 percent of the state's students.
Still, the School Board adopted a final budget Wednesday of $2.1 billion for the 2013-14 school year that contains a 4 percent increase, or $97 million.
"It's our first budget in recent years that doesn't have cuts," Interim Super­intendent Pat Skorkowsky said. "This budget reflects an economy that is slowly recovering."
While the governor has "pledged" additional school funds, the decision is up to the Legislature, he said.
If that money comes through, "we will target those funds to English Language Learning programs and to fund early childhood education in Clark County," Skorkowsky said.
Still, district officials drafted the budget assuming a $188 increase in per-student funding, equating to $56.4 million or a 3 percent increase to the district.
Even if the Legislature doesn't approve Sandoval's education-emphasized budget, the district still plans to lower class sizes, which stand at an average of 38 students in middle and high school. That would be reduced by three students because of a planned addition of about 793 teachers at a cost of $60 million this summer, largely made possible by teachers taking a pay freeze.
Also to be added are about 95 special education teachers, 17 elementary school assistant principals and 45 members of transportation, mostly bus drivers for a growing population of special education students. Officials also will work to refill the district's savings account, putting in $5 million.
The district stands to lose about $14 million in federal grants from sequestration, which amounts to an 8 percent federal funding cut .
The district is taking on $34 million in new debt to buy 172 buses and about 14,000 computers. While 107 of the buses will replace worn-out buses, 51 will be used to increase the fleet of short buses for special education students.
The spending plan could potentially see big changes after the legislative session comes to a close. Amendments would be made either in late June or December, district officials said.
Contact reporter Trevon Milliard at
tmilliard@reviewjournal.com or 702-383-0279.