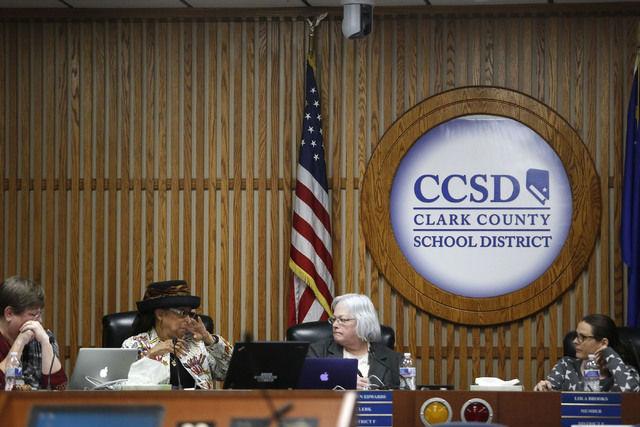 Despite tweaking a contract to meet Clark County School Board members' initial concerns, trustees still rejected a plan to allow outside vendors to participate in a pilot project to clean some school campuses next year.
"We have to stick together as a family," Trustee Kevin Child said Thursday. "I have a hard time outsourcing."
Ultimately, the board failed to vote on a drafted request for proposals that would allow companies to submit bids to the district to clean schools. The failure to vote effectively kills the pilot plan for now.
At the previous meeting, the board agreed to transfer the money to individual schools that the district would have spent on custodial services, but stopped short of allowing up to 10 schools to pursue an outside vendor to be hired with that money.
That delay, district Chief Operating Officer Rick Neal said, hurts the timeline too much for the principals who wanted to get involved.
"We've really just compressed it to a point I don't think it's good business to do it," he told the board.
The move was originally part of the state-mandated reorganization, which puts more decision-making ability in the hands of principals and school organizational teams. The schools that were interested in the custodial pilot program hoped to save money on services.
Board members were worried about the companies that would be hired, questioning whether their employees would be full-time Nevada residents and whether they would have undergone appropriate background checks.
The district was able to incorporate almost every request the board made into a request for proposal. According to the proposal, vendors interested in working with schools would have to abide by the following:
— No less than 75 percent of all supplier employees deployed to school sites must be Nevada residents.
— Suppliers must provide benefits comparable to Clark County School District benefits to its employees working at school sites.
— Suppliers must staff schools in accordance with the district's custodial staffing formulas.
— Suppliers must have a local office and a Nevada business license.
— Supplier employees deployed to school sites must receive district-provided training on mandatory reporting of child abuse at the supplier's expense.
Board members had also asked vendors to pay prevailing wages to employees, but there is no prevailing wage for custodians in Nevada, according to district officials. On Thursday, members were still concerned the vendors would not be paying their employees a fair wage.
Despite the hesitation on the board, Trustee Carolyn Edwards said the board should seriously consider proposals when principals bring a new idea to the board.
"I don't think we know that it's not a good idea, but I think if we do it on a small enough scale, that gives us an opportunity to evaluate whether it's a good idea or not," she said.
Contact Meghin Delaney at 702-383-0281 or mdelaney@reviewjournal.com. Follow @MeghinDelaney on Twitter.
Pilot program
Schools interested in the custodial pilot include Walter Bracken Elementary School, Howard Hollingsworth Elementary School, Walter Long Elementary School, Aldeane Comito Ries Elementary School, Stanford Elementary School, Sheila Tarr Academy of International Studies, Gene Ward Elementary School, James Cashman Middle School, Eldorado High School and Northwest Career and Technical Academy.