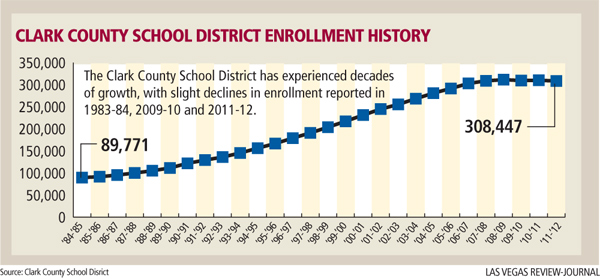 Since 1956, growth has been a constant in the Clark County School District.
The number of students increased annually for decades, with one exception: in the 1983-84 school year.
But that trend appears to have hit a wall.
After the onset of the recession, the student count dropped by more than 1,700 in 2009-10. The rare downturn repeated this year, just the third time in half a century.
"I believe our enrollment is stabilizing after more than a decade of significant growth," Deputy Superintendent Pedro Martinez said Tuesday. "This will allow us to focus on graduation and raising student achievement."
The district's enrollment count on Friday came to 308,447 students. That's 1,446 fewer students than last year's count , and a slight drop of 0.47 percent.
But a decrease of any kind is almost unheard of in what's now the nation's fifth-largest public school system. The only other declines were in 1983-84, when the district reported 424 fewer students than the previous year, and in 2009-10, when enrollment fell by 1,764 students.
The district saw this year's decline coming and scaled back teacher hiring for the school year. Still, the district's projection overestimated the number of students for 2011-12 by 1,033, Martinez said.
"We're trying to make the best of a bad situation," he said, especially in elementary schools, where the enrollment decline was concentrated.
NO LAYOFFS EXPECTED
Some might think that fewer students means fewer teachers are needed, but that's not the case, Martinez said.
"We feel very comfortable no one will be laid off," he said.
That is because the district staffed schools at just 97 percent, holding back from filling all open positions. That has been the district's practice for four years, as growth has waned.
The district sees this as an opportunity to reduce class sizes in a targeted way, Martinez said. Some middle school and high school teachers have as many as 40 students, he said.
While shrinking elementary schools will lose 170 teachers in the shuffle, secondary schools will gain 189, which provides the opportunity to reduce class sizes. Adding 19 positions is possible because the district intentionally understaffed, Martinez said.
When $154 million was cut from this year's budget, the Clark County School Board made one thing clear, board President Carolyn Edwards said. The first thing to be restored would be smaller class sizes, she said.
This is a start.
CONTRACT TALKS CLOUD PICTURE
While the enrollment decline won't lead to teacher layoffs, they're not yet in the clear. About 500 teacher layoffs may occur for a different reason: The district and the Clark County Education Association, which represents teachers, can't agree to contract terms.
If teachers don't accept the district's terms — giving up pay raises this year, replacing the nonprofit, union-controlled Teachers Health Trust and Retiree Health Trust with a for-profit carrier, and picking up half of the increase to retirement contributions — the district has warned that 500 teachers might be laid off to make up the cost. Because contract negotiations have reached an impasse, the two sides have moved to arbitration, which could drag on until January.
But the district can't wait until that is settled to make changes, Martinez said.
"We're going to do the right thing, now," he said. "With 40 kids in a classroom, we feel we have to act now."
Contact reporter Trevon Milliard at tmilliard@reviewjournal.com or 702-383-0279.