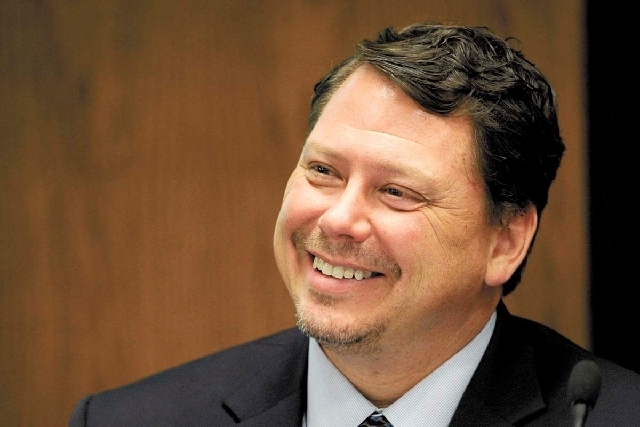 Superintendent Pat Skorkowsky explained Thursday how his recent reshuffling and promotions of Clark County School District leadership will slightly cut central office spending.
Despite pay raises and the creation of another central office position, Skorkowsky said he reduced the budget by $145,235, which equates to about one administrative position.
School Board member Erin Cranor thanked Skorkowsky for laying out the spending changes, calling the report a "standard of transparency" that all government agencies should meet.
He achieved the savings partly by promoting workers and not hiring replacements for their former jobs, thereby eliminating positions. Skorkowsky gave Chief of Staff Kirsten Searer — who earns $120,000 in base salary — the job of chief of communications. She will assume that job at the previous spokesperson's $136,000 salary, but Skorkowsky won't hire a new chief of staff.
Skorkowsky created a deputy chief of staff to the superintendent, appointing Joe Caruso and paying him a $92,256 base salary. Caruso, former principal of Cimarron-Memorial High School, was left without a position last school year when he was replaced as principal of the chronically underperforming school.
Overall, the three position eliminations saved $495,555, but another $461,329 in promotions, pay raises and a position creation will cut those savings to just $34,226.
The majority of savings — $111,009 worth — was achieved through an Individuals With Disabilities Education Act grant that covered 80 percent of an assistant superintendent position.
Chief Innovation and Productivity Officer Jhone Ebert, formerly chief technology officer, received an 8 percent raise, now earning $144,366 in base salary.
Chief Educational Opportunity Officer Andre Denson, formerly associate superintendent of the academic services division, received a 16 percent raise, now earning $149,984 in base salary.
Chief Student Achievement Officer Mike Barton, formerly associate superintendent of instruction services, received a 20 percent raise, now earning $142,339 in base salary.
At least one more chief needs to be found though. Chief Financial Officer Jeff Weiler announced his resignation on Tuesday and must be replaced.
School Board members supported the staffing changes, but board member Linda Young said resources also need to be provided to the School Board and its staff, not just superintendent staff.
Board members, running the nation's fifth-largest school district with a $2 billion budget, don't even have offices, she said.
"We don't want to be shrugged off," she said to Skorkowsky.
Contact reporter Trevon Milliard at tmilliard@reviewjournal.com or 702-383-0279.