Clark County schools saw drop in attendance Thursday
Updated February 22, 2019 - 6:42 pm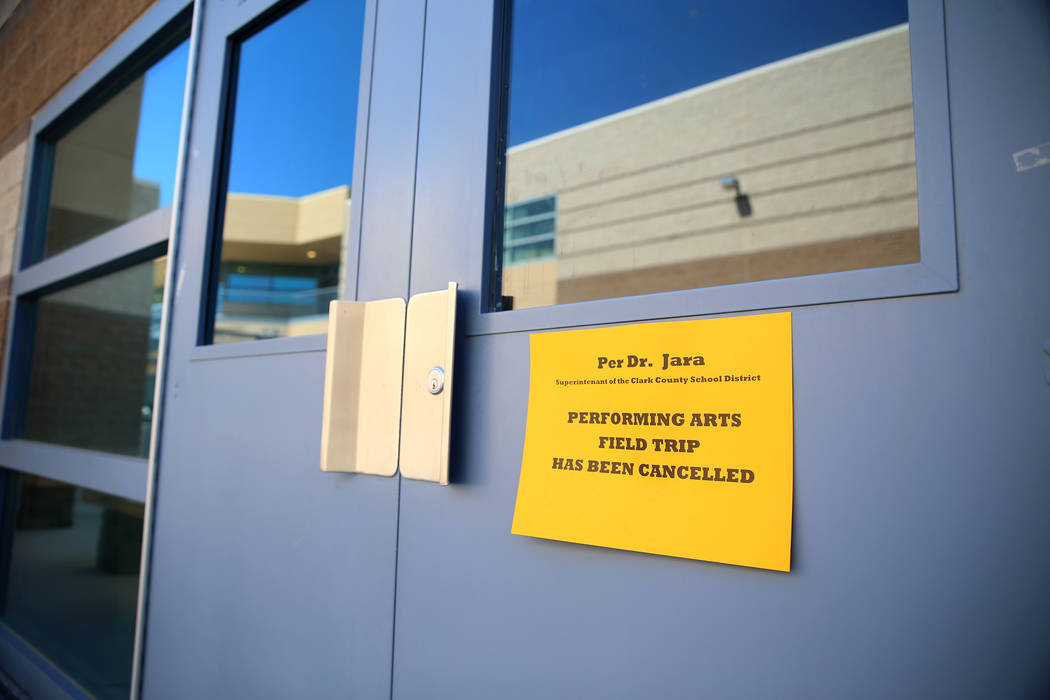 Many students celebrated an unexpected day off from school Friday, but some parents questioned the Clark County School District's decision to cancel classes the day after a rare snowstorm blanketed the valley.
During Thursday's snowstorm, only 74 percent of students showed up to school — a drop from Wednesday's 92 percent attendance rate, according to a district spokesman.
Jennifer Warnick's five children were among those who skipped class.
A lifelong Las Vegan, the 45-year-old stay-at-home mother said she was stunned by Thursday's snowfall and couldn't stomach letting her kids miss out on snow in their own backyard.
"They haven't experienced this before, and it was really fun for them," she said.
Her children missed the first half of the school day to enjoy the height of the storm, which brought about 7 inches to the western valley.
Taking full advantage of Friday's "snow" day, the Warnick family again went sledding and had a morning snowball fight in Summerlin's Willow Park, much of it still painted white.
Twelve-year-old Lydia Warnick said she and her brother "were jumping up and down yelling" Thursday evening when they learned of their unexpected three-day weekend.
"We've never had a snow day, so this was really exciting," Lydia said.
As concerns for black ice forming on valley roads surfaced Thursday evening, the district announced that school and after-school activities and programs would be canceled Friday, saying "reports of potential freezing conditions" would make the roads unsafe for school buses in the morning.
School trip canceled
But the announcement dealt a blow to Spring Valley High School's performing arts department, which had a scheduled trip this weekend to Anaheim, California.
Principal Tam Larnerd told the Las Vegas Review-Journal that the decision to cancel the trip was based on the extended closure on the California side of Interstate 15. The closure was due to weather conditions and icy roads.
Students and parents were informed of the cancellation via text alert around 9 a.m. Friday, he said.
Larnerd said the students had spent the entire school year leading up to this weekend raising funds to cover the cost of the trip, which, at $350 per student, cost a total of about $67,000.
Lynn Henkel Dilloo, a self-described theater mom who was enraged when she received the text alert, said, "Many of us feel canceling the trip for our school was extreme. There is no reason they can't leave later today or tomorrow. Our kids should not have been penalized."
Her 17-year-old daughter, Alyssa, is a senior at the school and has been involved in the theater program since she was a freshman, she said.
"Performing arts has been pushed aside over the years," Henkel Dilloo said. "They worked hard and earned this."
Larnerd said the school was actively working with vendors to reschedule the trip for a later date.
If they can't reschedule the trip, he said, they'll do their best to refund the students.
The school district said it consulted with local agencies and emergency managers, including fire departments and the Nevada Highway Patrol, in deciding whether to keep schools open.
The Department of Public Safety was not part of the decision-making process, spokesman Andrew Bennett said.
Snowfall began Wednesday
But in a tweet about 9 p.m. Wednesday, when the snowfall was picking up in the western valley, Bennett tweeted a photo of a thermometer showing a temperature of 30.5 degrees.
He tagged the school district in the tweet and wrote, "Roads are starting to freeze over. Remember overpasses and bridges are the first to freeze over. Take it slow, give extra time, buckle up and put the phone down. It's time to call the snow day."
The school district canceled all school events after 4 p.m. Thursday, in addition to SafeKey programs, due to "a potential for freezing conditions." The announcement regarding SafeKey was made just before 2 p.m., less than two hours before most elementary schools in the valley are dismissed, forcing some parents to leave work in order to pick up their students by 3:30 p.m.
One of those parents replied to the school district's Twitter announcement, writing, "So wait a second..so no snow day and you tell us now there is no safe key?!"
"Kids need to be picked up after school.. basically I have to rush from work so my kid is not left outside?" she wrote.
So wait a second..so no snow day and you tell us now there is no safe key?! Kids need to be picked up after school.. basically I have to rush from work so my kid is not left outside?

— JC (@burntbrunette) February 21, 2019
Snow started falling in the valley on Wednesday afternoon and continued through the night, with the most accumulation in the western valley, according to the National Weather Service. The Las Vegas area was under a winter weather advisory until 4 a.m. Friday.
The U.S. Highway 95 southbound offramp at Wagonwheel Drive reopened just before 7 a.m. after being closed earlier Friday due to icy road conditions, according to the Nevada Highway Patrol. Friday was partly cloudy with no reported snow.
It was not immediately clear when students would have to make up Friday's canceled school day.
The issue must go before the school board, but it will not be discussed during the scheduled meeting next Thursday, a school district spokesman said, as the agenda for that meeting has already been determined.
Contact Rio Lacanlale at rlacanlale@reviewjournal.com or 702-383-0381. Follow @riolacanlale on Twitter. Contact Jessica Terrones at jterrones@reviewjournal.com or 702-383-0256. Follow @JessATerrones on Twitter.
Snow in Arizona
FLAGSTAFF, Ariz. — A winter storm dumped record-breaking amounts of snow in Arizona and forced the closure Friday of roads, schools and government offices across the Southwest.
The storm was pushing through eastern Arizona and heading for New Mexico and Texas after dumping nearly 3 feet of snow Thursday at the Flagstaff airport during the city's snowiest day on record, and more than 2 feet in Payson, a town that logs that much snow as its yearly average.
Residents were digging out from the weather that the National Weather Service characterized as "not your average" storm.
Schools across northern Arizona and southwestern Colorado were closed — many for a second day — because of threats posed by snow-packed or slick roads. Government offices either closed or delayed the start of their day.
The Associated Press