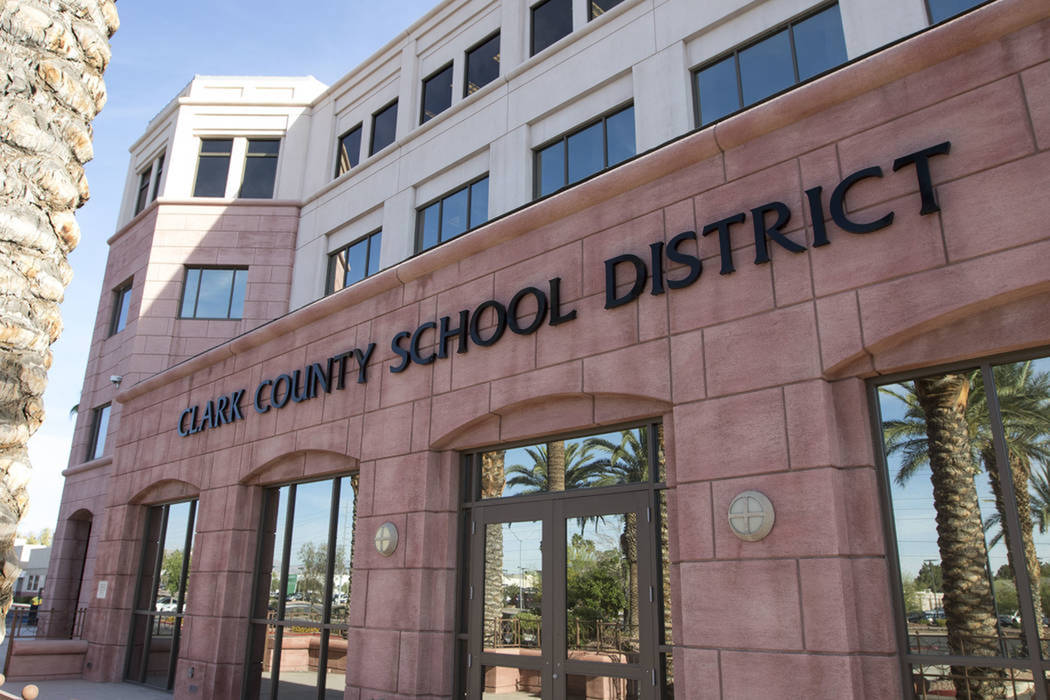 Clark County schools remained in session on Monday, but all after-school sports and activities were canceled and counselors were on hand to comfort students traumatized by the mass shooting on the Strip.
"Students and staff directly impacted by the tragedy will be excused," the district wrote in a message to the public. "All student absences will be excused today. Those impacted by the incident should contact their school or supervisor directly."
District spokeswoman Kirsten Searer said a Coronado High School sophomore was shot but had been stabilized. She did not identify the student.
The district had not heard of any fatalities of current student or staff as of 12:45 p.m., she said.
But a former Basic High School student has been confirmed among those who died.
Two high-school students at Faith Lutheran Middle School and High School also were injured at the event, Middle School Principal Sarah Harper confirmed Monday. She said they underwent successful surgeries.
Harper also confirmed that one alumni of the school was injured, but was expected to survive. She would not provide the names of the victims, but said the student body met and prayed on Monday morning.
Absences above average
Searer said absences Monday were significantly higher than usual, but did not provide a figure.
The district was making counseling services available at all schools. Searer said the district also had deployed about 75 counselors, psychologists, nurses and social workers to the Strip to assist victims and employees of MGM properties.
"This is a difficult time for our community, and we are offering district counselors to help people and properties impacted by the mass shooting," the school district message read.
In a message to parents, Las Vegas Academy of the Arts Principal Scott Walker said staff, counselors and a care team would be on hand to help support anyone in need of comfort at his school.
"I understand that some of you will feel the need to keep your children close to you today," Walker wrote. "… My heart and prayers go out to all who may have had family or friends at the downtown concert. Please notify me if there is something that we can do to help begin the healing that will need to take place in our community."
Universities also remain open
In a public statement, UNLV said the campus would still be open for business and classes on Monday.
"There may be parking impacts in the area of the Thomas & Mack Center, which is being used as a location for evacuees affected by the incident per the request of local law enforcement," the statement read. "Heavy traffic is expected in the area of Tropicana Avenue and Swenson Street."
UNLV said it also was providing drop-in counseling services until 6 p.m. in the health education room in the Student Wellness Center.
The College of Southern Nevada and Nevada State College released statements on social media that classes will be in session Monday.
"The entire Nevada State College community is saddened by the horrific event at last night's concert outside Mandalay Bay," Nevada State College said in a statement. " … We are not currently aware of any Nevada State students or staff directly involved in the tragedy but we know you are affected. Schools in the Valley including Nevada State are open today, but we understand that this tragedy impacts us all. Counseling is available for those in need."
The state Department of Education announced an emergency hotline available for students, teachers and parents affected by the tragedy. The number is 775-689-0150.
"As the Las Vegas community wakes up to this tragedy, the Nevada Department of Education stands ready to support students, families and educators in whatever way we can," said state Superintendent Steve Canavero. "We encourage anyone affected by last night's shooting to reach out for support if needed."
Contact Amelia Pak-Harvey at apak-harvey@reviewjournal.com or 702-383-4630. Follow @AmeliaPakHarvey on Twitter. Contact NatalieBruzda at nbruzda@reviewjournal.com or 702-477-3897. Follow @NatalieBruzda on Twitter. Reporter Brian Joseph contributed to this report.