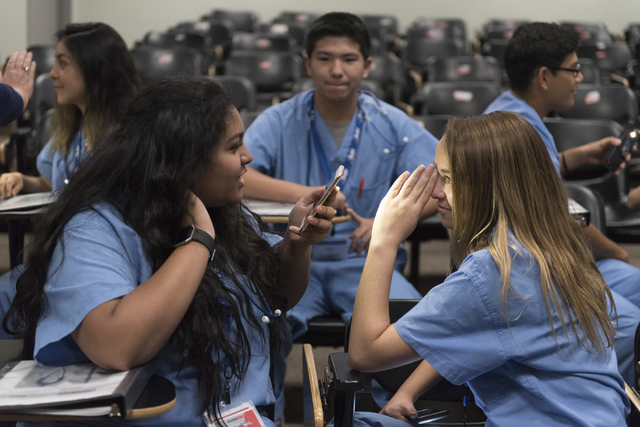 Dressed in blue scrubs and facing a packed UNLV auditorium Saturday, 50 students just a few weeks from entering high school explained medical terminology and analyzed scans aloud.
The 13-, 14- and 15-year-olds enrolled in a program called CampMED were tasked with determining the underlying condition affecting an imagined patient.
They read off the person's symptoms in front of beaming family members, friends and mentors.
"We stayed up until 2 in the morning with my roommates trying to figure out what was wrong with the patient," Rania Mudassar Saeed, 14, said after her presentation.
CampMED, a new three-day summer camp run by Vegas PBS's Desert Meadows Area Health Education Center, offers Clark County students a chance to play doctor. But the stethoscopes are real, as are the symptoms they're analyzing, the vital signs they're taking and the physicians guiding them.
The program launched Thursday as a collaborative effort involving the Roseman University of Health Sciences, UNLV, University of Nevada, Reno, and many more educational institutions and health care organizations across the state.
"This is what people like to do," said Roseman biomedical sciences professor Ken Rosenthal. "They like to interact with bright young individuals who are looking forward to a future in the profession."
GETTING KIDS INTERESTED
CampMED is a short introduction to medicine, but it's only one of several local efforts to introduce a young crop of students to health care careers early on.
UNLV School of Medicine Dean Barbara Atkinson, who spoke to the CampMED students about why she became a physician, also recently met with fifth-grade classes to talk about medical school.
"It really takes getting them interested early, and they don't have to end up in medicine, but if they end up in any of the health professions, they're all good professions," she said.
Clark County School District offers biomedical, nursing, biotechnology, pre-medicine and sports medicine programs at several high schools, and many of the students attending CampMED will be enrolled in those programs, according to Debra Solt, Vegas PBS director of workforce training and economic development.
The program received 106 applications in one week, and 50 students were chosen after they answered a series of questions and submitted applications, grades and recommendation letters. The camp costs $210.
The selected students, who stayed in UNLV dorms and spent hours attending sessions on how to talk to patients, how to research medical conditions and other aspects of medicine, also will be able to check in with physicians about every six months to discuss their career goals and schooling.
FROM SCHOOL TO LOCAL
The program's goal is to act as a pipeline, delivering young locals into Southern Nevada health care fields, said Clark County Medical Society Executive Director Loretta Moses.
Moses said physicians she's spoken with became interested in medicine at a young age.
"These doctors, they knew it back in elementary school, so the sooner we can start to inspire and motivate these young adults to thinking that their dream can be accomplished, we want to do that," she said.
Each student walks away from the program with a stethoscope, a "beginning doctor" certificate, those blue scrubs and, ideally, a greater interest in pursuing a career in health care, Solt said.
"I asked a question last night just before they were all ready to go to bed, 'So who wants to be a doctor?' and every one of them raised their hands," said Gerald Ackerman, assistant dean for rural programs at UNR's medical school.
When the question was asked one day earlier, only about one-third of the group raised their hands.
"Now the challenge of the partners who came together with this program is to keep them excited," Ackerman said.
Contact Pashtana Usufzy at pusufzy@reviewjournal.com or 702-380-4563. Follow @pashtana_u on Twitter.