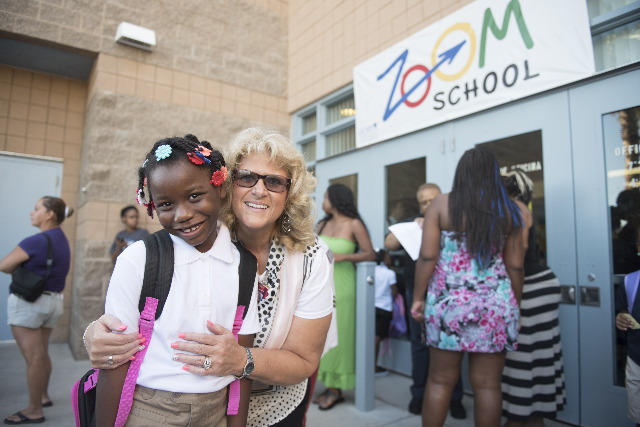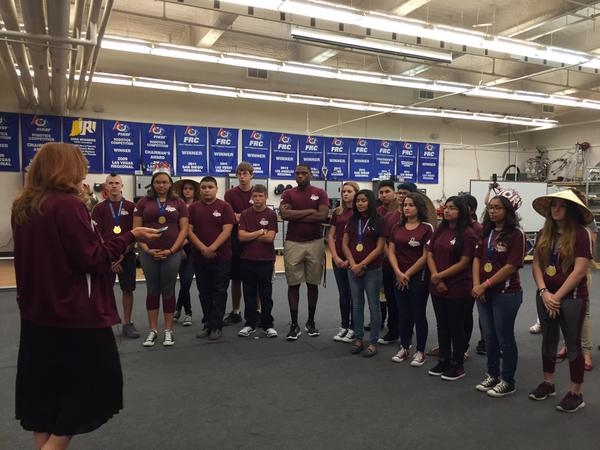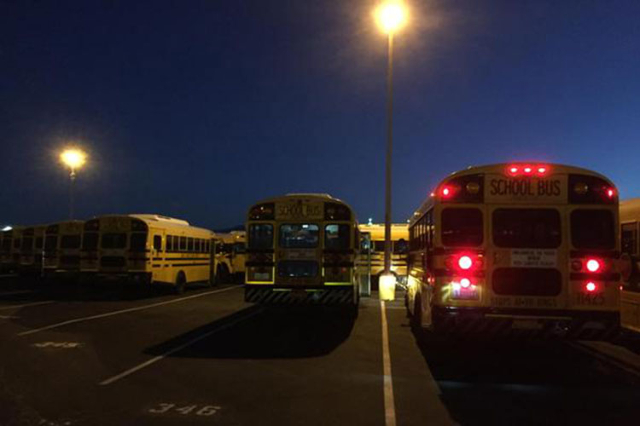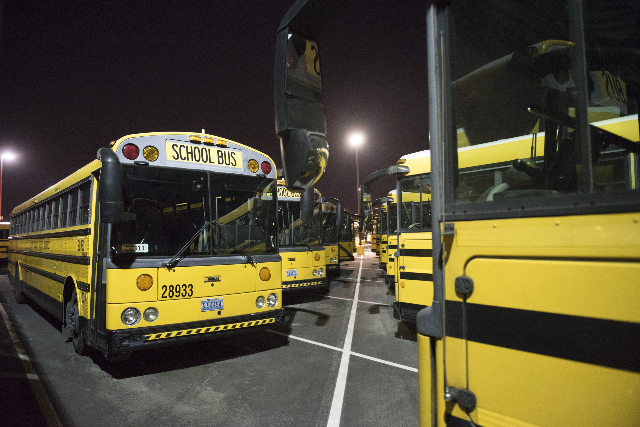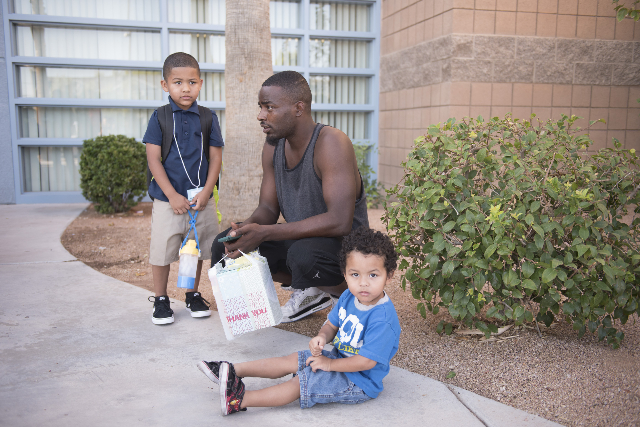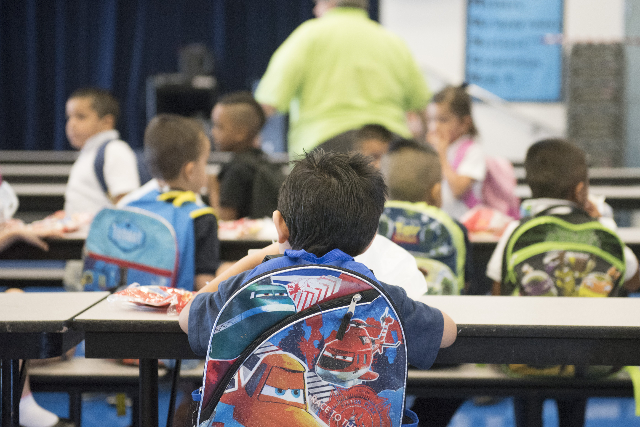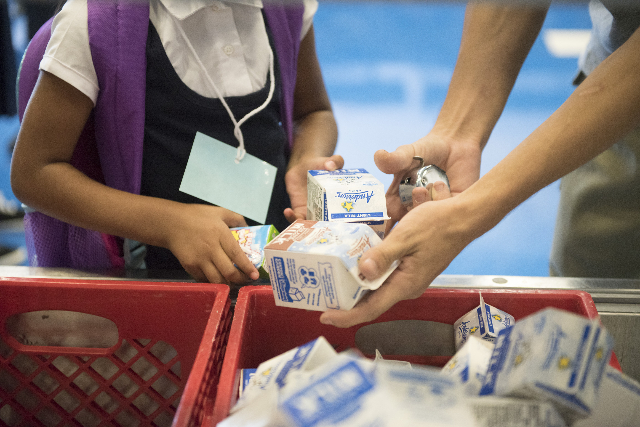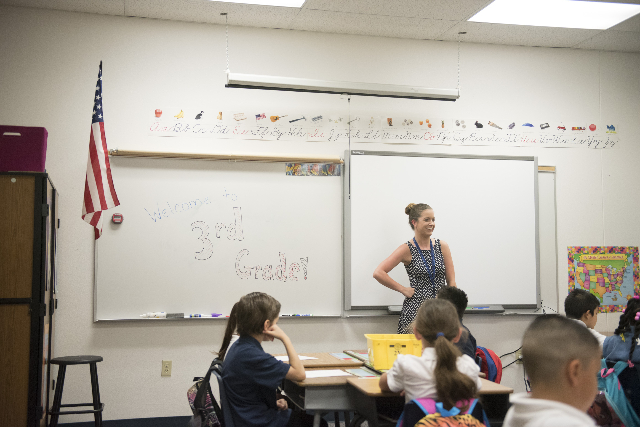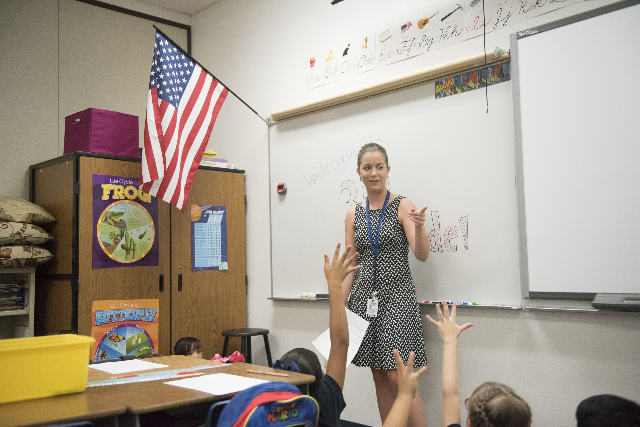 Superintendent Pat Skorkowsky, fully aware the school day wouldn't officially end for a few more hours, said he considered it a smooth start to the new year.
Walking the halls at Global Community High School, one of the district's new Zoom Schools, which receive additional state funding to provide more support for English-language learners, Skorkowsky noted at about 1:30 p.m. that he had received no reports of major air conditioning or bus incidents.
"I just know with 1,600 buses, we still have a long way to go today," Skorkowsky said.
"It has been in general a good opening," he added. "For the most part, kids are in school and learning, which is what it's all about."
While some maintenance workers responded to calls to fix broken air conditioning units at individual schools, Skorkowksy said he had not heard of any campus-wide outages as the afternoon temperatures approached the triple digits.
The largest issue reported across the district remained the 20 percent of students who had not registered online before Monday.
On Twitter, parents reported never receiving a bus schedule, while campus registrars started the morning with students wondering whether they could enter any classroom.
Spokeswoman Michelle Booth, however, noted the district made numerous attempts since April to notify parents about the switch to a fully online registration system.
"If 80 percent (of families) followed the timeline, I think that's a pretty good number," she said.
NONTRADITIONAL LEARNING
A small group of sixth-graders also had to wake early Monday to kick off their nontraditional school year at Nevada Learning Academy, the district's virtual middle and high school.
While most NVLA students take all their courses online or at their home campus, middle schoolers meet two days each week for face-to-face interaction with their instructors and peers.
"It's just a new way of doing things," said 11-year-old Jennifer Michel. "I'm looking forward to attending school, but at home and more comfortable than if I had to sit in front of a teacher all day."
Jennifer recently finished a sixth-grade orientation that teaches new online students how to access their course work online, download necessary software and upload their homework at home.
The academy, with an enrollment of more than 750 full-time and 5,000 part-time students, was established in 2004 and expanded to the middle school level last year.
Kelly Greenwald, a math instructor at NVLA, watched Jennifer try to build a tower out of spaghetti noodles, string and tape in hopes that it would hold a marshmallow in place.
"We do everything possible to make the transition smoother," Greenwald said of the move from a brick-and-mortar school to the online campus.
"Seeing us in person really helps. Knowing that we're here, in front of them, and can offer any assistance definitely makes a difference. They don't have to feel like they will handle this alone."
LAST-MINUTE REGISTRATION
A line of parents snaked out of the front office at Cortez Elementary School as a majority of students met their teachers for the first time on the playground.
In April, the district launched an online registration process for families but reported last week that a full one-third of students still had not registered. As of Saturday, about 275,000 of 323,000 students completed their registration online.
"Nobody said anything about that," one mother told front office workers at Cortez early Monday.
Even parents who successfully registered their students online reported first-day complications.
Rosa Delgado, 24, waited for the first bell with her two daughters — both of whom had not met their teachers yet.
"We're used to coming to the school early, making introductions, getting know who will teach my kids," Delgado said. "We don't know what to expect.
"We're kind of going in blindfolded."
Another mother, Elsa Martinez, joined the growing line of patient parents after classes started.
Her son, 6-year-old Jason, proudly showed off his new wrestling-themed backpack while anxiously hoping to start his first day of kindergarten.
"I just want to learn," he said. "I want to learn about dinosaurs, about zoos, about a lot more things.
"My friends are waiting for me!"
JET-LAGGED AFTER ROBOTICS TEAM TRIP TO CHINA
Moments after the first bell rang at Cimarron-Memorial High School, one particular group of Spartans looked a bit more tired than their peers.
The Cimarron-Memorial robotics team, which arrived back to Las Vegas on Friday after a two-week trip to China, stifled yawns as they welcomed students and staff back to school with a band and cheerleaders.
"I'm definitely jetlagged," said senior Alexa Lignelli, who sported a rice patty hat as souvenir of her trip. "I've been waking up every night at like 2 a.m.
"Same story last night: Up at 3 a.m., just lying there for hours and wishing I could just sleep."
The robotics team flew to China to help train other students participating in a regional tournament. The Spartans themselves walked away with gold medals for their performance in a separate international competition.
"It's a great way to start the school year, even if we're tired," Lignelli said.
Clark County School Board member Patrice Tew briefly addressed the robotics team about their school's progress since its designation as a turnaround campus two years ago.
The district places that designation on the lowest-performing schools and allows principals more flexibility to hire new teachers and implement academic interventions.
In 2012-13, Cimarron-Memorial posted a graduation rate of about 51 percent. That rose to 75 percent for the Class of 2015, according to district officials.
BUS DRIVERS READY TO ROLL
As the sun barely started to rise over the Las Vegas valley, dozens of bus drivers with the Clark County School District filed into a North Las Vegas bus yard to prepare for their vehicles for the first day of school.
Driver Laura Hicks, starting her fifth year with the district, pumped the brakes one final time before officially starting the engine for the long route ahead of her.
The 34-year-old driver will cart students to and from Rancho High School and several other campuses.
"This is kind of like a family calling," Hock said.
"My grandma retired just a few years after after decades driving buses. From 19 to 71, she did this. Now I'm here to make each kid's day in the morning."
This will mark the first year Hicks works with special-needs students and expects them to be nervous and excited for day one.
"It's my job to make them more comfortable," she said. "You never know what's going on at home or with bullying. So I just got to help them feel, you know, at least someone's smiling for them."
Among the biggest changes that Las Vegas families can expect this school year, the district modified its bus schedules to require new magnet school students to appear at their closest zoned campus for pickup.
The new policy does not impact returning magnet school students and their siblings.
Other changes that parents and students will see this year:
Class sizes: While the expiration of a class-size reduction waiver will shrink the attendance rolls for kindergarten through third-grade teachers, the district will increase class sizes in grades four and above to solve a $67 million budget shortfall. Secondary class sizes will rise by 0.5 students this year. The prior year's student/teacher ratio was 32-to-1 in fourth and fifth grades; 34-to-1 in middle school; and 33.5-to-1 in high school. The reduction in class sizes in the lower grades helped push teacher vacancies even higher, with elementary positions making up more than half of the total 920 teacher vacancies reported last week.
Full-day kindergarten: In the recent legislative session, state lawmakers approved changes to the public school finance system that eventually will fund full-day kindergarten at all elementary schools. That doesn't go into effect until 2016-17, though some school districts, like Washoe County in the north, chose to fund full-day kindergarten starting this year. In Clark County, however, some parents will continue to pay tuition to enroll their children in kindergarten, as the school board recently voted to expand full-day kindergarten to just 187 of nearly 220 elementary campuses.
New magnet schools: The district will add about 8,500 seats at seven new magnet schools this year as part of an effort to draw students to underused campuses. The expansion includes transforming Piggott Elementary School and Johnson Junior High School into International Baccalaureate academies; adding science, technology, engineering and mathematics programs to McCaw Elementary School, Guinn Middle School and Eldorado High School; and offering fine and performing arts at White Middle School and Del Sol High School. Last year, nearly 16,700 students applied to magnet schools with seats available for only a third of them.
New select schools: Similar to the magnet school expansion, the district will offer new Advanced Placement and career and technical programs at five area high schools: Bonanza, Chaparral, Mojave, Silverado and Western. Mojave also will gain an engineering program, while Western hosts a biomedical track and Silverado starts the school year with certification from the National Academy Foundation in Finance and Information Technology.
Online registration: For the first time this year, the district required families to register students through an online portal called Infinite Campus. Parents could access the site on their desktops or smartphones, with computers available at each school campus for families without Internet access. However, the district reported last week that a full third of students had not been registered for the first day of school, creating questions about how students will learn about their bus schedules and the need to deal with crowds of angry parents that school registrars will greet on day one.
Victory and Zoom school expansion: With a boost in funding from the Nevada Legislature, students living in poverty and English language learners will benefit from more services offered at several new campuses. Victory Schools, which target interventions to low-income students and at poorly performing campuses, may offer prekindergarten programs, afterschool activities, reading skills centers, parent engagement initiatives and more. At Zoom Schools, students who speak English as a second language could benefit from universal prekindergarten, summer academies, extended school days, reduced class sizes and more. This is the first year the Zoom School program will expand to the secondary level, at Orr and Robison middle schools and Global Community High School.
This is a developing story. Check back for updates.
Contact Neal Morton at nmorton@reviewjournal.com or 702-383-0279. Find him on Twitter: @nealtmorton.
Send us your photos of the first day of school!