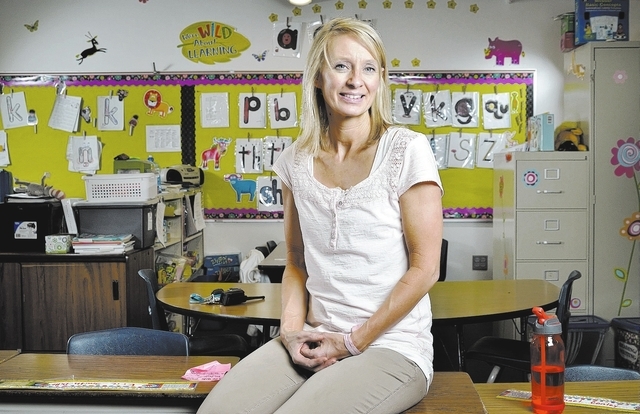 Trina Boring didn't set out to teach children with autism, but she can't imagine her career any other way.
She began her elementary school teaching career in 2001. The following summer she was asked to teach students with autism in summer school and has never looked back.
She earned her special education-related master's degrees from UNLV and has taught at Warren Elementary School, near Alta and Torrey Pines drives, for 12 years.
Boring currently teaches a class of eight first-, second- and third-grade "kiddos," as she calls them, with help from assistant Annette Nuanez.
"I enjoy the challenge and I enjoy the closeness of working in a small classroom," Boring said last week. "My team, I love my team. I love my assistant. We've been working together for 10 years. I don't even have to say anything anymore. We can pretty much read each other."
For her hard work and dedication to her students, Boring was named Clark County Educator of the Month for April. April was Autism Awareness month, meant to bring attention to the condition, which covers a broad spectrum of neurodevelopment disorders that impair social and communication skills.
Boring was nominated by longtime friend Sarah Thornton and was chosen by a panel that includes members of the Clark County School Board, the Public Education Foundation, Teach for America and private school representatives.
The Las Vegas Review-Journal and Sierra Nevada College sponsor the program.
All monthly winners will be honored at an end-of-the-school-year banquet, where an educator of the year will be named.
Thornton and Boring attended the University of Nevada, Las Vegas together as undergraduates.
"She is one of the most positive people I know, and sometimes even I wonder how she can stay so positive with such an incredibly difficult job," Thornton wrote in her nomination. "It is emotionally, physically and intellectually challenging almost every day."
Boring and Thornton have partnered for the past few years to bring the Shoes that Fit donation drive to Warren Elementary. Nearly 700 students at the school received new shoes.
Boring has also organized school supply drives and participates in awareness walks.
Thornton lauded her friend for her tirelessness.
"I have never seen an educator so passionate and engaged in their work," Thornton said. "She loves working with students that have autism, and has never tired from it. Even though, as I understand is the case with most autism teachers, she has the physical scars to show for it."
Physical altercations are sometimes part of an autism teacher's job, but Boring isn't fazed. She laughs when she points to scars on her arms, from being scratched by students. Emotionally adjusting was much more difficult.
"Every time I tell someone (what I do) they say, 'Oh, you're a saint.' I'm not a saint," she said.
Laughter and a good sense of humor has been an indispensable tool in dealing with challenging situations. But mostly it comes down to the people around her, including the school's administration, assistants Nuanez and Laurie Dake and occupational therapist Sheila Rustad.
"It's a team. It's comfortable and it's fun," Boring said. "Yes there are those challenging days, but the next day it's fine. The kids, you get to see them learn."
Contact reporter Kristy Totten at ktotten@reviewjournal.com or 702-477-3809. Find her on Twitter: @kristy_tea.