Clark County teachers spend time in Turkey to enhance lesson plans
August 8, 2011 - 11:19 pm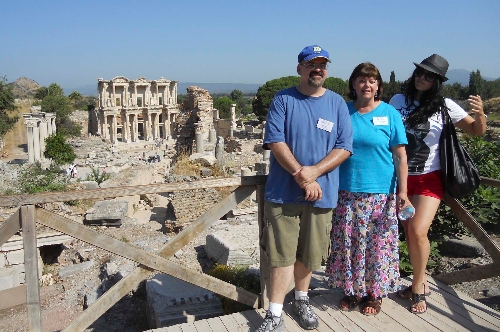 When Patty Ellsworth teaches 10th-grade world history this fall, she'll draw from personal knowledge of the subject matter.
After traveling more than 2,500 miles through Turkey in 12 days, she and two other local teachers will use that experience to better educate their students.
Ellsworth, who teaches at Del Sol High School, 3100 E. Patrick Lane, went with Gary Handley of The Meadows School, 8601 Scholar Lane, and Mercedes Krause of Gibson Middle School, 3900 W. Washington Ave., to Turkey from July 4-17.
They visited the country's prominent historical sites and touched the walls that guarded the ancient city of Troy. They walked in the ruins of the nearly 2,000-year-old Library of Celsus in Ephesus. They walked through Bursa, the first capital of the former Ottoman Empire.
"It was so amazing," Krause said of the trip. "We had such a variety of experiences."
Best of all, perhaps, it was free.
The Turkish Cultural Foundation and the World Affairs Council of Las Vegas sponsored 57 teachers from around the country to make the trip.
Krause helped arrange a preliminary Professional Development Education workshop this spring for about 25 Clark County School District teachers. They learned the country's history from Turkish experts and wrote proposals on how they would use information gained from the trip to teach their students.
Two groups of about 30 teachers from across the country flew to Turkey's capital of Istanbul, where they started their tour.
Turkey is bordered by the Mediterranean Sea to the west and Syria, Iraq and Iran to the southeast. The Eurasian country is the size of Texas and South Carolina combined.
Teachers traveled four to six hours by bus between sites most days and learned about each area from experienced tour guides.
The teachers stayed in four- and five-star hotels and enjoyed the region's finest foods.
"They just treated us royally," Ellsworth said. "They wined and dined us."
As a world history teacher, Ellsworth included Turkish history and the Ottoman Empire in several of her lessons anyway. She feels more confident explaining it to her students now, she said.
Turkey's location makes it especially important in her class, she added.
"Turkey was a crossroads between Asia and Europe," Ellsworth said. "It's not just one group of people. There's layers and layers and layers of history there.
"I have slides I'll use in PowerPoints, and I brought back artifacts. I plan to put together a presentation about Turkey and use it in the classroom."
Ellsworth and Krause said the trip helped clear up misconceptions they, and probably most Americans, have about the country.
It was clean, most of it was modernized and there is great emphasis on education, they said.
Krause, a sixth-grade leadership teacher, was so impressed by Turkey's modern founder, Mustafa Kemal Atatürk, that she's going to use him as an example in her class.
She plans to have a lesson where students create their own country, much like Atatürk did.
One of the teachers in the group had a large tattoo of the American flag on his arm, Krause said, that he worried about showing publicly.
"He thought of bringing a Sharpie to disguise it," Krause said, "because he thought there was an anti-American sentiment. They really, heartfeltly extended a hand to us."
Another workshop will be scheduled in the spring, as will another tour through Turkey for a few lucky teachers.
For more information, visit turkish culturalfoundation.org or waclv.org.
Contact View education reporter Jeff Mosier at jmosier@viewnews.com or 224-5524.
Teachers in Turkey
For more information about the Turkish Cultural Foundation, visit turkishculturalfoundation.org.
For more information about the World Affairs Council of Las Vegas, visit waclv.org.