Clark County teachers union members ratify proposed 2-year contract
December 19, 2015 - 6:49 pm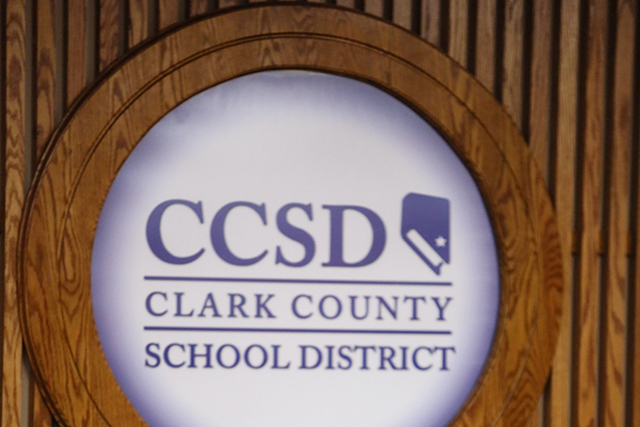 The Clark County School District, with the support of its teachers union, soon may overhaul its salary schedule to recruit new educators to Las Vegas while encouraging more teachers to work in at-risk schools.
Veteran teachers, however, sounded less than pleased after a majority of union members at a meeting Saturday ratified the proposed two-year contract, which comes with a $108 million price tag that the Clark County School Board will consider at its Jan. 14 meeting.
On their first day of winter break, hundreds of teachers spent Saturday morning in a ballroom at Alexis Park Resort listening to details of the proposal, which remained secret until the ratification vote.
The contract impacts all 18,000 teachers who work in the district and includes a series of pay raises for each employee and new incentives for those who work at high-needs schools. It also requires educators to document their professional growth before supervisors consider additional salary increases.
John Vellardita, executive director of the Clark County Education Association, which represents teachers, said 88 percent of members at the Saturday meeting voted to ratify the contract.
"Almost 68 percent of those in attendance had 10 years of service," Vellardita said. "The overwhelming tenured teachers recognized that this salary schedule is a competitive salary schedule that raises the entry as well as the ceiling."
Following the vote, many freshman educators left the meeting with a bit of holiday cheer in their step, applauding a more than $5,000 bump to the starting salary for new educators.
Their more seasoned peers, however, either described the new contract as "better than nothing" or expressed outright hostility to the agreement.
"The school district is not heading in the direction that I want as a professional, and the union's not helping out too much," said Sarah Potts, a kindergarten teacher at West Preparatory Academy who voted against the contract.
"It's time to leave — possibly the profession but for sure CCSD," she added.
She and several of her peers described the contract as "shady" and a smokescreen, referencing the multiple spreadsheets that teachers must navigate to determine what raise they will get and when.
They particularly criticized a portion of the contract that requires teachers to complete nearly 700 off-the-clock hours of professional development before they gain eligibility for raises.
Vellardita said that so-called professional growth plan does not differ from existing requirements.
In a statement, the district estimated retroactive pay increases, pending board approval, would arrive on teacher paychecks in late February.
It also highlighted a new salary schedule that goes into effect March 1 raises the starting pay for teachers from about $34,600 to $40,000. The maximum salary that teachers can earn will rise from about $73,700 to just under $89,000.
"The increases offered in this package will result in sacrifices and cuts made to other departments and projects," the district said in its statement.
"But it falls in line with much of what has been discussed by legislators and other key stakeholders as factors that will move education forward in Clark County," the statement reads.
Under the proposed contract, teachers would bank a $900 cost-of-living adjustment at the start of the 2016-17 school year.
However, some critical union members said that increase amounts to nothing after accounting for a hike in their health insurance and retirement costs.
"I'll have to drop (my membership) with the union in July just to give myself a pay raise," said Tammy Hadlock, magnet coordinator at A-Tech Academy.
She has spent 12 years in the district, compared to June Talamoni, a first-year special education teacher at Cannon Junior High School.
Talamoni recently changed careers and said the proposed salary changes gave her something to look forward to.
"I don't have any complaints," she said. "It's just disheartening the salary that we have to start out with as new teachers.
"I'm making higher than that since I have a master's (degree) but it's just a little more comparable in pay — just a little bit, not a whole lot — compared to what's offered in other states."
Contact Neal Morton at nmorton@reviewjournal.com or 702-383-0279. Find him on Twitter: @nealtmorton.