CNBC live? Nope, it's Finance 301
December 2, 2011 - 2:05 am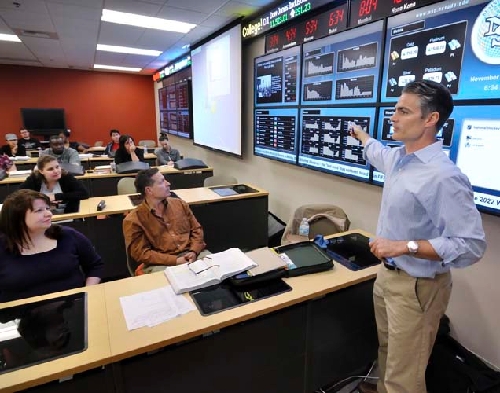 Nevada State College business students have some state-of-the-art tools to help expand their knowledge of the financial markets and gain a new perspective on the day-to-day global nature of monetary environments.
The tools are used to teach Finance 301. But what's unique about the course is that it's taught in the college's Finance Lab, which features the same technology and on-demand market information found at any brokerage firm on Wall Street.
A sprawling, 30-foot bank of high-definition monitors treats students to live video, breaking news reports, and worldwide market data. The classroom also features a 38-foot rolling ticker that displays the latest stock prices.
"What I do is take real world events and see how they relate to what my students are learning," said Ted Berg, an adjunct instructor at Nevada State College in Henderson and owner of Las Vegas-based Freeport Investment Management LLC.
In a recent class, Berg used the failure of the "super committee" in Congress to forge a deficit reduction deal to teach how political events can negatively affect the stock and bond markets worldwide.
During his weekly three-hour class on Monday, he cited the better than expected Black Friday retail sales figures as driving recent stock market gains.
"I really enjoy talking to students about business and finance," Berg said. "It's also about studying capital budgeting, how business decisions are made, as well as stocks and bonds and how they are valued."
The Finance Lab, the only classroom of its type in Nevada, is also different because of its 40 Web-enabled computer workstations. Students can participate in lectures and take exams using an iClicker wireless response system.
"We are saving trees," Berg joked.
But he stressed that his class was not about training "stock pickers," but giving his students a well-rounded education in business and finance.
The interactive classroom, which displays student responses immediately, allows Berg to quickly determine that his students understand the material. He said, for example, if only 10 out of his 29 students answer a question correctly about bond yields, he could go over the material again in real time.
Debbie German, a part-time real estate broker in Las Vegas, is taking Finance 301 as a prerequisite before studying for her master's of business administration at Texas A&M Commerce.
"I was intrigued by the class," she said. "I've never seen this before. The use of technology to learn about finance."
She said the decision to pursue her MBA was "definitely worth it."
German, who has an A headed into her final exam next week, admitted that in the beginning it wasn't easy to understand what she was reading in a company's annual report.
Osagie Iredia, a junior and German's partner on a Wal-Mart case study, said he had no experience with stocks and bonds or mutual funds before taking the class.
"It's given me a better understanding of finance," Iredia said. "It will also allow me to make more intelligent (investment) decisions."
Berg, who spent more than 20 years as an analyst for casino companies and as an equity research analyst at Lehman Bros., described teaching finance as time-consuming, with hours spent preparing each class.
He said the trick is to introduce students to the world of finance by boiling down the information into simple terms in the beginning. Berg said as the class moves along, he'll begin introducing students to the more specialized language of finance.
"You don't want to assume that people are going into the stock trade," he said.
Contact reporter Chris Sieroty at csieroty@reviewjournal.com or 702-477-3893.