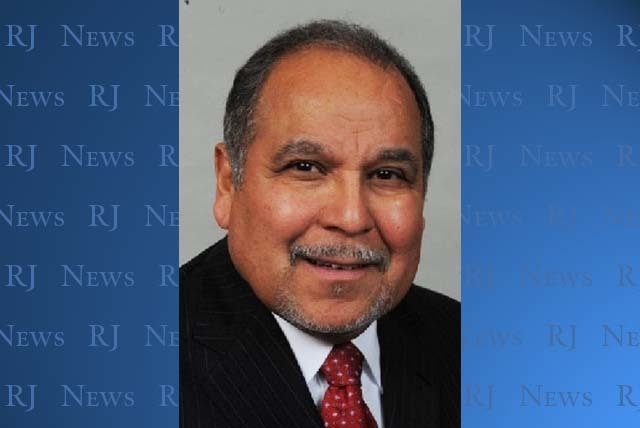 The College of Southern Nevada overpaid and underpaid federal financial aid to hundreds of students during the 2011-12 and 2012-13 fiscal years because of human error, officials said Tuesday.
On Monday, the college announced the resignation of Santos Martinez, vice president for student affairs. College officials said his resignation is not connected with the issues recently discovered. Martinez, who was hired in 2012, supervised financial aid among other areas at the college.
Major changes are now underway to overhaul the college's financial aid department.
From time to time, colleges and universities experience similar situations, said CSN President Michael Richards.
"This just happens to be our turn," he said. "We are headed in the right direction to get it resolved."
College officials became aware of the errors during an assessment of student award files this summer, a review requested by the U.S. Department of Education for the 2011-12 year, officials said.
After officials discovered the errors, they contracted with ProEducation Solutions to conduct a similar assessment in June for the 2012-13 year, said Patty Charlton, senior vice president for finance and administration at the College of Southern Nevada.
Officials are still calculating the total amount of money overpaid to students during the last two years in federal aid. The exact number of students impacted is still not known. The college has to pay the money back to the U.S. Department of Education.
"We don't have a final number," Richards said.
Officials need to have that final number to determine what the next step will be. The college plans to use institutional reserves from non-state appropriated funds and non-student fee revenue to reimburse the U.S. Department of Education, Charlton said.
A smaller number of students, although an exact count was not available Tuesday, were under-awarded federal financial aid. Those students will be reimbursed and CSN will receive the funds to do so from the U.S. Department of Education, she said.
The processing errors in awarding federal financial aid occurred for several reasons, officials said, including miscalculating the cost of attendance for some students attending part-time and not enacting adequate measures to ensure accuracy when staff members review student financial documents to determine eligibility amount.
CSN is the largest college in the state and handles a lot of financial aid and processes a lot of documents, Richards said.
In recent years, the college has disbursed about $68 million to $73 million annually in financial aid, Charlton said. Every year is different.
"We have a large population of first-generation and first-year students" with financial need, she said.
During the 2011-12 fiscal year, a total of 15,816 students at the college received the federal Pell Grant , which is based on need, according to information submitted to the federal government. The awards totaled a little over $44 million, and that's just one category of federal financial aid.
Officials thought it was important to contract with ProEducation Solutions for the 2013-14 as well, Charlton said.
"In the next cycle, we want to be prepared to say that we already looked at these records and that they are accurate," Richards said.
An organizational change was made to assign Charlton to work with Brad Honious, associate vice president for financial aid, to resolve the problems, Richards said. He wouldn't comment on whether any employees were fired or disciplined for the errors.
He also wouldn't say whether Martinez's resignation was connected to the problems coming to light.
"His resignation stands on its own as a separate item," Richards said.
He later said: "For us, it's a managerial and operational issue and we know what our obligation is to the public in terms of accountability."
Martinez was hired by Richards in spring 2012. Martinez came from McLennan Community College in Waco, Texas, where he had previously served as vice president of student services, according to CSN.
He came to CSN with more than 21 years of experience in higher education, according to Review-Journal articles.
Martinez served as a pastor for more than a decade before he decided to change careers in the early 1990s.
Martinez received his bachelor's degree from the University of Corpus Christi, a master's degree in divinities from Southwestern Baptist Theological Seminary in Fort Worth, Texas, a master's degree in counseling and guidance from Corpus Christi State University and a doctorate in education from Texas A&M University.
CSN officials are also soliciting national financial aid experts to provide immediate support for the college's financial aid department, he said.
The issues are not delaying financial aid disbursements to students this fall semester, Honious said. Things are as "usual in this time of year," he said. "More students will be getting the right amount of dollars."
Contact Yesenia Amaro at yamaro@reviewjournal.com or 702-383-0440.