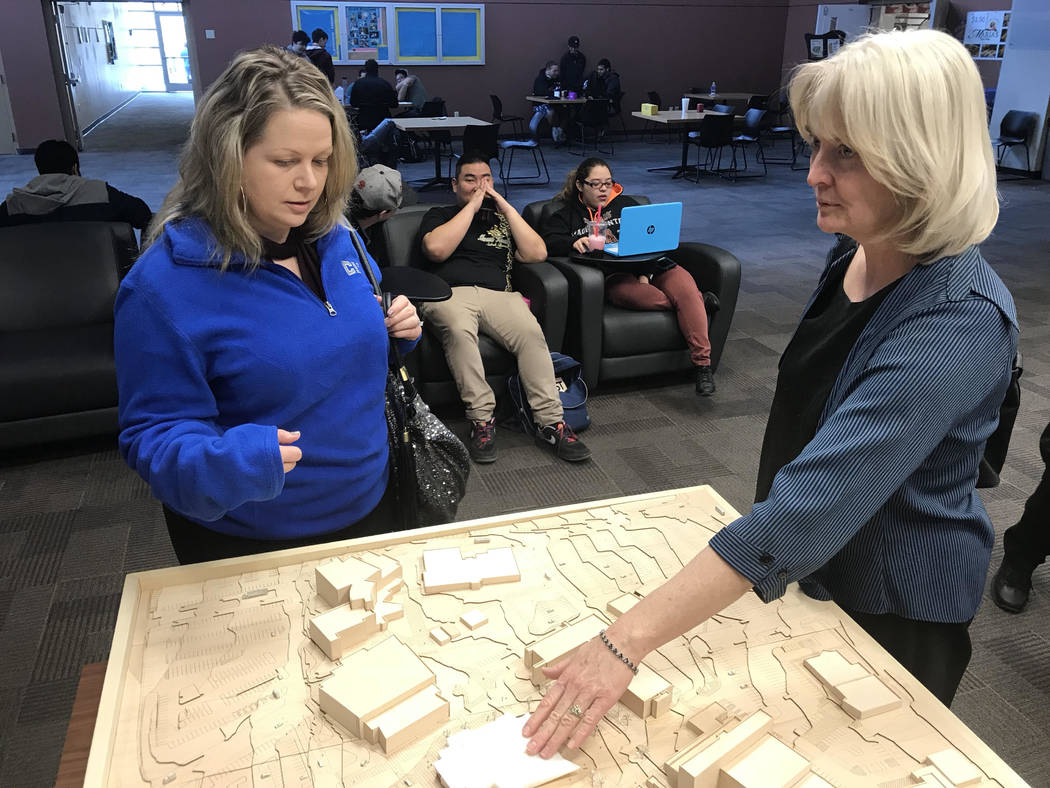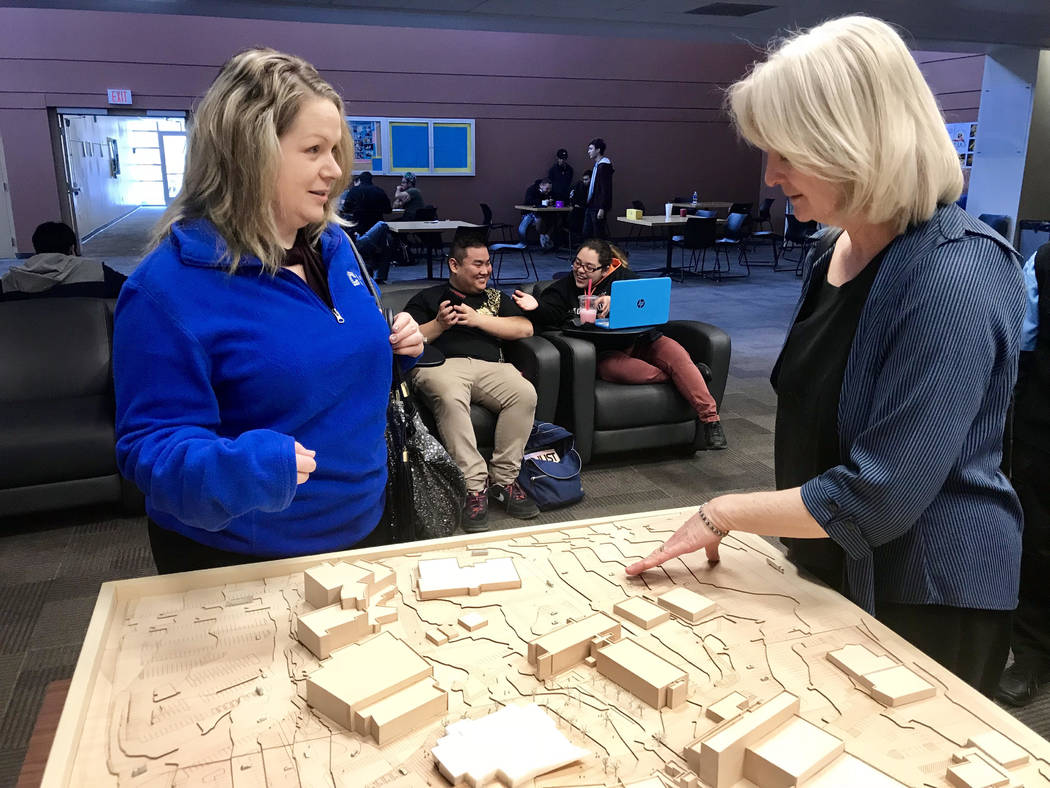 In about three months, the parking lot in the center of the Charleston campus of the College of Southern Nevada will be dug up to make way for something new.
Students will soon have a central place to gather, grab food, meet with advisers and study for tests when a 29,000-square-foot student union is built at Charleston and at CSN's two other campuses.
CSN officials hosted a showcase at the Las Vegas campus Wednesday, showing off blueprints and drawings, a model showing the student union's location on campus and features like furniture and the unique color scheme chosen for Charleston.
The new building also features an outdoor courtyard with numerous shade trees and ample seating.
"We're trying to promote being outside and being able to enjoy the environment," said Sherri Payne, who oversees CSN's facilities management. "You should be able to sit outside as easily as you can sit inside."
The college hosted a similar showcase at its Henderson campus last week, and will do so for the North Las Vegas campus next week.
"We wanted to … get a little feedback, and keep everybody excited about the project," Payne said. "We've had a lot of good suggestions from the staff and everybody seems to be very excited about it."
Jacob Bakke, an analyst and curriculum scheduler for CSN, said he didn't have any suggestions for officials.
"They seem to be addressing all the needs that have been set out," Bakke said. "It looks like a beautiful space. I think it's going to be really useful for the students and for faculty."
The state Board of Regents approved the project in March last year, and Payne said the school hopes ground can be broken on building in May, with a fall 2019 grand opening.
The total project costs about $80 million, and is being paid for by student fee hikes. Payne said the $80 million is not an even split among the buildings. Henderson's student union will cost the most because the campus needs a greater amount of infrastructure work to make way for the new building, Payne said.
This past fall, students began paying an additional $8 per-credit registration fee, or about $120 per semester for a student taking 15 credits. Construction costs are also being supported by a $3 per-credit fee for summer courses beginning this year. For continued operation and maintenance, a $1 per-credit hour fee will be added in 2019. CSN is also contributing $7 million to the project from its general improvement fund.
"We've been meeting with them (the students) from the very beginning," said Jeni Panars, project architect for Tate Snyder Kimsey Architects. "They had some great ideas. They're really just excited to have a place to hang out because right now they don't really have a spot. It's for them, so we've been working pretty closely with them."
Contact Natalie Bruzda at nbruzda@reviewjournal.com or 702-477-3897. Follow @NatalieBruzda on Twitter.