Complaint says Trustee Child told students 'snitches get stitches'
March 12, 2017 - 11:25 pm
Updated March 13, 2017 - 12:19 am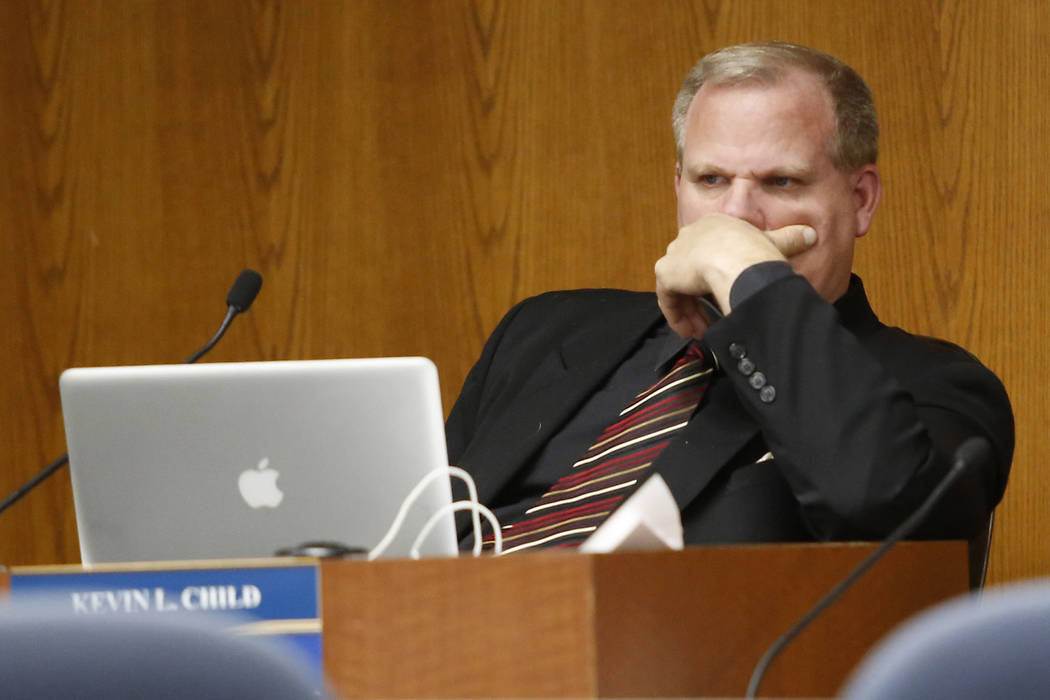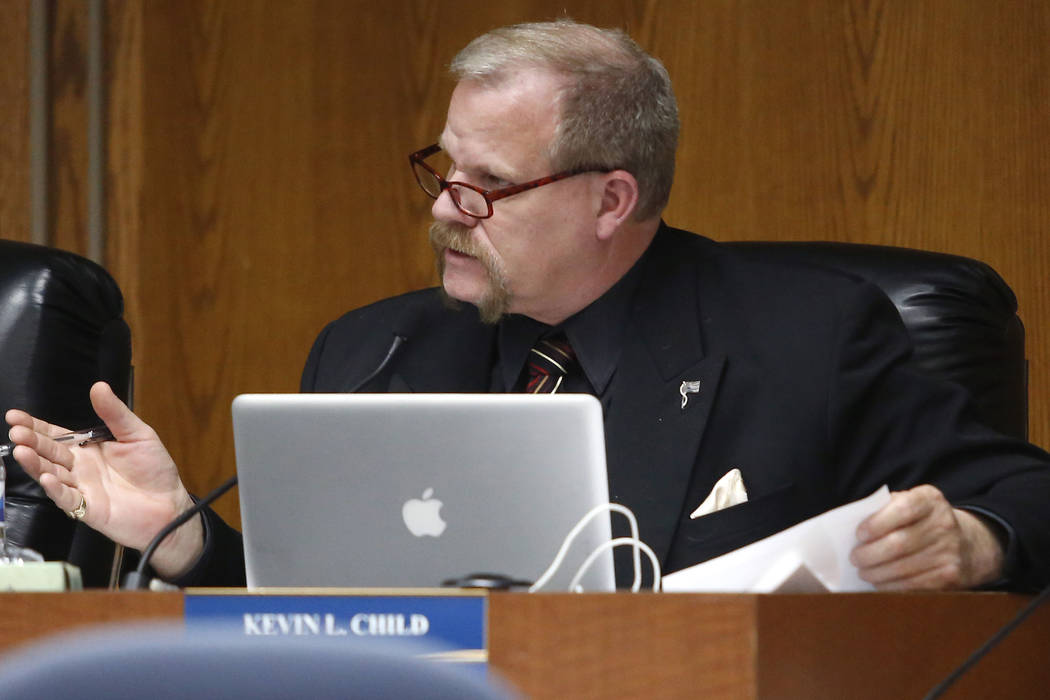 Clark County School District Trustee Kevin Child told a classroom of second-graders in 2014 that "snitches get stitches" and that one of them would end up in jail, according to a complaint obtained by the Las Vegas Review-Journal.
Other records obtained by the Review-Journal show that complaints against Child continued even after Dec. 5, when Superintendent Pat Skorkowsky issued guidelines that restricted Child's access to campuses. Some emails regarding Child's behavior were sent as recently as February.
Previously released complaints against Child accuse him of behaving inappropriately at schools and creating a hostile and intimidating work environment. News reports on Child's behavior compelled one elementary school teacher to report the 2014 incident with Child.
The teacher, whose name is redacted, wrote in December that Child came into her second-grade classroom and introduced himself.
In talking to the students, the teacher wrote, Child asked them to "finish this sentence … Snitches get what?" When no one answered, he told the class that "snitches get stitches," and described it as "a saying used in prison. It means if you tattle on someone, you're going to get punished for it."
The teacher, in her complaint, recounted the students' reaction.
"The kids began to look very worried and I told them he was just joking around," the teacher wrote. "The kids did not laugh. He went on to give a statistic saying 1 in every 20 or so students end up in jail, and since there were about 20 students in my classroom, that one of them was going to end up in jail."
It is unclear from the complaint whether Child visited that classroom before or after he was elected trustee for District D in November 2014.
Child continues to dismiss the complaints, arguing that they began after he started asking tough questions about the district reorganization.
"I'm going to focus on the kids; I'm going to focus on the school district; I'm going to focus on the stuff that needs to be done," he said.
RECORDS WITHHELD
None of the documents released by the system to date clearly demonstrates instances of possible sexual harassment, even though a district investigation of Child concluded that his behavior could be construed as such.
Public documents released so far also have not made clear why the district established a protocol for Child that prohibited his meeting with female employees alone and allowed female employees "ample opportunity to plan for his arrival."
District officials have not publicly discussed what led to such a protocol. The school district maintains that documents gathered in the course of "investigating an alleged unlawful discriminatory practice" are confidential, general counsel Carlos McDade wrote in a letter accompanying the newest public records.
The district's refusal to release all records will be the subject of a Tuesday court hearing in response to a Review-Journal lawsuit seeking the release of records related to Child's behavior. The third hearing in the case falls during national Sunshine Week, which promotes the importance of government transparency and access to public information.
"Transparency is the only way to identify potential wrongdoing by elected officials and hold them accountable," said Review-Journal Managing Editor Glenn Cook.
OTHER FEEDBACK
A school district employee at Clark High School wrote in June 2015 that Child made some student council members uncomfortable when he attended an "aloha" dance.
"Here is a grown man interacting with students on an familiar level: dancing, chatting, gossiping, etc.," the employee wrote. "It is inappropriate for an adult to tell children how 'beautiful' they are and to try to connect with these students on a personal level."
Not all correspondence on Child is negative. Robert Henry, executive director of the Department of Adult Education, wrote Skorkowsky one day after he issued the guidelines.
"While Mr. Child presents some challenges when he visits our programs, I honestly believe that he has his heart in the right place," Henry wrote. "He impresses me as someone who continues to advocate for children. … Yes, sometimes his antics are a bit unconventional, but he is at least doing something that may help."
OUTSIDE HIS DISTRICT
The records released so far reveal that issues with Child occurred in at least four schools in the jurisdictions of other trustees. Though trustees are responsible for all schools in Clark County, they are elected based on one of seven districts.
Complaints also came from within Child's District D, which includes the south-central area of Las Vegas and parts of North Las Vegas and encompasses 58 schools.
Despite the apparent broader scope of Child's reported interactions, trustees have yet to address these issues with him in a regular public meeting.
In private, however, at least three trustees have talked to Child about entering schools in their jurisdiction.
Some trustees maintain that the district appropriately addressed issues with Child, even if it did not do so publicly.
"Very early on in Kevin's tenure as a trustee, steps were being taken to correct behavior," said Trustee Carolyn Edwards.
But exactly what was done she would not explain, noting that Child has the right to some privacy.
"I'm not going to go into any detail, but as with any person who's doing something that needs to be addressed, there are steps you take to address it," she said. "Those were not ignored."
Edwards said she spoke with Child after he confronted an administrator for Durango High School — a school in her district — about Durango players kneeling during the national anthem at a football game.
Child had expressed concerns about the kneeling to the employee, asking the employee what he would do about it.
Edwards said she told Child not to talk to administrators in that way and noted that trustees can't direct staff.
Trustee Linda Young, who was board president during the time of these complaints, said trustees are attempting to resolve all issues, not only with Child but with all trustees.
"Trustees are very conscientious about our roles and our responsibility to appropriately be involved with students and staff, and how we go about that in a professional way," she said. "Things were not ignored."
The district's investigation followed protocol outlined in its policy on harassment and discrimination. That policy requires an internal investigation after an employee has lodged a complaint.
Once completed, the investigation is handed to the supervising administrator who takes the appropriate action. In this case, Skorkowsky made the decision to restrict Child's access to schools and staff.
The guidelines Skorkowsky sent to staff in December require Child to receive a written invitation to visit administrative offices or schools, with the exception of visits during public events.
Yet part of the issue that Child's fellow trustees have had in addressing his behavior, they said, came from a lack of a clear governance policy.
The school board's previous governance policy addressed general operational guidelines for its members. It did not, however, dictate how to handle trustees accused of wrongdoing.
The board's new policy, first adopted in October and formally approved last month, addresses in a four-step model known as progressive response. When issues with a trustee arise, the superintendent first meets with the trustee individually. If that move is unsuccessful, both the superintendent and board president meet with the trustee. If those actions don't change behavior, board members can discuss the issue in a public meeting. The new policy also sets guidelines for trustees' visits to schools, requiring them to get approval from a fellow trustee to visit schools beyond their district.
The policy also says walking through buildings without an administrator is disruptive.
"Dropping in at a school campus is a distraction from the work our employees are paid to do," the policy notes. "Surprise visits disrupt schedules and instruction. Call before you visit a school in your District."
Contact Amelia Pak-Harvey at apak-harvey@reviewjournal.com or 702-383-4630. Follow @AmeliaPakHarvey on Twitter.
RECORDS REQUESTED BY THE REVIEW-JOURNAL SHOW:
— 28 complaints, incident reports or email threads about Trustee Kevin Child
— At least four issues with Child at schools outside his district
— Complaints ranged from April 2014 to February 2017
RELATED
Students knelt during anthem, sparked outcry from School Board Trustee Kevin Child, records show
Records show complaints against Trustee Kevin Child began more than 2 years before official CCSD probe
CCSD trustee Kevin Child breaks silence on school district investigation
CCSD investigation says Trustee Kevin Child created hostile, intimidating environment
CCSD bars Trustee Kevin Child from making school visits