Computer repair business offers internships to IT students
September 6, 2014 - 8:00 am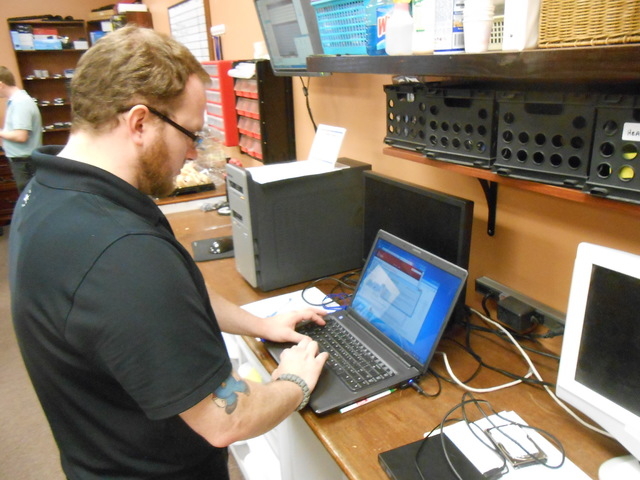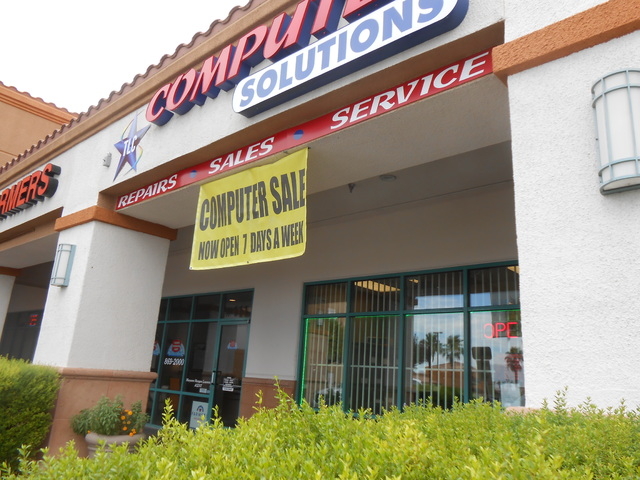 Trade schools provide the textbook learning for various crafts. But it's real-world, hands-on experience that can further that teaching.
To see computer technician students get a leg up, John Sinchak, owner/operator of TLC Computer Solutions, 7501 W. Lake Mead Blvd., Suite 112, included an internship program in his business plan. It's his way of giving back.
"We call it a win-win situation," he said. "We take in those eager students and, in the beginning, invest that time into them, watch what they do, show them, teach them all the things. What we expect is that, over time, they do catch on and start participating and then actually help us produce and be more productive as a company. In the end, we hope that they're almost independent technicians who would be employable in this type of position."
The internship program started about four years ago and has seen as many as 30 students. They put in at least 144 hours — generally 12 hours over 12 weeks — learning to diagnose problems, doing data backups and virus removal, replacing hardware, installing operating systems and working on customer relations skills.
Sinchak has agreements with three schools — Kaplan College, Professional Institute of Technology (LV-PITA) and ITT Technical Institute. He said most students are eager, fast learners. TLC has as many as five unpaid interns at a time. The program is open year-round but is dictated by the school's needs and parameters for meeting the standards of an intern.
At ITT Tech, students who want an internship have to write an introductory letter, explaining their goals and priorities, as well as get a letter of recommendation from one of their core course teachers, said Charles Walker, student professional experience coordinator. The technical school requires 135 hours of off-site work and profession development for an internship to be considered complete.
"We're looking for students who are eager to learn," Walker said. "… You need to have hands-on experience to make it easier to get employment."
He said some students are average in class, but when they get to do hands-on work, they excel.
Sinchak said the schools' coursework forgoes covering laptops, so interns are first introduced to the inner workings of that type of computer at his shop. He said the burden of always training someone was negated by having only one or two interns per shift.
Michael Valenti, 29 and an ITT Tech student, is a former military aircraft mechanic. He is one of the shop's current interns.
"I learn better hands-on," he said, "I can listen and listen to the teacher all day long, going on and on, but if I don't actually do it, I don't pick it up as well. But here — tearing it apart, getting inside, replacing things — I learn it quicker."
James Criswell is a past intern who was offered a job at Goodwill Industries. Criswell said the TLC internship likely set him apart from other applicants.
"Now, I have confidence in my abilities," he said. "Before, I was very timid … I couldn't put myself out there. Now, if I'm asked to figure something out on a job, I'll go, 'Yeah, let me figure it out,' and I'll go do it."
As for the schools, representatives said they appreciated that businesses such as TLC wanted to work with them.
Loretta Davis, campus director at ITT Tech's north campus, 3825 W. Cheyenne Ave., said customer service skills are something that can't be taught at a school, so interacting with the public, whether by phone or at the front desk, is a vital part of the internship. Her colleagues agreed that information technology people tend to be introverts.
"When students come out (of training), employers say, 'Well, we want to hire you, but you have to have experience,' and the student goes, 'Well, how am I going to get experience if no one will hire me?', " Sinchak said. "So, we provide that happy medium, that transition that they can put on a resume."
For more information about TLC Computer Solutions, visit tlcpcsolutions.com or call 702-275-8455.
Contact Summerlin Area View reporter Jan Hogan at jhogan@viewnews.com or 702-387-2949.