Crowd gathers at UNLV to mourn victims of Orlando tragedy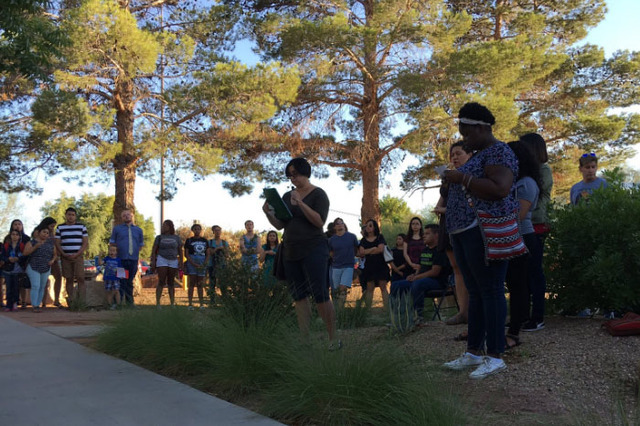 They lit candles, sang hymns and dabbed away tears beneath the sinking sun, mourning the "incomprehensible" — a weekend massacre that claimed 49 lives inside a gay nightclub in Orlando, Florida.
"I am broken-hearted," UNLV professor Doris Watson told about 200 community members who gathered for a vigil on the university campus Monday evening. "What happened yesterday is incomprehensible."
.@unlv Professor Doris Watson, in white shirt, says "love really does prevail" as tears well in her eyes #nved pic.twitter.com/Hg2ryogr5V

— Ana Ley (@La__Ley) June 14, 2016
Sunday's attack — in which a gunman killed 49 people and injured 53 others — was the deadliest mass shooting in U.S. history. The rampage struck during Pride Month, which honors the Stonewall riots of 1969 and the gay rights movement. Authorities haven't said whether the club was targeted because it is a gay club, but the shooting hit home for many within the nation's LGBT community.
Crowds trickling in @unlv Center for Social Justice for a vigil in commemoration of #OrlandoShooting vics pic.twitter.com/T47BeLfus0

— Ana Ley (@La__Ley) June 14, 2016
United by grief, anxiety and anger, a group of UNLV students put together Monday's event to help the community mourn.
"We realized there was a need for healing space," organizer Caitlyn Caruso said. "We want to honor that there's a lot of anger and rage in this space, and that's OK. We're mad as hell, and that's OK."
"I am frustrated and I am outraged," @unlv student casey tells crowd w translator speaking in Spanish #nved pic.twitter.com/v7mp0HXcZm

— Ana Ley (@La__Ley) June 14, 2016
Through social media, they quickly reached hundreds of people across the Las Vegas Valley who wanted to honor the victims.
"I couldn't just stand there," organizer Alexis Molina, 20, told the group. "I had to react."
Sumra Janjua Bartlett, a 32-year-old graduate student studying social work at UNLV, urged attendees to reach out to members of the LGBT and Muslim communities who may be struggling with their identity in the aftermath of the attack.
Fighting tears, organizer reads names of victims while performing a cleansing ritual #nved pic.twitter.com/D2KH4QQ4vo

— Ana Ley (@La__Ley) June 14, 2016
"It wasn't easy coming out here, because I'm hearing these things, and I don't know what's going to happen. But I'm glad I did it," Bartlett said, her voice trembling. "I feel that I need to speak out."
Contact Ana Ley at aley@reviewjournal.com or 702-224-5512. Find her on Twitter @la__ley