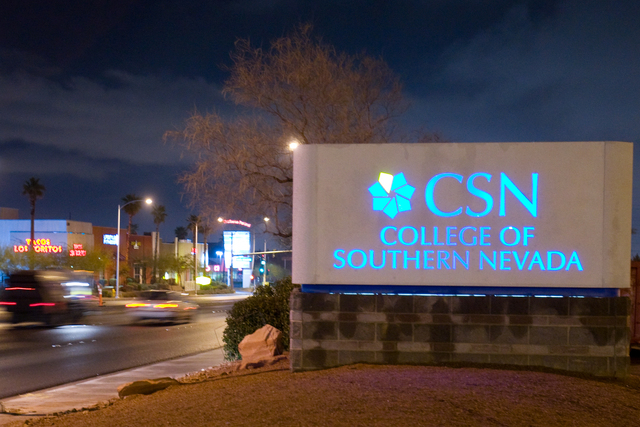 The College of Southern Nevada has unveiled a plan to build a $43 million health sciences building at its Henderson campus.
School officials aim to use the 70,000-square-foot building as a training facility for aspiring health care workers at CSN and Henderson-based Nevada State College. CSN President Michael Richards told a gathering of business and community leaders Monday afternoon that he will introduce the state-funded proposal to Nevada's higher education board at its next regular meeting April 22.
The 10-minute pitch was part of a series of free-flowing meetings aimed to help craft a policy agenda for Southern Nevadans in the 2017 Legislature. The Las Vegas Chamber of Commerce hosts the Southern Nevada Forum events, which are in their second legislative cycle.
CSN and NSC hope to create coursework and services that help health care students transfer easily between the institutions. The colleges intend to share the facility and partner with the city of Henderson for the project.
Barbra Coffee, Henderson's director of economic development, touted the CSN proposal as a way to help feed the region's growing need for health care workers. She pointed to a hospital-building boom in the Las Vegas Valley as well as ongoing efforts to create medical schools at UNLV and Henderson-based Roseman University.
"With the new medical schools coming online, it's not enough to have physicians coming to the community," Coffee told the group. "They need the workforce to support them."
CSN officials hope to build the facility in the southwest side of the Henderson campus.
"We have circumstances under way in the valley that are going to really expand" the need for health care providers, Richards said, noting that CSN trains about 30 percent of the Southern Nevada's nurses and "virtually all" of its health care technicians. "We need a trained workforce to step in and to be in position to help meet that expansion."
Contact Ana Ley at aley@reviewjournal.com or 702-224-5512. Find her on Twitter @la__ley