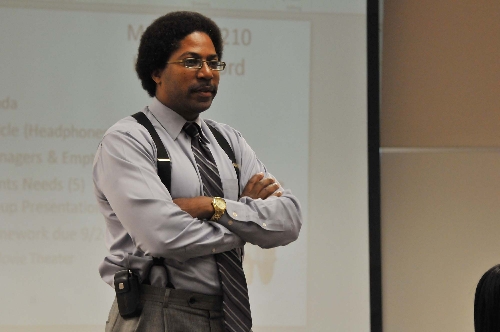 In a YouTube video produced by his students, College of Southern Nevada professor Kevin Raiford tells the world how being one of the top-rated professors in the country has not changed him.
He says this while wearing sunglasses indoors and being fed potato chips by a student/servant. He then becomes outraged when another one of his students gives him a drink that is not up to his standards.
"Eww!" he says after taking a sip. "I wanted 42 percent sweet tea, 31 percent unsweetened, 27 percent lemonade. Fix it; don't ever do that again!"
The video concludes with Raiford throwing an object into a student's eye for rushing him off to teach his next class.
The video is a joke, and Raiford was happy to make fun of himself in it. No students were harmed during its filming, either.
Raiford ranked third on ratemyprofessors.com's 2011-12 list of top professors, an annual report released in August. The website allows students to assign scores to their professors, similar to how professors grade them. Some students use the website to help choose classes each semester.
Raiford, a business and marketing professor, develops a close relationship with his students by regularly spending time with them outside the classroom. He said he likes to attend concerts and other events that students tell him about. He injured his Achilles' tendon in April during a pickup game of baskeball with students.
"I try to hang out with students a lot just to get a feel from an anthropological perspective of what people are listening to, what people are into," Raiford said. "It helps the class go a lot smoother."
Raiford said he plans to be back on the basketball court by October.
Students have become so comfortable with him that they even call him "Raiford."
Student Medin Gebrezgier said Raiford became more of a mentor and a friend than a teacher.
"After a while, we were dealing with him so much out of the classroom, the 'Raiford' thing stuck, and the 'Mr.' part dropped," Gebrezgier said.
Another reason students probably like Raiford so much is nearly everyone gets an "A" in his classes.
"If you go to Zumba or any fitness class, and you don't lose weight, and you don't get a good workout, it's the instructor's fault," Raiford said. "… If my students come here, and they don't get a good grade or learn, it's my fault."
Raiford grew up in Pittsburgh and made sure to point out that he is a "die-hard Steelers fan." He worked as a financial and marketing executive for companies such as Johnson & Johnson, Whole Foods Market, Quaker Oats, Snapple and Hewlett-Packard before becoming a teacher in 2004.
Raiford taught business at Western High School, 4601 W. Bonanza Road, and was a part-time instructor at CSN before becoming a full-time professor in 2008. He teaches at the Cheyenne and Charleston campuses.
Gebrezgier has taken nine of Raiford's classes and was one of his students at Western. Raiford helped Gebrezgier and other students start their own company, Revive Backpacks.
"He taught me almost everything I know," Gebrezgier said of Raiford. "The relationship went outside the classroom —- he taught me about life.
"He's a champion for youth and entrepreneurs in every form and fashion. He's completely immersed in what's going on with us."
Gebrezgier said Raiford shows up to 80 percent of Revive Backpacks' promotional events around town and "just hangs out."
Raiford has helped students start 17 businesses since he became a full-time professor. He said that eventually, there will be a time to move on from teaching, and he hopes to be a business consultant for former students.
When not in the classroom, Raiford is active.
He tutors kids for free on Tuesdays at Victory Missionary Baptist Church, 500 W. Monroe Ave. He enjoys cooking and international travel, with the Mediterranean being his favorite destination. He also is constantly teaching himself new things to keep up with his students. He said he is going to learn to be a disc jockey soon. He also began teaching himself Spanish four years ago by watching Spanish soap operas, listening to Spanish radio stations and subscribing to the Spanish version of People magazine.
As for the recent acclaim he has received for his website ranking, Raiford is quick to redirect it as a "team effort."
"I'm just enjoying it with my students," Raiford said. "It hasn't changed my teaching style. I don't feel any pressure to do things differently or any better. It's a team award for our department, our students, our school, and that's how I'll look at it."
Contact View education reporter Jeff Mosier at jmosier@viewnews.com or 224-5524.