Cultural gap inspires mentor group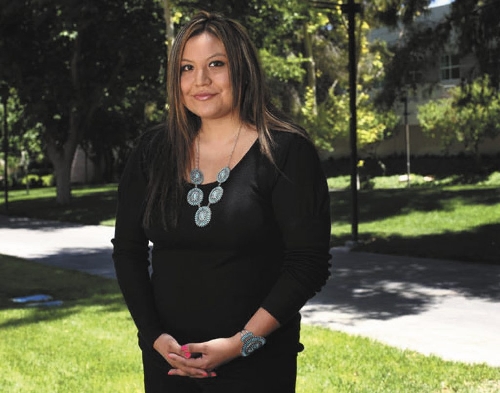 Dozens of hives speckled Crystal Lee's arms and hands. She had spent four days in a hospital under the care of three allergy specialists, but modern medicine seemed to be failing.
Despite countless blood tests and doses of medicine, the hospital staff could find no cure. Lee then turned to the physician she trusted most, her grandfather, a Navajo medicine man.
After drinking an herb blend and applying it to her rash, the bumps vanished and never returned.
"The hospital staff was amazed," Lee said about the 2003 experience. "I believe healing is very holistic."
Born and raised on the Navajo Reservation in Arizona, Lee said she trusts and values her tribe's natural healing ways but also understands the Western world's place.
The 30-year-old watched her grandfathers fight language and cultural barriers in their struggle to access quality health care for diabetes and Parkinson's disease, and she decided she needed to help. Lee, who is working toward a doctorate in social and behavioral health, said she wants to teach her tribal people how to mix their Navajo traditions with Western civilization's care.
"I feel like I'm learning here in the Western world in terms of my education, but I'm missing out on a lot culturally not being in the Navajo world anymore," said Lee, who teaches multicultural health at the University of Nevada, Las Vegas. "Both are good, but I still feel a sense of guilt. Still to this day, I struggle with different world views. At the core of me I am a Navajo woman. But that's very different than the Western world in every capacity from my personal to educational to professional life."
It's that conflict that inspired Lee to help Native American youth navigate the changes of living off the reservation or starting college.
About a year ago she created United Natives, a nonprofit organization that will pair Native American mentors with tribal youth to give them academic and professional support when it starts this fall.
United Natives is the first mentoring program of its kind, and former President Bill Clinton and the Clinton Global Initiative recognized it two months ago.
"I didn't know how much work it was going to be, but it's exciting to see it evolve and grow," Lee said. "The mentors give them support. A lot of students sometimes just need someone to talk to who understands."
One mentor, a Cornell University professor and member of the Hopi tribe, said it's difficult to find other Native American students and professors in the college system.
"We are 100 percent behind it," said Angela Gonzales, whose husband also is a mentor for the program. "We ourselves are natives and went through similar struggles."
Lee said each tribe is unique and comes with a new set of challenges for its youth. She uses the broad experience with her nonprofit group to help guide her work with the United Nations.
Last week, Lee finished her one-year term as co-chairwoman of the United Nations Indigenous Youth Caucus and was appointed North American liaison for the group. She writes recommendations to the United Nations on issues of in­digenous youth, with the goal of winning U.N. aid for one of her requests.
"I'm just really passionate about helping my tribal people," she said. "My goal in life is to make my community more healthy and assist in any way I can."
Lee's mother, Christina Lewis, calls her daughter's desire to give back to her roots an "honor."
"I'm very proud of my daughter, and I admire her work," Lewis said. "I'm just so grateful. Across the world, every parent wants their child to be successful. For me, I'm very fortunate."
Of more than 500 tribes in the country, the Navajo has the largest reservation, an area the size of West Virginia stretching through northeastern Arizona and encompassing the Four Corners.
Despite its geographic wealth, the tribe is one of the three poorest nations, Lee said. Her grandmother still lives without running water and electricity, and Lee hauls water and uses the outhouse during her many visits.
"That's normal. Navajo are very simple, very humble people," she said. "Socioeconomic status is still very low, but culturally, it's very rich. I didn't think anything of it until I left."
Lee's parents sent her to high school off the reservation in Winslow, Ariz., in hopes she would find a better education and escape the usual problems with Native American youth: poverty, low graduation rates, alcoholism, teen pregnancy and suicide.
She played basketball, traveling throughout the country for tournaments, and landed a basketball scholarship at Scottsdale Community College. She played shooting guard there for two years. She transferred to Arizona State University and completed her bachelor's degree in microbiology and communications. Lee attended Johns Hopkins Bloomberg School of Public Health before finishing her master's degree in public health at UNLV in 2007.
Her health education will be paramount as she focuses on mental and physical health on reservations in a documentary she plans to film about in­digenous youth. UNICEF agreed to sponsor the documentary about two weeks ago, but the project's details aren't final.
"It's nice to raise awareness," Lee said. "We definitely need a voice. I just want our issues to be addressed."
Contact Jessica Fryman at jfryman@reviewjournal.com or 702-383-0264.