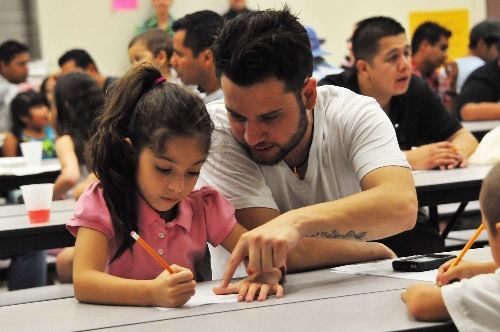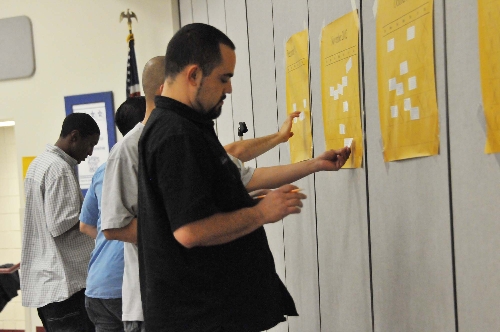 Dads are all around Jydstrup Elementary School these days —- in the classroom and hallways, on the playground and even in the lunchroom.
Jydstrup, 5150 Duneville St., is encouraging them to become more involved at school through WATCH Dads of Great Students, or WATCH D.O.G.S., a program sponsored by the National Center f or Fathering. The program started in 1998 at an elementary school in Springdale, Ark.
Dads at Jydstrup are being asked to volunteer at least one full day at the school. To recruit them, the school hosted a pizza night Sept. 20 and invited every dad at the school to attend with their children.
About 80 dads came, including single father Chris Enriquez with his 5-year-old daughter Qiana, a first-grader. Qiana is Enriquez's first and only daughter, so he is "brand new to everything," he said.
"It's important for me to be involved with her education," Enriquez said. "… It's cool to have a lot more dads in the school. It's cool that dads are stepping up to the plate, especially single dads."
Sergio Lopez came with his daughter Joyce, a fourth-grader.
"I want to support my daughter because education is very important," Lopez said. "I'm doing this in order to help her education."
After everyone had pizza, p rincipal David Frydman addressed the flock of fathers while their kids tended the playground.
The program has two goals, Frydman told them: to get positive male role models in the school and to reduce bullying. He said having dads around kids on the playground —- where most bullying and fighting occurs —- should improve students' behavior.
"It's great to see dads in the school," Frydman said. "There just are not enough of them."
The school does not have a program to attract moms, he pointed out, because such a program is not needed.
Jydstrup started the program last year and had participation from about 80 dads, Frydman said. Even Frydman, a father of two boys at the school, took a day off work last year to volunteer and plans to do the same thing again.
Frydman is aware of a few other elementary schools in the valley that utilize the program, including Bonner , 765 Crestdale Lane; Cartwright, 1050 E. Gary Ave.; and Twitchell , 2060 Desert Shadow Trail. WATCH D.O.G.S. has programs in 41 states, according to its website.
On a dad's volunteer day, he will be asked to help usher students inside the school. He will volunteer in a classroom other than his child's during first period and then in his child's for second period. Later he will patrol the hallways and be asked to shake hands with as many students as he can. He will volunteer in another classroom before helping out in the lunchroom and on the playground. Dads will get a free school lunch and then help in one or two more classrooms.
"By the end of the day, you're going to be exhausted," Frydman told them.
Before implementing the program last year, Frydman talked to some other principals who had experience with the program.
"They said don't bother, you won't get a good turnout," Frydman said.
By the end of the night, it was looking encouraging.
Frydman asked dads before they left to write their names on stickers, commit to a day to volunteer and post the stickers on calendars at the front of the lunchroom. Nearly every day for the rest of the semester had a dad on it.
For more information, visit fathers.com/watchdogs.
Contact View education reporter Jeff Mosier at jmosier@viewnews.com or 224-5524.
WATCH D.O.G.S.
For more information about the WATCH Dads of Great Students program, visit fathers.com/watchdogs.