Dozens of students, staff pepper-sprayed in fight at Las Vegas school
Updated October 11, 2018 - 7:42 pm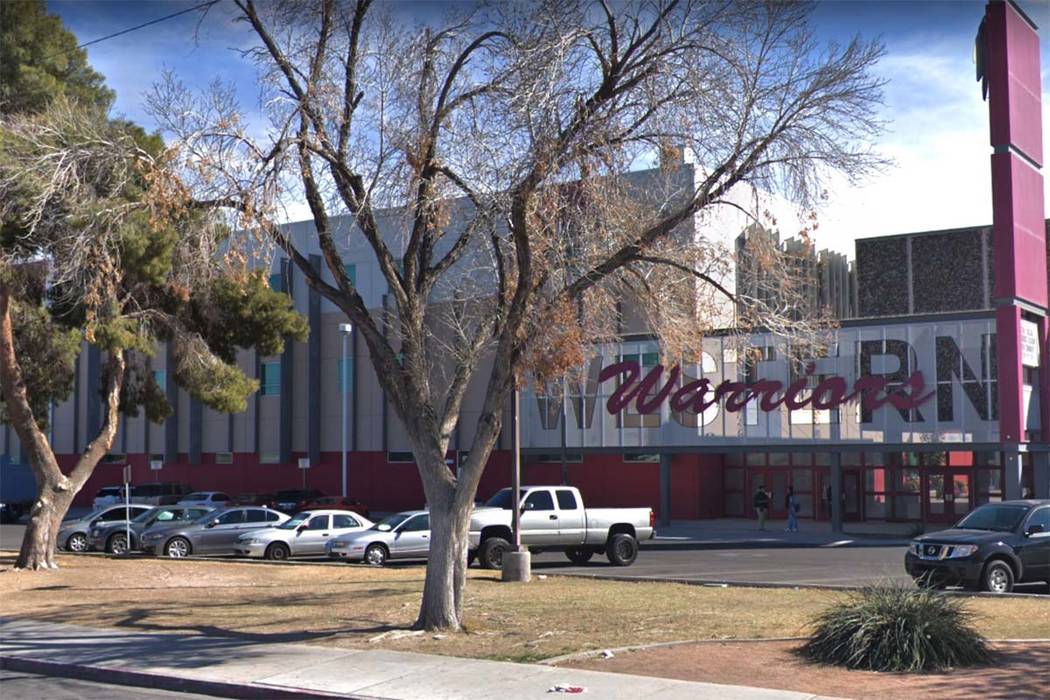 About 45 to 50 people were pepper-sprayed and four students were arrested Thursday when school police used the agent to break up a large racially motivated fight at a central Las Vegas Valley high school.
The initial fight involving about 12 students broke out about 11:45 a.m. during the second lunch block at Western High School, 4601 W. Bonanza Road, near North Decatur Boulevard and West Washington Avenue, according to Clark County School District police acting Capt. Roberto Morales.
Four students were headed to juvenile hall for their role in the fight, Morales told media outside of the school Thursday afternoon.
The fight started in the cafeteria before spilling outside the lunchroom. Morales said there have been fights at the school daily since at least Monday as a result of "cross-cultural issues" or "racial differences" at the school.
Hailee Compton, a sophomore at the school who was among those sprayed, described a chaotic scene.
"They just pepper-sprayed everybody — the cops," she said. "All you heard was, 'Oh, my God! Oh, my God! Go! Run! Run!'"
She said the melee was race-related and described Western as a school beset by racial tensions.
Morales asked parents and community leaders to speak with children to reaffirm that such behavior was inappropriate, and that students needed to come together and find a way to focus on their studies.
'Tolerance' talks urged
"We hope that all the parents and students can all sit down and talk to each other about those differences, about tolerance, about having a neutral site of learning. That's why we're all here," Morales said.
Many of those sprayed were onlookers, including students who "were standing by and watching, egging it on and being cheerleaders," Morales said, adding that teachers and officers were also among those "contaminated" by the spray. He estimated between 100 and 200 people were onlookers to the fight.
Morales acknowledged that a number of those students were bystanders but warned that "when you have such a dynamic situation occurring in live time, students should walk away and not stand around."
Asked about the fight and the response Thursday night at a School Board meeting, Deputy Superintendent Diane Gullett said she was very pleased with how school police responded and worked together with the city's police and fire departments.
Gullett said she was told by responders that the reason so many students were pepper-sprayed was because they went toward the fighting.
Morales said school police expected to cite several students. He noted that students were still being interviewed, and the exact number of citations will be available Friday.
The citations and arrests will be separate from any disciplinary actions that the school may take against the students, Morales added.
Screams, then mayhem
Compton, the student, described a confusing scene that started as one large fight and became smaller, separate skirmishes.
She said she was with a friend on the quad during her video production class when she suddenly saw a bunch of people running.
"Everybody just started screaming like 'Go! Go! Go! Get out! Get out! Get out!,'" said Compton, 15.
As she returned to class, she said, people were screaming about one officer pulling out a gun, although Morales said he had no reports that that was the case.
Compton said her friend got pepper-sprayed and came to class coughing, crying and screaming, "It burns!"
When Compton took her friend to the front office for help, she said she ran into trouble.
"I was a couple feet away and then a fight broke out right in front of us," she said.
Compton said she was pepper-sprayed, and fell to the ground as a burning sensation engulfed her face.
"They wouldn't stop and they kept pepper-spraying everybody," she said. "I was on the ground screaming, 'Stop, stop, I'm trying to help her!' Nobody was listening, everybody was just screaming."
She said a lot of staff members got pepper-sprayed trying to help students.
Twenty-two officers and 21 medical personnel responded to the scene, Morales said.
An increased number of school officers will be patrolling the school Friday, he said.
The school district is also working to address the issue of guns found on or near school campuses, which the Review-Journal says has happened 14 times so far this school year. Superintendent Jesus Jara announced a safety advisory group — following the fatal shooting of a student at Canyon Springs High School — to bring forward recommendations on how to tackle the problem.
But Gullett said Thursday that the district also needs to address social media issues in its review.
Contact Rio Lacanlale at rlacanlale@reviewjournal.com or 702-383-0381. Follow @riolacanlale on Twitter. Contact Amelia Pak-Harvey at apak-harvey@reviewjournal.com or 702-383-4630. Follow @ameliapakharvey on Twitter. Review-Journal staff writer Mike Shoro contributed to this report.