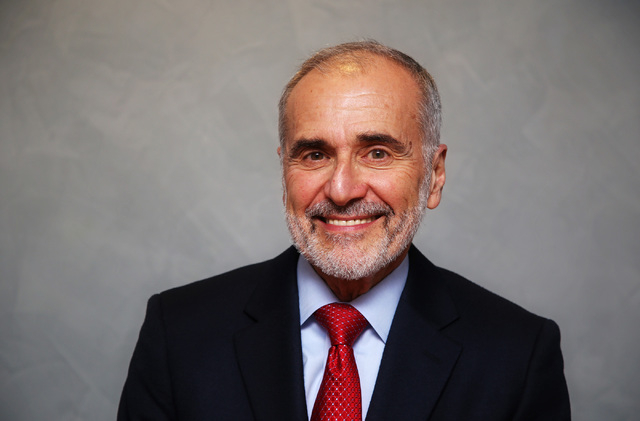 An oceanographer will soon take the helm at Nevada's Desert Research Institute, quelling long-simmering fears that the state's universities might absorb DRI and its cadre of environmental scientists.
The state's Board of Regents voted unanimously Monday to hire renowned ocean expert Bob Gagosian, who will temporarily lead DRI once longtime President Stephen Wells departs this summer for another job in New Mexico.
DRI is the environmental research arm of the Nevada System of Higher Education, and it employs about 150 scientists in Las Vegas and Reno working on more than 400 projects funded largely by federal grants and contracts.
The appointment comes two weeks after a Review-Journal story unveiled widespread concerns from employees and DRI supporters that state education officials were considering folding the research hub into one or both of Nevada's universities.
After Wells announced his departure in February, faculty feared that the vacancy would lead to a takeover as UNLV and UNR aim to boost their own research arsenals. Emails obtained by the R-J show tensions flared during a March meeting where NSHE Chancellor Dan Klaich and Board of Regents Chairman Rick Trachok asked faculty to consider the merits of consolidating DRI's operations in Las Vegas and Reno with the two schools.
"The people that were getting ready to go to war are now very pleased with this outcome," said Tom Gallagher, who sits on DRI's Board of Trustees. "A few weeks ago it wasn't looking very good. But now, it looks like it's all sorted out, and the effort to dismember DRI is gone."
The DRI community has long feared a merger. Lawmakers and higher education officials developed a proposal to dismantle the institute five years ago amid sweeping budget cuts spurred by the recent economic downturn, and faculty have since worried that the NSHE might revisit the failed effort. But Klaich says there is no such plan, noting that the March discussion was only theoretical.
"We have had reassurances from the chair and the chancellor, and we feel pretty comfortable that consolidation is no longer an issue," said Alan Gertler, DRI's vice president for research. "Of course, that doesn't mean that two years from now it won't come up again."
Klaich and Trachok publicly recommended Gagosian for the job last week following an endorsement from DRI faculty. As acting president, Gagosian will lead the school for about a year while it searches for a permanent leader. He'll begin on July 1, earning an annual salary of $275,000 — about 3 percent more than Wells' base compensation.
"There's lots of excitement that Bob has agreed to be president," Trachok said, noting that DRI employees have pursued Gagosian for months.
Gagosian's oceanology career spans decades and includes a stint as the senior science adviser to the director of the Smithsonian Institution's National Museum of Natural History. He previously served as president and director of the Woods Hole Oceanographic Institution, a Massachusetts-based marine science research facility. He is also member of the DRI Foundation's Board of Trustees.
"Bob has extensive experience working with scientists from many disciplines," institute President and Director Mark Abbott wrote in an email. "His boundless enthusiasm and energy will be infectious!"
At Monday's meeting, Wells told regents that he "can't think of anyone better to set the bar" for DRI's next permanent president. Gagosian, meanwhile, told the panel that he wants to help DRI come up with long-term goals for the organization. He also said he plans to partner with the presidents of UNR and UNLV to bolster research efforts across Nevada.
"There are some opportunities with three research institutions in the state," Gagosian told the board. "I think maybe we can do things to strengthen that. You have my commitment to try to move that forward."
Contact Ana Ley at aley@reviewjournal.com or 702-224-5512. Find @la__ley on Twitter.