Drive aims to name new school after officer killed in Las Vegas shooting
Updated July 2, 2018 - 6:05 pm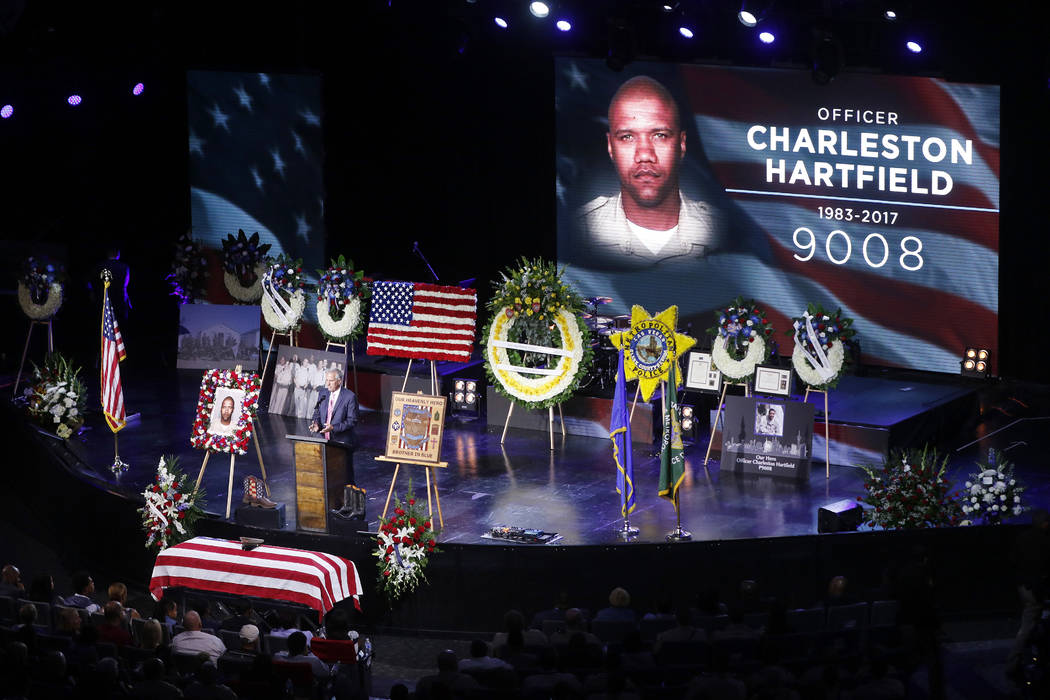 A drive is underway to name a new elementary school opening in fall 2019 after Charleston Hartfield, a Metropolitan Police Department officer who was killed while off-duty on Oct. 1 in the Route 91 country music festival shooting.
Three new elementary schools are slated to open in fall 2019, and the Clark County School District is accepting nominations for names through July 13.
Amberley Dorrell, a second-grade teacher in the district who served under Hartfield in the Nevada Army National Guard, is helping spearhead the application, with his family's blessing.
"This man came from absolutely nothing and he became such a beautiful role model for young men, especially African-American men, to show them what it is to be a good citizen and a good person in the community," she said.
Dorrell is working with Hartfield's family and many of the community organizations he was a part of to fill out the district application. Dorrell also created an online petition, which garnered more than 1,500 signatures in less than two days, to serve as a supplement to the application.
She hopes that a school bearing Hartfield's name can help teach the next generation about community, one of Hartfield's passions.
"I think these days, people are so focused on their little bit of the world and what they can receive or get or have in their community rather than looking at the big picture and seeing how their footprint can make their community better," she said.
Before his death, Hartfield, 34, had published a 208-page book titled "Memoirs of A Public Servant," which outlined some of his community work. He also prepared for the worst, writing instructions for his memorial service on a family computer a year before his death. He is survived by his wife, Veronica, and his children Ayzayah and Savannah.
"I would like everyone to enjoy themselves. And remember me for who I was. The truth only. None of that stuff about how great I was. Only real stories," he wrote in the instructions.
A seven-member board, including two sitting trustees, individually review and rank every application. Because three schools are opening in fall 2019, the applications will be whittled to nine finalists.
During a yet-to-be scheduled meeting, likely in September, representatives of the nine finalists will be able to address the committee. The committee will then make three recommendations to the Board of Trustees, who will likely consider and approve the nominations during a meeting in October.
Contact Meghin Delaney at 702-383-0281 or mdelaney@reviewjournal.com. Follow @MeghinDelaney on Twitter.
Other officers already honored
At least two other Clark County elementary schools are named after police officers. Marc Kahre Elementary School, located on Gowan Road in the northwest part of the valley, honors another Metro officer who was killed in the line of duty in October 1988.
Raul Elizondo Elementary School, on North Goldfield Street in North Las Vegas, honors a city police officer who died in the line of duty in 1995.