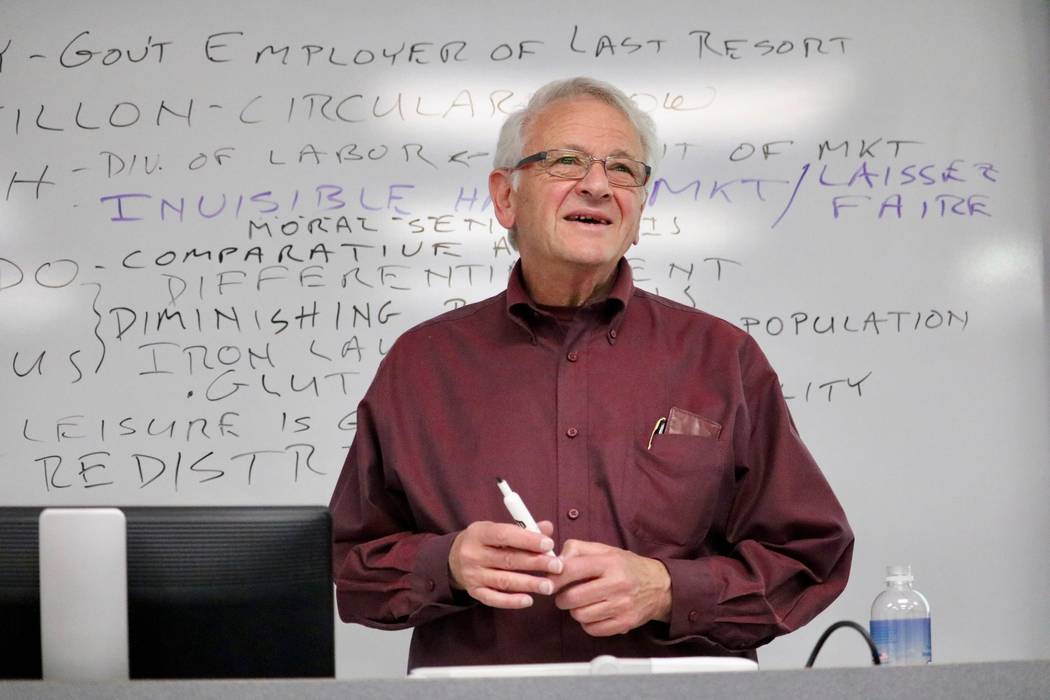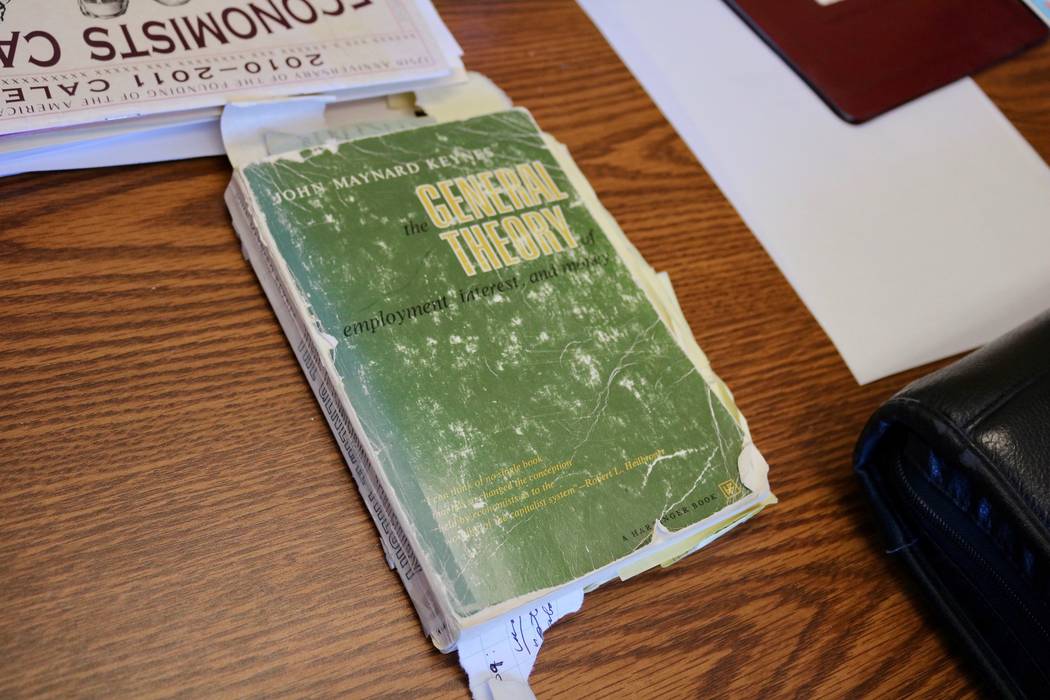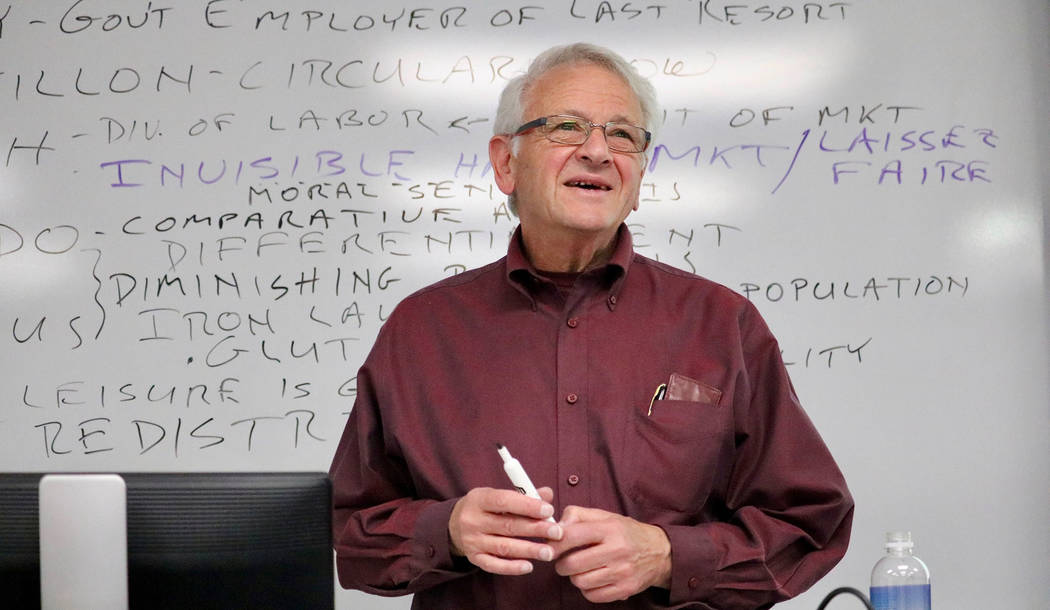 The names on the whiteboard, and their corresponding contributions to economic thought, spanned centuries.
Professor Bernard Malamud's tenure at UNLV is not quite as long.
The 76-year-old economics professor joined UNLV, then known as Nevada Southern University, 50 years ago, the same year that the university established the School of Business and Economics.
"We were building the university from the ground up," Malamud said.
In 1968, a 26-year-old Malamud was working at Nabisco in Manhattan. But the possibility of being able to finish his doctorate in an academic setting was enough to pull him away from the East Coast and into the desert.
When he flew to Las Vegas in May of that year, he expected to give a seminar presentation to the faculty. But the university had just closed for the summer, and only a few faculty members remained.
In true Vegas fashion, Malamud introduced himself to his future colleagues around a late-night poker table.
"I guess I passed the grade on that," he said. "I tried not to win too much money. And the rest is history."
It was ultimately William "Tom" White, the business school's first dean, who persuaded Malamud to take a chance on the young school.
"The campus was a desert; there was nothing here," he said. "There were rabbits running around and coyotes running around, and what Tom described was a big-city university. That's what we've become."
When clearing out his office, Malamud came across one of his early population projections.
"At least one of my projections was that the population would level off at three-quarters of a million people," he said. "I gave it some chance that it would hit a million."
He didn't take into account that when a city reaches a population of 1 million, it becomes attractive to industry and business. The Las Vegas metro area population has surpassed 2 million.
"You had outfits like Dillard's and Neiman Marcus and Nordstrom and the like all of a sudden becoming interested in Las Vegas," he said. "And their establishing themselves here only propelled growth further. It sort of made Las Vegas an attractive shopping destination for tourists and the whole evolution of the resort industry from strictly gaming to what it is today."
The population surge wasn't the only event that surprised Malamud. He was also taken aback by how badly Las Vegas fared when the Great Recession hit.
"As far as the spurt in property values here, I thought, hey, we're just catching up to where we ought to be catching up, to big cities like Phoenix and even Los Angeles," he said. "The bust and the severity of the bust did surprise me."
A few years prior to that, Malamud was a member of the Clark County Planning Commission, and there were discussions of building a San Francisco-inspired hotel. The height of a Golden Gate Bridge replica became a point of contention.
"There was a question about how high it could go, either 50 feet or 50 stories," Malamud said. "The objection was that that would be too high; take it down to 30. Certainly I went along with it and said no, make it 50. That was sort of the spirit that I absorbed."
In one of his final classes at UNLV, the history of economic thought, Malamud chronicled the names of famous economists and their most well-known contributions. It's one of his favorite classes.
That he's able to choose a favorite course is remarkable: He's taught more classes than the business school has on the books today.
"It's covering the whole spectrum of economics," he said. "I get to reminisce about each of the themes of the economics discipline."
Sir William Petty, an English economist who died in 1687, was on one end of the spectrum. John B. Taylor, an economist and professor at Stanford University, was on the other end. His favorite economist, John Maynard Keynes, also appeared on the white board.
"He's super-thorough," said Tiffani Coleman, a business student with a focus in economics. "He has a lot of insight."
Like Malamud, Coleman walked across the stage at the Thomas & Mack Center this weekend — Malamud carrying the ceremonial mace, reserved for the longest-tenured faculty member, and Coleman to pick up her diploma.
"I'm graduating this semester, if he let's me," she said with a laugh.
Contact Natalie Bruzda at nbruzda@reviewjournal.com or 702-477-3897. Follow @NatalieBruzda on Twitter.