Education funding sparks spat between state, district officials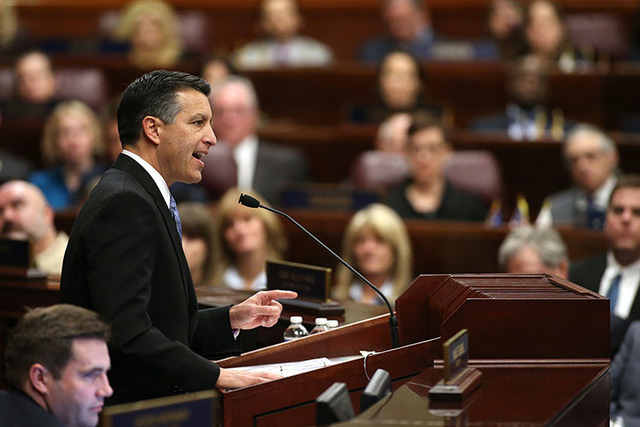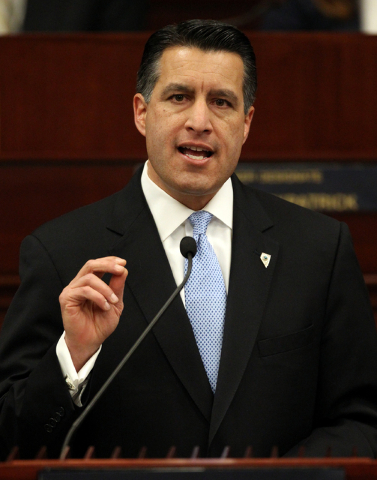 The Clark County School Board provoked a sharp response from state officials when trustees last week blamed Gov. Brian Sandoval and the Nevada Legislature for the Clark County School District's decision to eliminate all pay increases for its 40,000 employees.
District officials recommended the pay freeze, which board members approved on June 29 as part of a $2.3 billion budget for the 2015-16 school year, in order to save $32.3 million and help balance a $67 million deficit. They blamed that shortfall, at least in part, on a $15 reduction in per pupil funding that the state allocates to the district.
Board members described the reduction as "disgusting" and "insulting" and expressed indignation on behalf of district workers. Other trustees stated that Clark County schools "got the shaft" and predicted lawmakers would later regret what they did to education in Nevada.
The governor's office, however, did not take kindly to that assessment.
"The Clark County School Board's inability to give teachers a pay raise is not a funding problem. It's a management problem," spokeswoman Mari St. Martin said in an email.
She noted that lawmakers pumped an additional $400 million into the state's public education system, including about $100 million over the next two years for districts to offer 2 percent salary increases for longevity and merit pay.
But Dale Erquiaga, state superintendent of public instruction, acknowledged the Nevada Department of Education cannot control how the district spends that money.
"It's a big, block sum of money. What they do with it is their decision," he said.
Nonetheless, Erquiaga added, "it's disingenuous to try to explain their budgeting problem by pointing to that small ($15) number because it makes a good soundbite."
At the heart of the dispute is the complex formula that the state uses to fund public schools.
Lawmakers, who closed their recent session on June 1, approved a statewide average of $5,710 in basic per pupil funding for the 2015-16 school year. That's up less than 1 percent from $5,676 last year.
After receiving the average amount, Erquiaga's office works the figure through a formula that weighs local tax revenues, transportation costs and other factors to determine a specific dollar amount for each district. And that formula, for the first time in at least a decade, actually reduced the basic per pupil funding that Clark County schools would receive compared to the previous year.
"I've never seen this happen before, even during the recession," said Jim McIntosh, chief financial officer for the district. "In 2010, we went up $4. As limited as that was, it still meant massive cuts for the district."
For the 2015-16 school year, the state will send the district $5,512 per pupil, a $15 reduction from 2014-15 that results in a total decline of $4.7 million.
In contrast, nearly every other district in the state, with the exception of Nye and Storey county schools, will see an uptick in their basic per pupil funding.
State officials, though, were quick to point out that an increase in local revenues, such as sales and franchise taxes, drives any decrease in state funding.
"When local revenues decline, as was the case during the recent recession, the state responsibility or share increases," St. Martin said. "Likewise, when local revenues increase, the state responsibility decreases."
McIntosh strongly disagreed with that statement and again pointed to the recession, when both state and local revenues nosedived.
In 2010, lawmakers returned to Carson City for a special session and cut the state's education budget. They did the same during a regular session one year later.
"They basically came in and cut per pupil funding," McIntosh said. "…Essentially the state told us that they didn't have any money."
Erquiaga conceded that point, but another dispute remained.
Echoing the governor's office, the education department stressed that the district collects additional revenue outside the funding formula. That includes remaining property taxes and government services and franchise taxes.
Projections put the estimated additional revenue available to the district at about $340 million.
Still, the combination of all revenues, both inside and outside the formula, should increase overall per pupil funding in the district by 0.46 percent, which isn't sufficient to even cover the expected inflation rate of 1.49 percent, according to the Guinn Center for Policy Priorities.
As for the future, McIntosh shared a rosier assessment.
In the 2016-17 school year, he noted, the state will add $61 to the district's per pupil funding, which should result in a total gain of $43 million. Erquiaga also soon will determine a new formula to offer more money for schools with high populations of special education students, English language learners and at-risk children.
"It's really transformational to the state of Nevada," McIntosh said. "No one's happier than us for the (money) they gave us."
He added, "The (funding) formula just didn't favor us this year."
Contact Neal Morton at nmorton@reviewjournal.com or 702-383-0279. Find him on Twitter: @nealtmorton.