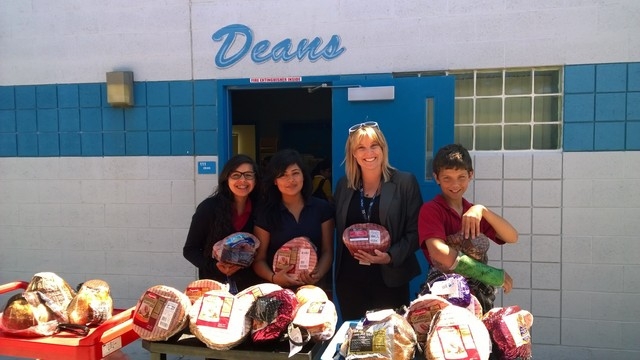 GIRL SCOUTS, COOPERATIVE EXTENSION TO HOST GARDENING PROGRAMS
The Girl Scouts of Southern Nevada is partnering with the University of Nevada Cooperative Extension's Junior Master Gardener program for three workshops to help Scouts earn gardener badges.
The first workshop is set for April 26 at the Cooperative Extension's Lifelong Learning Center's Children's Demonstration Garden, 8050 Paradise Road. Scouts will learn about soil and water.
On May 10, the workshop at the Lifelong Learning Center will focus on types of seeds. On May 24, the workshop will cover replanting.
Workshops are planned from 1 to 3 p.m.
For more information about Girl Scouts of Southern Nevada, call 702-385-3677 or visit girlscoutsnv.org.
ONLINE PARENT SURVEY TO GATHER INFORMATION FOR SCHOOL DISTRICT
The 2014 Clark County School District Parent Survey, which focuses on safety, academics and customer service, is available online through May 21 at ccsd.net/parentsurvey. The survey is available in English and Spanish. It is anonymous, and feedback will be used to improve schools and parent engagement to boost student achievement.
As part of the district's efforts to maintain transparency with the community, survey results will be available to the public this summer.
EVENT TO HONOR TEACHERS MAY 8 AT EISENBERG ELEMENTARY SCHOOL
The fourth annual Feature A Teacher Awards Ceremony is set for 5:30 to 7:30 p.m. May 8 at Eisenberg Elementary School, 7770 W. Delhi Ave. Nominations for Best Teacher of the Year are open to elementary and middle school students in Ward 4.
To RSVP by May 2, email rskouson@lasvegasnevada.gov or call 702-229-2524.
ELEMENTARY SCHOOLS TAKE PART IN NATIONWIDE RECYCLING EFFORT
Ronnow Elementary, Wolff Elementary, Adams All-Stars Elementary, Tarr Elementary, Thompson Elementary and Stuckey Elementary schools in Las Vegas participated in a nationwide recycling effort that recycled 200 million Capri Sun drink pouches. The schools collected drink pouches through TerraCycle's Drink Pouch Brigade to help the environment and earn money for their schools.
SHENKER ACADEMY OPENS REGISTRATION AT TEMPLE SINAI CAMPUS
The Shenker Academy at the Temple Sinai campus, 9001 Hillpointe Road, has opened registration for its 2014-15 school year programs on a first-come, first-served basis. The academy's early childhood program accommodates half-day and full-day preschool programs for children ages 1 to 5.
The school is set to be open from 7 a.m. to 6 p.m. Monday through Friday, with half-day school hours from 9 a.m. to 12:30 p.m. and kindergarten hours from 8:30 a.m. to 3:30 p.m. The academy also will offer drop-in days for all classes except kindergarten and extended care from 7 to 9 a.m. and 4 to 6 p.m.
For more information, visit shenkeracademy.com.
BISHOP GORMAN MOCK TRIAL TEAM TO COMPETE IN NATIONAL COMPETITION
The mock trial team from Bishop Gorman High School, 5959 S. Hualapai Way, is set to compete in the national tournament in Madison, Wis., May 6-11 after winning the state championship. High school students are assigned a "case" in litigation and must research laws and the rules of a courtroom. They then "argue" as defense or prosecution attorneys to "win" the case based on their knowledge of the case itself, the law and the credibility and logic of their presentation.
KEEP LAS VEGAS BEAUTIFUL TEAM PARTNERS WITH HEWETSON ELEMENTARY FOR GARDEN
City of Las Vegas' Keep Las Vegas Beautiful team partnered with students, parents, teachers and residents to start a school garden at Hewetson Elementary School, 701 N. 20th St. Volunteers also painted murals at the school.
CENTENNIAL HIGH SCHOOL STUDENTS WIN STATE SCIENCE OLYMPIAD
The 2014 Nevada State Science Olympiad Competition was held March 8 at Rancho High School, 1900 E. Searles Ave. The High School Division was contested by 17 teams from 10 high schools, with Centennial High School, 10200 W. Centennial Parkway, emerging as the victor. This was Centennial's second state title in three years. This year's team won eight gold, five silver and three bronze medals for an average finish of 2.8 in the 22 contested events. The team must now raise funds for a trip to the national competition, scheduled for May 16 and 17 in Orlando, Fla.
CITY OF LAS VEGAS SEEKS PRESCHOOL SITE ADMINISTRATOR
The city of Las Vegas is recruiting for the position of hourly preschool site administrator. This person will be responsible for providing a safe learning environment for children enrolled in a city of Las Vegas licensed preschool program.
For more information, visit bit.ly/1mYgeXv.
CITY INVITES COMMUNITY TO ADOPT NEIGHBORHOOD SCHOOLS
Las Vegas Mayor Carolyn Goodman and leaders from the Mayor's Faith Initiative Education Workgroup invite the community to adopt neighborhood schools in need of resources through May through the Clark County School District's Focus School Project.
For more information, call the school district's Community Partnership office at 702-799-6560.
EDUCATION NONPROFITS PLAN SPLASHDOWN FOR KIDS AT WET 'N' WILD
Communities In Schools of Nevada and After-School All-Stars Las Vegas plan to host a weekend of summer entertainment at their first Splashdown For Kids, set for April 26 and 27 at Wet 'n' Wild, 7055 S. Fort Apache Road.
Proceeds will benefit the nonprofit groups. Presale tickets are $20 at wetnwildlasvegas.com. Tickets at the door are $35. Children 2 or younger will be admitted free. For one-day tickets, use the promo code CISASASday.
For event sponsorship information, contact Brittany McCoy at brittanym@cisnevada.org or Ranna Daud at ranna@asaslv.org.
MARINELLO SCHOOLS OF BEAUTY TO HOST RAW TALENT SCHOLARSHIP COMPETITION
Marinello Schools of Beauty has announced its sixth annual Raw Talent Scholarship competition, in which high school seniors can win scholarships for up to $10,000 each.
Marinello plans to award 23 scholarships throughout 62 campuses. Applicants in each region will have the chance to win a $10,000 scholarship, $5,000 scholarship or three one-day professional beauty and wellness workshops valued at more than $1,000.
Candidates are required to submit an essay about how they plan to make a difference in the beauty and wellness industry. Essays may be submitted via mail or at marinello.com/highschoolscholarship. The second part of the application process includes a hands-on competition in which candidates will perform hair and makeup looks on models at their local Marinello campus.
The deadline for essay and photographs submissions is midnight April 28.
For more information, call 877-642-1085 or visit facebook.com/marinelloschoolsofbeauty.
DRAWING CONTEST FOR PLANT WORLD NURSERY PLANNED THROUGH APRIL 30
Plant World Nursery, 5311 W. Charleston Blvd., is set to host a Picture Paradise art contest through April 30 for Clark County School District students in kindergarten through fifth grade.
Students are asked to draw their vision of paradise on Earth. The school with the most entries will receive a $500 Plant World Nursery donation to furnish a school garden. Students also will compete for a $200 first-place prize, a $150 second-place prize and a $100 third-place prize.
Entries must be submitted to the School-Community Partnership Program No. 145 at Western High School, 4601 W. Bonanza Road, Las Vegas, NV 89107.
STUDENT FILM FESTIVAL PLANNED FOR MAY 2 AT UNLV
The Las Vegas Student Film Festival plans to showcase films produced by local high school students on May 2. The festival is produced in conjunction with the UNLV Department of Film and the UNLV Short Film Archive. Local high school students are invited to submit their short films by April 12.
For more information, email lvstudentfilmfest@ gmail.com or visit facebook.com/lvstudentfilmfest.
DETROIT CONNECTION PLANS SCHOLARSHIP AWARDS LUNCHEON FOR JUNE 1
Detroit Connection Inc. plans to host its 16th annual scholarship awards luncheon from 1 to to 4 p.m. June 1 at Cili at Bali Hai Country Club, 5160 Las Vegas Blvd. South.
The keynote speaker is scheduled to be basketball legend Spencer Haywood, and live entertainment is planned.
Tickets are $60. For more information, call 702-642-2628.