Education Notebook, April 30-May 6, 2015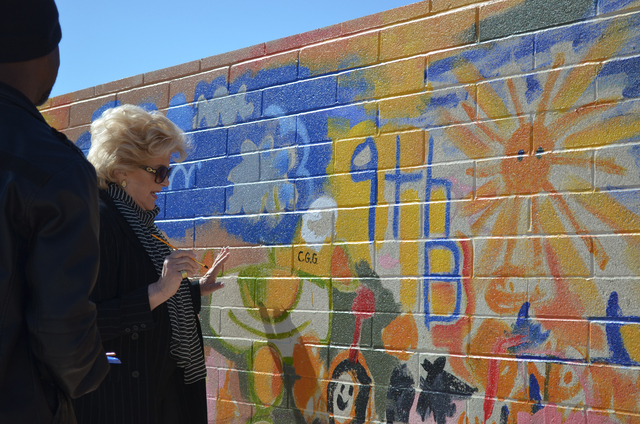 AMERICORPS, BOYS & GIRLS CLUBS PARTNER FOR MENTORSHIP PROGRAM
Through May 21, the Boys & Girls Clubs of Southern Nevada is working with an eight-member team from the National Civilian Community Corps, an AmeriCorps Program, to aid with educational mentorship at four clubhouses in the Las Vegas Valley: Lied Memorial Clubhouse, 2850 Lindell Road; Donald W. Reynolds Clubhouse, 2980 Robindale Road; Andre Agassi Clubhouse, 800 N. Martin Luther King Blvd.; and Downtown Clubhouse, 2801 E. Stewart Ave.
The team will be aiding academic programming by reading with club youths, aiding staff members during homework support and creating four literature-themed murals that will be painted with club youths and staff members at the four clubhouses.
When not working directly with club youths, the team will be improving the infrastructure of the clubhouses by painting, cleaning, sanding tables and assisting with the building of a new playground.
For more information about NCCC, visit nationalservice.gov. For more information about the Boys & Girls Clubs, visit bgclv.org.
LIED STUDENTS TO PLANT TREES FOR ARBOR DAY
The city of Las Vegas planned to celebrate Arbor Day April 21 at Polly Gonzalez Memorial Park, 5425 Corbett St., with students from Lied Middle School, 5350 W. Tropical Parkway, joining Ward 6 Las Vegas City Councilman Steve Ross to plant trees.
The National Junior Honor Society students and their advisers were scheduled to join city staff members to plant two Mondell pine trees. Cayenne Engel, a resource management officer with the Nevada Division of Forestry, was set to present the city with a Tree City USA flag, to mark the 23nd year Las Vegas has earned recognition from the National Arbor Day Foundation because of its program to care for community trees.
For more information about the program, visit lasvegasnevada.gov/publications/brochures.htm.
HIGH SCHOOL DESIGN AWARDS HANDED OUT APRIL 22
The AIA Las Vegas High School Design Awards were set to be handed out April 22 at the Historic Fifth Street School, 401 S. Fourth St. The annual program recognizes talented young designers from Clark County School District high schools and encourages their interest in architecture and design.
For more information, visit aialasvegas.org.
ANDSON PLANS DRIVING EDUCATION GOLF TOURNAMENT
Local nonprofit Andson plans to host its first Driving Education Golf Tournament May 12 at Southern Highlands Golf Club, 1 Robert Trent Jones Lane, to benefit the organization's tutoring and financial literacy programs.
Breakfast is set for 7:30 a.m., with tee time at 9 a.m. After 18 holes, lunch and a silent auction are planned.
Teaming up with Maverick Helicopters, participants will also be able to buy golf balls for $10 each for a helicopter drop. At the end of the tournament, all golf balls will be placed in a the helicopter and hoisted above a course hole before being dropped. The owner of the ball that lands in or closest to the hole will win a cash prize of half of the total golf ball sales.
Individuals can participate in single, foursomes or corporate teams, which range from $450 to $2,000.
For more information or to register, visit andson.org or call 702-785-0020.
GEOMETRY IN CONSTRUCTION PROGRAM LOOKS TO INCREASE MATH SCORES
East Career & Technical Academy, 6705 Vegas Valley Drive, and Southeast Career Technical Academy, 5710 Mountain Vista St., are offering the Geometry in Construction Program, part of the Construction Technology Program, which teaches students how to apply geometry through building to help increase math test scores.
The program gifts the units that the youths build each year to nonprofits. This year, the program at ECTA collected donations of gift cards, clothing, nonperishable food items and hygiene items for the students to present to the Nevada Partnership for Homeless Youth at a ribbon-cutting ceremony set for April 23 for two sheds built by the ECTA sophomore class and donated to the nonprofit. NPHY previously did not have storage units at its location at 4981 Shirley St.
For more information about the program, visit easttechtitans.com/programs.html.
UNLV SCHOOL OF MEDICINE LAUNCHES SCHOLARSHIP DRIVE
The UNLV School of Medicine has launched its 60 by 16 scholarship drive to cover tuition costs for the 2017 charter class. With each four-year scholarship estimated at $100,000, school officials are seeking $6 million for the program.
The school has already received 13 scholarship commitments from local businesses, physician groups, families and UNLV administrators. The number increased to 38 when the Engelstad Family Foundation announced its contribution of an additional 25 scholarships.
When fully operational, the school will create approximately 8,000 jobs, boast an annual economic impact of more than $1 billion and drive close to $60 million in annual revenue for the state. The scholarship program will help the first class to graduate with little or no debt.
The school will teach a diverse group of future Nevada physicians how to work in health care teams, apply new technology and develop treatment solutions for diseases of the present and future. UNLV plans to admit a charter class of 60 students by fall 2017, with expansion to 120 students within four years of the school's opening.
For more information, visit news.unlv.edu.
SCIENCE & TECH FESTIVAL RETURNING FOR FIFTH YEAR
The Las Vegas Science & Technology Festival is set to return for its fifth year, with free events planned through May 2.
More than 40 events are planned across Southern Nevada, including: through May 1, Science in the Community, weeknight programs exploring hot science and technology topics, from drones to astronomy to magic; and May 2, Giant Science & Technology Expo at Cashman Center, 850 Las Vegas Blvd. North, with interactive activities, demonstrations and entertainment from more than 80 organizations, 10 a.m. to 6 p.m.
The festival is presented by the Las Vegas Natural History Museum, with help from more than 80 other organizations, including the Clark County School District, the College of Southern Nevada, Desert Research Institute, the National Park Service and the Red Rock Canyon Interpretive Association.
For more information, visit lvscifest.com.
POLICY RESEARCH INSTITUTE TO OFFER $2,500 SCHOLARSHIP
The Nevada Policy Research Institute plans to offer a $2,500 scholarship to a graduating Clark County high school student who shows the potential to make a significant contribution to the cause of economic liberty.
This is the fifth year that the Professor R.S. Nigam & NPRI Freedom Scholarship is being offered. It is open to all Clark County high school students (public, private, online or home school) who plan to attend college in the fall. Students are asked to write a two-page essay on the topic "Improving education: raise taxes or allow school choice?"
All applicants must have a GPA of at least 3.2 and complete an application, which includes the essay question. To be eligible, a student's parents must have earned less than $125,000 in income in 2013, and the student must plan to attend a four-year degree program in business, economics, political science, public administration or a related field, at an accredited college or university.
Essays and applications are due by May 1. For the application, visit tinyurl.com/nureqff. For more information, call 702-222-0642 or visit npri.org.
STUDENTS WITH A CAUSE CONTEST TO AWARD SCHOLARSHIPS
The sixth annual Students With A Cause contest invites Clark County high school students to submit a community-focused video on the theme of "What If…" In the video challenge, students will answer the hypothetical question as it relates to improving their lives, those in their family or community, or making a better society. Students can apply by submitting a 30-second video. The winning video will be aired on TV in June and posted on the Internet.
First prize is a $1,500 scholarship and $500 donation to the student's high school, and second prize is a $1,000 scholarship.
The contest is sponsored by the Richard Harris Law Firm. For more information, including contest rules, visit studentswithacause.org. Submissions are due May 3, and the winners are set to be selected May 22.
LEADERSHIP TRAINING SET FOR PEOPLE WITH DEVELOPMENTAL DISABILITIES
Partners in Policymaking plans to offer leadership training for people with developmental disabilities, parents and family members. The training is designed to teach the power of advocacy and change the way people with disabilities are supported, viewed, taught, live and work. The program will provide information about issues and policies related to disability and develop participant competencies to become more effective in influencing policy development at all levels.
Parents of children with developmental disabilities and adults with developmental disabilities are encouraged to apply. Classes are planned from 8 a.m. to 4:30 p.m. once a month through August at the University of Nevada Cooperative Extension's Lifelong Learning Center, 8050 Paradise Road. Participants are expected to commit to all classes or complete makeup assignments. Remaining dates are: May 16, June 20, July 19 (in Reno) and Aug. 15. Participants will receive a stipend to help with child care and transportation costs.
For more information or to apply, visit nced.info/pip.