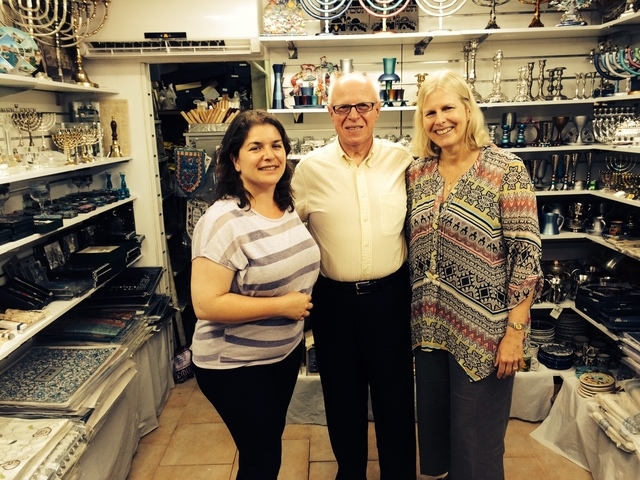 CATHOLIC CHARITIES PLANS BACK-TO-SCHOOL BACKPACK EVENT
Catholic Charities of Southern Nevada plans to hand out 500 new backpacks with school supplies suited for elementary, middle school and high school students in need from 9 to 11 a.m. Aug. 16 in its courtyard, 1501 Las Vegas Blvd. North. Supplies were donated by the community and parishioners of St. Elizabeth Ann Seton Catholic Church and assembled by volunteers of their Youth and Outreach ministries.
For more information, visit catholiccharities.com.
BIG BROTHERS BIG SISTERS PARTNER TO OFFER NEW SHOES TO STUDENTS
Big Brothers Big Sisters of Southern Nevada plans to partner with Soles4Souls and FN PLATFORM during MAGIC 2014 for the first back-to-school bonanza, which will provide new shoes to children 6 to 18 enrolled in the BBBSN program. Volunteers are scheduled to distribute the goods from 1 to 4 p.m. Aug. 17 at BBBSN headquarters, 2000 E. Flamingo Road.
For more information about BBBSN, call 702-731-2227 or visit bbbsn.org.
NEVADA CONNECTIONS ACADEMY TO HOST ENROLLMENT INFORMATION SESSION AUG. 20
Nevada Connections Academy, a virtual public charter school for students in kindergarten through 12th grade, plans to host a parent-to-parent information session regarding enrollment for the 2014-15 school year from 4 to 5 p.m. Aug. 20 at the McDonald's at 8120 S. Eastern Ave.
For more information, visit tinyurl.com/ldqeh87.
SUGAR FACTORY TO COLLECT BACK-TO-SCHOOL SUPPLIES
Sugar Factory American Brasserie at Town Square Las Vegas, 6605 Las Vegas Blvd. South, Suite 145, plans to collect back-to-school supplies through Aug. 21 for Communities In Schools of Nevada's Fill the Bus supply drive.
Supplies requested include backpacks, folders, pencils and notebooks, and Sugar Factory will match donations with its own line of pens, notebooks and other signature school supplies.
For Sugar Factory hours, visit sugarfactory.com. For more information about Communities In Schools of Nevada, visit cisnevada.org.
FILL THE BUS SUPPLY DRIVE PLANNED THROUGH AUG. 23
Communities In Schools of Nevada, My News 3 and 97.1 The Point are asked residents to help local students during the second annual Fill the Bus school supply drive Aug. 22 and 23. The Nevada affiliate of the nation's leading dropout prevention program is collecting school supplies and uniforms for 44,000 students in need for the coming school year.
Businesses and community partners are encouraged to bring donations from 6 a.m. to 6 p.m. Aug. 22 to Sam's Club at Arroyo Crossing, 7100 Arroyo Crossing Parkway, and from 8 a.m. to 6 p.m. Aug. 23 to Sam's Club in Centennial Hills, 8080 W. Tropical Parkway, and stay for Family Fun Day. Children can enjoy interactive science projects from Mad Science, the mobile video games theater from Games 2 U, face painting and balloon artists. Parents can receive information and resources from the Clark County School District Transportation Department, Positively Kids and Eye Care 4 Kids.
Donations made equal to or above $10 will be entered to win a Hawaiian vacation package from Allegiant Air.
Those wishing to donate but unable to join Fill the Bus are encouraged to bring contributions to participating Wal-Mart and Sam's Club locations Aug. 17-22: 3615 S. Rainbow Blvd., 8060 W. Tropical Parkway, 6005 Eastern Ave., 2310 E. Serene Ave., 7100 Arroyo Crossing Parkway, 4505 W. Charleston Blvd., 5200 S. Fort Apache Road, 1807 W. Craig Road, 5198 Boulder Highway, 6464 N. Decatur Blvd., 201 N. Nellis Blvd. and 540 Marks St.
CIS Nevada also is looking for traditional school supplies as well as uniform clothing items. For more information, visit cisnevada.org.
YMCA OFFERS PRESCHOOL
The YMCA of Southern Nevada's Y Preschool is accepting registrations. It offers two-, three- and five-day day schedules.
Y Preschool is state-licensed and follows state standards for kindergarten readiness. Financial assistance is available for those who qualify.
For more information, visit lasvegasymca.org.
500 BACKPACKS WITH SUPPLIES DONATED
The Las Vegas Hospitality Association donated 500 backpacks for students attending Andson's Third Annual Back2Class Bash Aug. 2 at Goett Family Park, 10950 Southern Highlands Parkway. This is the second year for the association to be a sponsor. The backpacks were filled with school supplies for students from at-risk schools.
For more information, visit mylvha.org.
AYUSA INTERNATIONAL SEARCHING FOR FAMILIES FOR EXCHANGE STUDENTS
Nonprofit Ayusa International is searching for families to host international students for the 2014-15 school year.
Host families provide three meals a day and a bedroom (either private or shared). Each exchange student is supported by a professionally trained local representative from Ayusa who works closely with the family, student and local school throughout the program.
Exchange students are 15 to 18 years old and come from more than 60 countries. All students are fully insured, bring their own spending money and are proficient in English.
For more information, visit ayusa.org or call 888-552-9872.
CITY COUNCIL RECOGNIZES SUNRISE MOUNTAIN AVIATION CLUB
The Las Vegas City Council recognized the Aviation Club from Sunrise Mountain High School, 2575 Los Feliz St., Aug. 6. The club recently competed in the National Aviation Design Challenge and beat 78 other teams from 33 states to win the top prize. The team designed a plane, and after winning, had the opportunity to build the plane they had designed.
JUNIOR LEAGUE TO AWARD GRANTS FOR CLASSROOM INITIATIVES
The Junior League of Las Vegas plans to award education grants to Clark County teachers for use during the upcoming 2014-15 school year. Educators from public and private primary and secondary schools are encouraged to apply. Aided by a $7,500 contribution from NV Energy, the education grants for up to $1,000 each are applicable to any creative curriculum, in any subject area, that strives to enhance student learning.
Applications can be downloaded from jllv.org and must be submitted by Sept. 12. Recipients will be announced by Oct. 1.
SAFEKEY AND TEEN SCENE REGISTRATION UNDERWAY
The city of Henderson is offering early priority registration for Safekey and Teen Scene programs through August.
In-person registration is set to be available from 2 to 6 p.m. Aug. 14 and 15 and 19-22 at the Black Mountain Recreation Center, 599 Greenway Road; the Downtown Recreation Center, 105 W. Basic Road; the Henderson Multigenerational Center, 250 S. Green Valley Parkway; the Silver Springs Recreation Center, 1951 Silver Springs Parkway; the Valley View Recreation Center, 500 Harris St.; and the Whitney Ranch Recreation Center, 1575 Galleria Drive.
Safekey is offered before and after school for elementary school-age children. Teen Scene is offered after school for students in grades 6-8. The programs provide structured, supervised activities designed to keep children active and engaged.
For more information, visit cityofhenderson.com or call 702-267-4100.
BACK-TO-SCHOOL FAIRS SET IN AUGUST
A Ward 5 Back-to-School Fair is planned from 8 a.m. to 4 p.m. Aug. 16 at Lorenzi Park, 3333 W. Washington Ave. For more information, call 702-229-5443.
A Ward 1 Back-to-School Community Fair is planned from 7 to 8 p.m. Aug. 21 at West Charleston Lions/Essex Park, 600 Essex Drive. "Frozen" is set to be shown at dusk. For more information, call 702-229-6405.
COX BACK-TO-SCHOOL FAIRS PLANNED IN AUGUST
Free Cox Back-To-School Fairs, sponsored by Amerigroup Community Care, are set from 10 a.m. to 4 p.m. Aug. 16 at The Boulevard Mall, 3528 S. Maryland Parkway, and Aug. 23 at The Galleria at Sunset, 1300 W. Sunset Road.
The fairs will feature community agencies and organizations hosting informational booths. Scheduled participants include several divisions of the Clark County School District, including: human resources; substitute services; support staff; facilities/zoning; food service; transportation, and school police. The Helping Kids Clinic will provide immunizations for school-aged children for a minimal fee. Parents must bring their child's shot record for immunizations.
For more information, visit coxknowledgecollege.com.
4-H ROBOTICS CAMP PLANNED AUG. 18 AND 19
The University of Nevada Cooperative Extension's 4-H Robotics Camp is scheduled from 9 a.m. to noon Aug. 18 and 19 at the Lifelong Learning Center, 8050 Paradise Road. Youths 9 to 14 will receive a 6-in-1 Solar Robotic kit to assemble. The fee is $40 per youth, which includes the kit, a snack and refreshments.
For more information or to register, contact Karen Best at email bestk@unce.unr.edu or 702-257-5538.
NATHAN ADELSON HOSPICE COLLECTING SCHOOL SUPPLIES
Through Aug. 18, Nathan Adelson Hospice will serve as a drop-off point for school supplies for Robert L. Taylor and Sunrise Acres elementary schools.
Supplies needed include backpacks; paper; crayons; markers; scissors; erasers; glue sticks; tissues; colored pencils; pocket folders; rulers; binders; paper towels; and zippered plastic bags. Items can be dropped off between 8 a.m. and 4 p.m. at two hospice locations: 4141 Swenson St. and 3150 N. Tenaya Way, or on the third floor of the MountainView Medical Offices building.
Donations will be delivered to the schools before the first day of classes on Aug. 25. For more information, visit nah.org.
BETTER BUSINESS BUREAU PLANS SCHOOL SUPPLY DRIVE
The Better Business Bureau serving Southern Nevada is hosting a school supply donation drive through Aug. 22. From 8 a.m. to 3 p.m. Monday through Friday, donations can be dropped off at the BBB at 6040 S. Jones Blvd. Suggested donations include backpacks, binders, colored pencils, composition notebooks, crayons, erasers, paper, pencils, pocket calculators, pocket folders, rulers and spiral notebooks.
For more information, contact Darrellyn Bonstell at 702-320-4500, ext. 253, or dbonstell@sn.bbb.org.
THE DELTA ACADEMY TO HOST OPEN HOUSE AUG. 28
The Delta Academy, 818 W. Brooks Ave., plans to host a ribbon-cutting ceremony and open house from 4 to 7 p.m. Aug. 28 for its remodeled 32,000-square-foot campus.
For more information, call 702-396-2252 or visit deltaacademylv.com.
ATRIA SEVILLE COLLECTING SCHOOL SUPPLIES FOR STREET TEENS
Atria Seville Senior Living Community, 2000 N. Rampart Blvd., is hosting a school supplies drive for Street Teens through Aug. 28. Items needed include backpacks, paper, notebooks, markers, pens, pencils, tissues, pocket folders, binders and cash for bus passes.
Items can be dropped off between 8:30 a.m. and 6 p.m. For more information, visit atriaseville.com or call 702-804-6800.
BANK OF AMERICA COLLECTING SCHOOL SUPPLIES THROUGH AUG. 28
Bank of America is collecting school supplies through Aug. 28 to benefit Miller Elementary School, 5100 W. Sahara Ave., and Monaco Middle School, 1870 N. Lamont St.
Collection receptacles will be stationed at each of the 50-plus Bank of America banking centers throughout Southern Nevada. Items requested include paper, backpacks, pens and pencils, physical education equipment and school uniform garments.
For locations, visit bankofamerica.com.
INSERT COIN(S) TO DONATE TO SCHOOL DISTRICT MUSIC DEPARTMENT
Insert Coin(s), 512 Fremont St., plans to donate a percentage of its bar sales through August to benefit the music department of the Clark County School District.
For more information, visit insertcoinslv.com.
ASSISTANCE LEAGUE PLANS OPERATION SCHOOL BELL FOR SEPT. 8
The Assistance League of Las Vegas plans to launch its annual Operation School Bell program Sept. 8. It provides more than 8,300 at-risk students with a back-to-school shopping experience from September through April each year. Children in grades kindergarten through eighth also receive age-specific hygiene kits.
School counselors refer students to the program beginning in August. Each child shops with the assistance of a volunteer to select two complete outfits.
For more information, visit lasvegas.assistanceleague.org.
INTERNATIONAL HIGH SCHOOL EXCHANGE SEEKS HOST FAMILIES
The International High School is seeking host families for exchange students ages 15 to 18 from around the world for the upcoming school year.
Host families are needed for the fall semester and the full school year. Hosts serve as mentors and as a home base for their student. Each student is responsible for spending money and full health insurance coverage.
Applications are due by Aug. 15. For more information, contact Dawn Green at d.green@international-experience.net or call 208-447-8118.
STUDENT EXCHANGE PROGRAM SEEKS HOST FAMILIES
The World Heritage Student Exchange Program is seeking local host families for high school exchange students from more than 30 countries, including Germany, Spain, Thailand, Denmark and France.
Couples, single parents and families with and without children are encouraged to apply to host a student for a semester or the entire school year. Each exchange student is fully insured, has personal spending money and expects to contribute to household responsibilities.
For more information, call 800-888-9040, email info@world-heritage.org or visit whhosts.com.
WET'N'WILD LAS VEGAS OFFERS FREE ADMISSION FOR GOOD SCHOOLWORK
As a summer treat to show appreciation for local residents and pass holders, Wet'n'Wild Las Vegas, 7055 S. Fort Apache Road, is offering several free admission opportunities to enjoy the park.
Wet'n'Wild is rewarding Clark County students for their good work during school. Students who received straight A's on their year-end report card can present it at any ticket window to receive a free general admission ticket. This offer is good for K-12 students one time during the 2014 season.
For more information, visit wetnwildlasvegas.com.
NEVADA STATE COLLEGE SEEKS STORIES FOR STUDENT-RUN LITERARY JOURNAL
Nevada State College and its Humanities Department are looking for stories to be printed in its student-run literary journal, 300 Days of Sun. It is a print journal featuring poetry, fiction, creative non-fiction and visual art.
It is seeking submissions for its second issue through Sept. 30. The book is slated to be printed in December. Copies of the journal will be available for purchase online and through the Nevada State College Bookstore.
Faculty adviser Dr. Gregory Robinson, chairman of the Humanities Department, said it is looking for original, unpublished work in English with the theme of Las Vegas. All submissions should involve the theme in some way.
Authors should consider this theme liberally, writing about the desert, Southern Nevada and culture outside the Strip.
For more information or to submit, visit https://300daysofsun.submittable.com/submit.
ALL 4 KIDS TO BE OFFERED AT CAMBRIDGE COMMUNITY CENTER
The program All 4 Kids: Healthy, Happy, Active, Fit is being offered by the University of Nevada Cooperative Extension for children 3 to 5 through Aug. 18 at the Cambridge Community Center, 3930 Cambridge St.
The program encourages children and their parents to be healthy, active and fit by providing interactive experiences that promote healthful habits.
The program is free and is scheduled from noon to 1 p.m. Mondays and Wednesdays. Space is limited, and classes are taught in English and Spanish.
To sign up, call 702-948-5942 or email all_for_kids@unce.unr.edu.
HELEN MEYER COMMUNITY CENTER TO HOST SUMMER PROGRAMS
The Helen Meyer Community Center, 4525 New Forest Drive, plans to offer pre-kindergarten one-week summer programs for children 3 to 5 through Aug. 22.
Programs are scheduled from 8:30 to 11:30 a.m. Monday through Friday. The cost is $65 per week.
Lessons planned include Spanish language, fun with numbers and letters, science, animal adventures, art, music, story book and crafts, sports, exercise and nutrition.
For more information, visit tinyurl.com/3quf388 or call 702-455-7723.
THREE SQUARE OFFERS SUMMER FOOD SERVICE PROGRAM FOR KIDS
Three Square food bank and its program partners have launched this year's installment of the Summer Food Service Program, which runs through Aug. 22. It ensures that children across the Las Vegas Valley have access to nutritious meals during their summer break when free and reduced meals are not available.
The program is funded by the U.S. Department of Agriculture and administered by Nevada's Department of Agriculture. It is free for children 18 or younger and is offered Monday through Friday at more than 70 sites across the valley.
For a list of sites, visit whyhunger.org/findfood or threesquare.org or call 866-348-6479.
STUDENTS INVITED TO ENTER POETRY COMPETITION
Clark County high school students are invited to submit original poems for the Vegas Valley Book Festival Spark! 2014 Poetry Writing & Recitation Competition, scheduled for Sept. 2. Modeled after the national Poetry Out Loud competition and the Scholastic Writing competition, the contest will give students the opportunity to recite their poetry during the Vegas Valley Book Festival on Oct. 18. First-place prize is $300, second place is $200 and third is $100.
Students will be asked to submit three original poems to be judged by a panel of poets, authors, educators and other community members. The top six will advance to the recitation round. The top three highest-scoring students in that round will determine first, second and third place.
For competition details, guidelines and a registration form, visit vegasvalleybookfestival.org/spark-poetry-writing-recitation-competition.