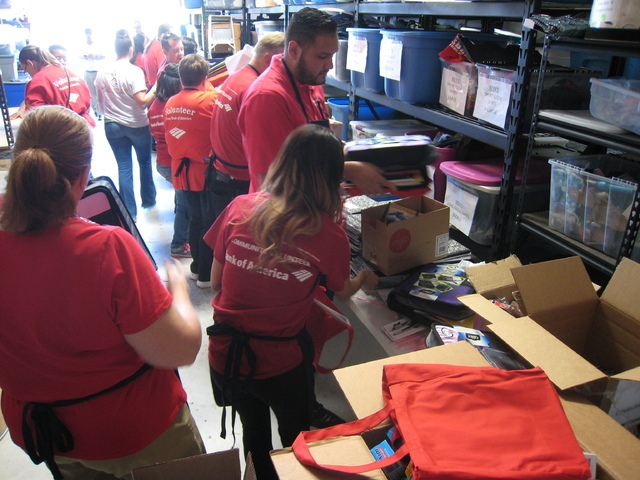 THE DELTA ACADEMY TO HOST OPEN HOUSE AUG. 28
The Delta Academy, 818 W. Brooks Ave., plans to host a ribbon-cutting ceremony and open house from 4 to 7 p.m. Aug. 28 for its remodeled 32,000-square-foot campus.
For more information, call 702-396-2252 or visit deltaacademylv.com.
ATRIA SEVILLE COLLECTING SCHOOL SUPPLIES FOR STREET TEENS
Atria Seville Senior Living Community, 2000 N. Rampart Blvd., is hosting a school supplies drive for Street Teens through Aug. 28. Items needed include backpacks, paper, notebooks, markers, pens, pencils, tissues, pocket folders, binders and cash for bus passes.
Items can be dropped off between 8:30 a.m. and 6 p.m. For more information, visit atriaseville.com or call 702-804-6800.
BANK OF AMERICA COLLECTING SCHOOL SUPPLIES THROUGH AUG. 28
Bank of America is collecting school supplies through Aug. 28 to benefit Miller Elementary School, 5100 W. Sahara Ave., and Monaco Middle School, 1870 N. Lamont St.
Collection receptacles will be stationed at each of the 50-plus Bank of America banking centers throughout Southern Nevada. Items requested include paper, backpacks, pens and pencils, physical education equipment and school uniform garments.
For locations, visit bankofamerica.com.
INSERT COIN(S) TO DONATE TO SCHOOL DISTRICT MUSIC DEPARTMENT
Insert Coin(s), 512 Fremont St., plans to donate a percentage of its bar sales through August to benefit the music department of the Clark County School District.
For more information, visit insertcoinslv.com.
HORSE SCIENCE FAIR AND OPEN HOUSE SET FOR SEPT. 3
A horse science fair and open house is planned from 6 to 8 p.m. Sept. 3 at Desert Pines Equine Medical and Surgical Center, 5000 N. Jones Blvd. The program is sponsored by 4-H, a University of Nevada Cooperative Extension youth development program.
Along with 4-H demonstrations, information about horse nutrition, first aid, colic prevention and a discussion on the most popular breeds of horses are planned.
For information, contact Lori Leas at 702-257-5524 or email leasl@unce.unr.edu.
BISHOP GORMAN TO CELEBRATE 60 YEARS
Bishop Gorman High School plans to celebrate its 60th anniversary with a Mass celebration scheduled for 10:30 a.m. Sept. 7 at the school, 5959 S. Hualapai Way.
To RSVP, email advancement@bishopgorman.org or call 702-476-4032. For more information, visit bishopgorman.org.
ASSISTANCE LEAGUE PLANS OPERATION SCHOOL BELL FOR SEPT. 8
The Assistance League of Las Vegas plans to launch its annual Operation School Bell program Sept. 8. It provides more than 8,300 at-risk students with a back-to-school shopping experience from September through April each year. Children in grades kindergarten through eighth also receive age-specific hygiene kits.
School counselors refer students to the program beginning in August. Each child shops with the assistance of a volunteer to select two complete outfits.
For more information, visit lasvegas.assistanceleague.org.
PUBLIC EDUCATION FOUNDATION TO HONOR LEADERS AT EDUCATION HERO AWARD DINNER
The Public Education Foundation plans to host its 18th Annual Education Hero Award Dinner Sept. 20 at the Mandarin Oriental at CityCenter, 3752 Las Vegas Blvd. South. The event honors leaders who have made outstanding contributions to education and the community. This year's dinner is set to honor Kris Engelstad McGarry and the Engelstad Family Foundation, Clint Holmes and Dorothy Eisenberg.
Tickets are $750, and corporate sponsorships are available. All proceeds support the foundation's programs and initatives.
Seating is limited. For reservations, call 702-799-1042 or visit thepef.org.
LEGAL AID CENTER SEEKS EDUCATIONAL SURROGATE PARENTS FOR FOSTER CHILDREN
The Legal Aid Center of Southern Nevada is in need of Educational Surrogate Parents to advocate for foster children with special education needs in the Clark County School District. No experience is necessary as the center provides training and support. The time commitment is approximately 20 hours a year.
Interested volunteers are invited to attend an orientation/training meeting scheduled from 6 to 8:30 p.m. Sept. 30 in Room 105 at UNLV's William S. Boyd School of Law, 4505 S. Maryland Parkway. For more information, email surrogates@lacsn.org or call 702-386-1070, ext. 1446.
UNLV FOUNDATION DINNER SET FOR OCT. 13 AT BELLAGIO
The UNLV Foundation Annual Dinner is planned for Oct. 13 at the Bellagio, 3600 Las Vegas Blvd. South, to honor Las Vegas Sands chairman Sheldon Adelson and the late philanthropist Kitty Rodman.
The event began in 1989 as a way to celebrate individuals and organizations that advance UNLV's mission through their private support.
The keynote speech at the event is scheduled to be given by former Secretary of State Hillary Rodham Clinton.
For more information, visit unlv.edu/foundation.
CITY MISSION COLLECTING JEANS FOR TEENS IN NEED
City Mission of Las Vegas is collecting jeans for teens in need through its new program, The Kid's Closet, at 2214 N. Pecos Road. The closet is open from 7 to 11 a.m. Fridays. It needs donations of new or gently used clothing, underwear, socks and shoes for teens, hygiene products, snacks, backpacks and school supplies and food gift cards (any fast food).
For more information, call 702-384-1930.
YMCA OFFERS PRESCHOOL
The YMCA of Southern Nevada's Y Preschool is accepting registrations. It offers two-, three- and five-day day schedules.
Y Preschool is state-licensed and follows state standards for kindergarten readiness. Financial assistance is available for those who qualify.
For more information, visit lasvegasymca.org.
JUNIOR LEAGUE TO AWARD GRANTS FOR CLASSROOM INITIATIVES
The Junior League of Las Vegas plans to award education grants to Clark County teachers for use during the upcoming 2014-15 school year. Educators from public and private primary and secondary schools are encouraged to apply. Aided by a $7,500 contribution from NV Energy, the education grants for up to $1,000 each are applicable to any creative curriculum, in any subject area, that strives to enhance student learning.
Applications can be downloaded from jllv.org and must be submitted by Sept. 12. Recipients will be announced by Oct. 1.
AYUSA INTERNATIONAL SEARCHING FOR FAMILIES FOR EXCHANGE STUDENTS
Nonprofit Ayusa International is searching for families to host international students for the 2014-15 school year.
Host families provide three meals a day and a bedroom (either private or shared). Each exchange student is supported by a professionally trained local representative from Ayusa who works closely with the family, student and local school throughout the program.
Exchange students are 15 to 18 years old and come from more than 60 countries. All students are fully insured, bring their own spending money and are proficient in English.
For more information, visit ayusa.org or call 888-552-9872.
STUDENT EXCHANGE PROGRAM SEEKS HOST FAMILIES
The World Heritage Student Exchange Program is seeking local host families for high school exchange students from more than 30 countries, including Germany, Spain, Thailand, Denmark and France.
Couples, single parents and families with and without children are encouraged to apply to host a student for a semester or the entire school year. Each exchange student is fully insured, has personal spending money and expects to contribute to household responsibilities.
For more information, call 800-888-9040, email info@world-heritage.org or visit whhosts.com.
NEVADA STATE COLLEGE SEEKS STORIES FOR STUDENT-RUN LITERARY JOURNAL
Nevada State College and its Humanities Department are looking for stories to be printed in its student-run literary journal, 300 Days of Sun. It is a print journal featuring poetry, fiction, creative non-fiction and visual art.
It is seeking submissions for its second issue through Sept. 30. The book is slated to be printed in December. Copies of the journal will be available for purchase online and through the Nevada State College Bookstore.
Faculty adviser Dr. Gregory Robinson, chairman of the Humanities Department, said the department is looking for original, unpublished work in English with the theme of Las Vegas. All submissions should involve the theme in some way.
Authors should consider this theme liberally, writing about the desert, Southern Nevada and culture outside the Strip.
For more information or to submit, visit https://300daysofsun.submittable.com/submit.
STUDENTS INVITED TO ENTER POETRY COMPETITION
Clark County high school students are invited to submit original poems for the Vegas Valley Book Festival Spark! 2014 Poetry Writing & Recitation Competition, scheduled for Sept. 2. Modeled after the national Poetry Out Loud competition and the Scholastic Writing competition, the contest will give students the opportunity to recite their poetry during the Vegas Valley Book Festival on Oct. 18. First-place prize is $300, second place is $200 and third is $100.
Students will be asked to submit three original poems to be judged by a panel of poets, authors, educators and other community members. The top six will advance to the recitation round. The top three highest-scoring students in that round will determine first, second and third place.
For competition details, guidelines and a registration form, visit vegasvalleybookfestival.org/spark-poetry-writing-recitation-competition.