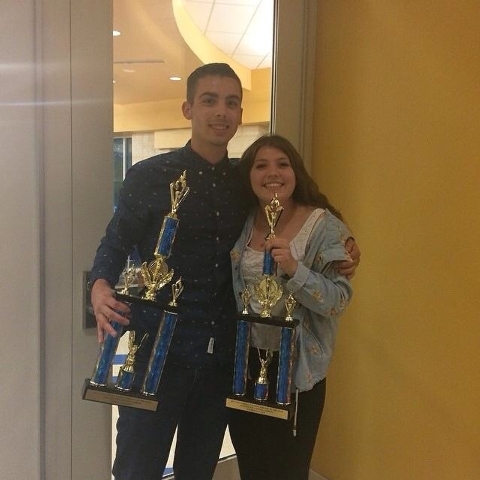 ADELSON EDUCATIONAL CAMPUS ANNOUNCES VARSITY STUDENT-ATHLETES OF THE YEAR
The Dr. Miriam and Sheldon G. Adelson Educational Campus, 9700 Hillpointe Road, recently handed out varsity Student-Athlete of the Year awards. More than 130 students participated in the Upper School sports programs.
Junior Mackenzie Lally was named Varsity Female Student-Athlete of the Year for excellence in volleyball, basketball and swimming. Senior Dominic Bembenek was named Varsity Male Student-Athlete of the Year for soccer and swimming.
In order to receive the award, the student must have a 3.0 GPA, participate in at least two sports during the school year and display top skills in their respective sports.
NEVADA CONNECTIONS ACADEMY PLANS PARENT INFORMATION SESSIONS
Nevada Connections Academy, a virtual public charter school for students in kindergarten through 12th grades, plans to host information sessions regarding enrollment for the 2014-15 school year. A parent-to-parent session is planned for 10 to 11 a.m. June 21 at Starbucks, 7541 W. Lake Mead Blvd. Information sessions are planned for 6:30 to 8 p.m. June 26 at Hampton Inn Las Vegas/North Speedway, 2852 E. Craig Road; 3 to 4:30 p.m. June 28 at Seven Hills Conference Center, 3215 St. Rose Parkway; and 6:30 to 8 p.m. July 10 at Centennial Hills Community Center YMCA, 6601 N. Buffalo Drive.
PUBLIC EDUCATION FOUNDATION HANDS OUT SCHOLARSHIPS
The Public Education Foundation awarded nearly $770,000 in college scholarships to more than 370 students in the 20th anniversary of scholarship program. The awards were handed out May 27 during an event at The Venetian.
"These scholarships wouldn't be possible if it weren't for the generosity of our donors and their dedication to help students continue their education," said Judi Steele, president and CEO of The Public Education Foundation.
Some students received multiple scholarships. The program began in 1994 with 19 students receiving $16,000 in scholarships. The scholarships are provided by a cross-section of community leaders, businesses, organizations, individuals and families and range from $500 to $5,000 annually.
The awards are based on a variety of criteria such as academic achievement, planned area of study and/or financial need. The scholarships are awarded to students who are planning to continue their education at an accredited college, university or other post-secondary institution.
SCHOOL SUPPLY DRIVE SET FOR HAYDEN ELEMENTARY SCHOOL
Matt Smith Physical Therapy plans to host a school supply drive through June 27 to benefit Hayden Elementary School, 150 Rome Road in North Las Vegas.
Hayden Elementary is a Title 1 campus, with at least 40 percent of its students coming from low-income families. The public is invited to drop off backpacks, paper, pencils, crayons, washable markers, scissors, erasers, glue sticks, tissue, colored pencils, pocket folders, rulers and binders.
Supplies can be dropped off at the following Matt Smith Physical Therapy locations: 7301 Peak Drive, Suite 101; 9499 W. Charleston Blvd., Suite 220; 3233 W. Charleston Blvd., Suite 107, 727 N. Nellis Blvd.; 4000 S. Eastern Ave., Suite 300; 1525 E. Windmill Lane, Suite 202; 8551 W. Lake Mead Blvd., Suite 170; 3155 W. Craig Road, Suite 140; 3175 St. Rose Parkway, Suite 331; 8945 W. Post Road, Suite 200; 500 S. Rancho Drive, Suite 200; and 1505 Wigwam Parkway, Suite 240.
For more information, call 702-256-9738.
THREE SQUARE OFFERS SUMMER FOOD SERVICE PROGRAM FOR KIDS
Three Square food bank and its program partners have launched this year's installment of the Summer Food Service Program, which runs through Aug. 22. It ensures that children across the Las Vegas Valley have access to nutritious meals during their summer break when free and reduced meals are not available.
The program is funded by the U.S. Department of Agriculture and administered by Nevada's Department of Agriculture. It is free for children 18 or younger and is offered Monday through Friday at more than 70 sites across the valley.
For a list of sites, visit whyhunger.org/findfood or threesquare.org or call 1-866-348-6479.
LIBRARY PROGRAM TO ENHANCE CHILDREN'S VOCABULARIES
Martha Speaks Mondays are slated at various libraries. Parents and children share books and activities that enhance a child's vocabulary.
For more information, call 702-507-3630.
PARALYMPIC SPORTS CLUB LAS VEGAS PLANS ACTIVITIES
The Paralympic Sports Club Las Vegas plans to host sports activities for children through grade 12 with physical disabilities.
Wheelchair basketball is planned from 5:30 to 8 p.m. Thursdays at the Minker Sports Complex, 275 N. Mojave Road. Swimming is planned from 10 a.m. to noon Saturdays at Municipal Pool, 431 E. Bonanza Road.
Project Dirt is planned for ages 18 or older July 19-20. Individuals with a developmental disability will participate in overnight tent camps that include arts and crafts, fishing and hiking. The cost is $25. Participants are asked to bring a sleeping bag and a toothbrush.
For more information, contact Jonathon Foster at 702-229-4796 or email jfoster@lasvegasnevada.gov.
ALL 4 KIDS TO BE OFFERED AT CAMBRIDGE COMMUNITY CENTER
The program All 4 Kids: Healthy, Happy, Active, Fit is being offered by the University of Nevada Cooperative Extension for children 3 to 5 through Aug. 18 at the Cambridge Community Center, 3930 Cambridge St.
The program encourages children and their parents to be healthy, active and fit by providing interactive experiences that promote healthful habits.
The program is free and is scheduled from noon to 1 p.m. Mondays and Wednesdays. Space is limited, and classes are taught in English and Spanish.
To sign up, call 702-948-5942 or email all_for_kids@unce.unr.edu.