Education Notebook, May 1-7, 2014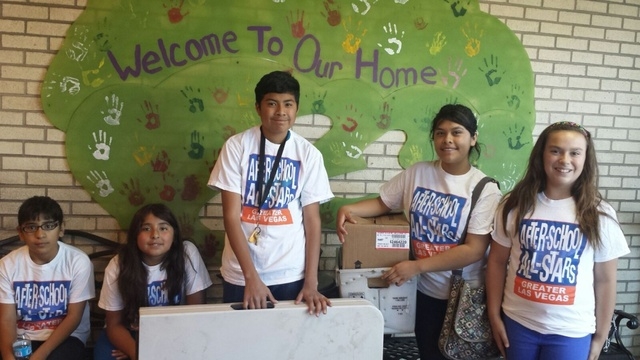 AFTER-SCHOOL ALL-STARS RECEIVES DONATIONS
After-School All-Stars Las Vegas received donations to support the nonprofit's free, comprehensive after-school academic and enrichment programs, which benefit 6,000 at-risk students in 13 Clark County School District schools.
Donations include a $50,000 national grant from Coca-Cola, a $20,000 donation from AmeriGroup, a $10,000 donation for the All-Star Soccer Tournament; $5,000 from Phil Ruffin; $5,000 from Susan Miller; $5,000 from Jay Brown; and $10,000 from Krispy Kreme Doughnuts.
For more information, visit afterschoolallstars.org.
NEVADA LEARNING ACADEMY LAUNCHES NEW WEBSITE FOR ONLINE LEARNING
The Clark County School District's Nevada Learning Academy has launched a new website, nvlearningacademy.net, to better capture the online learning experience and create a more streamlined navigation method.
Also, for the first time, middle school students will be able to enroll in the online academy. A full curriculum will be available in the fall.
STUDENT FILM FESTIVAL PLANNED FOR MAY 2 AT UNLV
The Las Vegas Student Film Festival plans to showcase films produced by local high school students on May 2. The festival is produced in conjunction with the UNLV Department of Film and the UNLV Short Film Archive. Local high school students are invited to submit their short films by April 12.
For more information, email lvstudentfilmfest@gmail.com or visit facebook.com/lvstudentfilmfest.
EVENT TO HONOR TEACHERS MAY 8 AT EISENBERG ELEMENTARY SCHOOL
The fourth annual Feature A Teacher Awards Ceremony is set for 5:30 to 7:30 p.m. May 8 at Eisenberg Elementary School, 7770 W. Delhi Ave. Nominations for Best Teacher of the Year are open to elementary and middle school students in Ward 4.
To RSVP by May 2, email rskouson@lasvegasnevada.gov or call 702-229-2524.
GIRL SCOUTS, COOPERATIVE EXTENSION TO HOST GARDENING PROGRAMS
The Girl Scouts of Southern Nevada is partnering with the University of Nevada Cooperative Extension's Junior Master Gardener program for three workshops to help Scouts earn gardener badges.
On May 10, the workshop at the Lifelong Learning Center, 8050 Paradise Road, will focus on types of seeds. On May 24, the workshop will cover replanting.
Workshops are planned from 1 to 3 p.m.
For more information about Girl Scouts of Southern Nevada, call 702-385-3677 or visit girlscoutsnv.org.
SHENKER ACADEMY OPENS REGISTRATION AT TEMPLE SINAI CAMPUS
The Shenker Academy at the Temple Sinai campus, 9001 Hillpointe Road, has opened registration for its 2014-15 school year programs on a first-come, first-served basis. The academy's early childhood program accommodates half-day and full-day preschool programs for children ages 1 to 5.
The school is set to be open from 7 a.m. to 6 p.m. Monday through Friday, with half-day school hours from 9 a.m. to 12:30 p.m. and kindergarten hours from 8:30 a.m. to 3:30 p.m. The academy also will offer drop-in days for all classes except kindergarten and extended care from 7 to 9 a.m. and 4 to 6 p.m.
For more information, visit shenkeracademy.com.
ONLINE PARENT SURVEY TO GATHER INFORMATION FOR SCHOOL DISTRICT
The 2014 Clark County School District Parent Survey, which focuses on safety, academics and customer service, is available online through May 21 at ccsd.net/parentsurvey. The survey is available in English and Spanish. It is anonymous, and feedback will be used to improve schools and parent engagement to boost student achievement.
As part of the district's efforts to maintain transparency with the community, survey results will be available to the public this summer.
CITY OF LAS VEGAS SEEKS PRESCHOOL SITE ADMINISTRATOR
The city of Las Vegas is recruiting for the position of hourly preschool site administrator. This person will be responsible for providing a safe learning environment for children enrolled in a city of Las Vegas licensed preschool program.
For more information, visit bit.ly/1mYgeXv.
CITY INVITES COMMUNITY TO ADOPT NEIGHBORHOOD SCHOOLS
Las Vegas Mayor Carolyn Goodman and leaders from the Mayor's Faith Initiative Education Workgroup invite the community to adopt neighborhood schools in need of resources through May through the Clark County School District's Focus School Project.
For more information, call the school district's Community Partnership office at 702-799-6560.
DETROIT CONNECTION PLANS SCHOLARSHIP AWARDS LUNCHEON FOR JUNE 1
Detroit Connection Inc. plans to host its 16th annual scholarship awards luncheon from 1 to to 4 p.m. June 1 at Cili at Bali Hai Country Club, 5160 Las Vegas Blvd. South.
The keynote speaker is scheduled to be basketball legend Spencer Haywood, and live entertainment is planned.
Tickets are $60. For more information, call 702-642-2628.