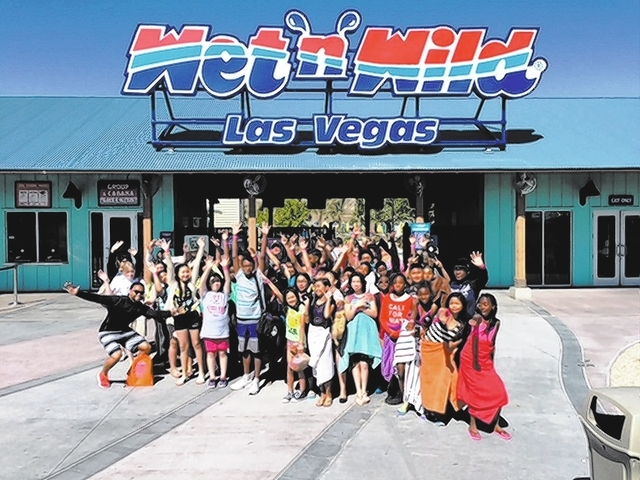 EIGHT SCHOOLS RECEIVE CENTURYLINK GRANTS
CenturyLink Inc. has announced the winners of its Clarke M. Williams Foundation's Teachers and Technology grant program, which awards grants to schools in CenturyLink's local service areas on behalf of teachers who have developed specific plans to implement technology in their classrooms in an innovative way.
More than 1,000 applications were received. In Las Vegas, a review committee of community members and a CenturyLink representative selected eight winning schools:
Eisenberg Elementary School, 7770 W. Delhi Ave., which was was awarded nearly $5,000 for iPad Minis, educational applications and attendance to the 2015 National Association for the Education of Young Children Conference.
East Career & Technical Academy, 6705 Vegas Valley Drive, which was awarded nearly $5,000 to purchase iPod Touches for students to enhance their learning of science and technology through apps.
Clark High School, 4291 Pennwood Ave., which was awarded more than $4,000 to purchase Dual Control Starter kits for its robotics program.
Smith Elementary School, 7101 Pinedale Ave., which was awarded more than $2,500 to purchase iPad Minis and iTunes gift cards for educational applications.
Bridger Middle School, 2505 N. Bruce St., which was awarded nearly $5,000 to purchase MacBooks and an Apple TV to create a collaborative learning experience.
Legacy High School, 150 W. Deer Springs Way, which was awarded $5,000 to purchase chemistry lab probe-ware for AP Chemistry students.
Silvestri Junior High School, 1055 Silverado Ranch Blvd., which was awarded more than $4,000 to purchase 3-D engineering software and printing technologies.
Spring Mountain Youth Camp, which was awarded $4,500 to purchase a MakerBot printer and 3-D modeling software for art students to build out sculptures, discover innovations in digital art and advance in the design and engineering field.
For more information about the program, visit tinyurl.com/otej8rl.
INFINITE MIND LOOKS TO DONATE READING PROGRAM TO LOCAL SCHOOLS
Infinite Mind Brain Enhancement Technology is looking to donate licenses to local schools for its eyeQ speed reading program. The program was developed in Japan by Dr. Akihiro Kawamura. The Web-based program is designed to increase the brain's learning and processing ability through a series of high-speed imaging exercises that utilize graphics and text.
The company plans to donate free licenses for the program to schools in the Las Vegas Valley.
For more information, visit eyeqadvantage.com.
NORTHWEST CAREER AND TECH SENDS STUDENTS TO SCIENCE BOWL
A team of students from Northwest Career and Technical Academy, 8200 W. Tropical Parkway, were set to represent Nevada May 1-4 in the high school national finals of the U.S. Department of Energy's Office of Science's National Science Bowl in Washington, D.C.
For more information, visit science.energy.gov/wdts/nsb.
LEADERSHIP TRAINING SET FOR PEOPLE WITH DEVELOPMENTAL DISABILITIES
Partners in Policymaking plans to offer leadership training for people with developmental disabilities, parents and family members. The training is designed to teach the power of advocacy and change the way people with disabilities are supported, viewed, taught, live and work. The program will provide information about issues and policies related to disability and develop participant competencies to become more effective in influencing policy development at all levels.
Parents of children with developmental disabilities and adults with developmental disabilities are encouraged to apply. Classes are planned from 8 a.m. to 4:30 p.m. once a month through August at the University of Nevada Cooperative Extension's Lifelong Learning Center, 8050 Paradise Road. Participants are expected to commit to all classes or complete makeup assignments. Remaining dates are: May 16, June 20, July 19 (in Reno) and Aug. 15. Participants will receive a stipend to help with child care and transportation costs.
For more information or to apply, visit nced.info/pip.