Education Notebook, May 22-28, 2014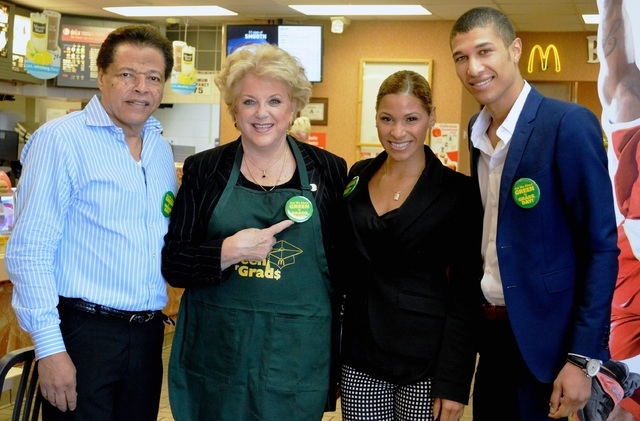 NORTHWEST CAREER AND TECHNICAL ACADEMY RANKED NO. 4 IN NEVADA
U.S. News and World Report magazine reviewed more than 31,200 public high schools from across the nation as part of its 2014 Best High Schools Rankings.
Schools were ranked within each state and nationally, based on students' performance on standardized tests as well as college-level Advanced Placement and International Baccalaureate exams. The magazine also looked at how well schools educated their black, Hispanic and low-income students.
Northwest Career and Technical Academy was ranked the fourth-best high school in Nevada and 1,239th nationally, up from 2,206th nationally last year. The silver medal-winning school had a 40 percent participation rate and a 27 percent passing rate on the Advanced Placement exams.
KATZ STUDENTS WIN CHALLENGE
Fifth-graders at Katz Elementary School, 1800 Rock Springs Drive, were winners in the recent UNLV Coaches Challenge. More than 6,000 Clark County School District elementary school children participated.
A UNLV head coach will visit each of the four winning classrooms to congratulate the students for their efforts and to encourage them to make healthy choices and to be physically active. The Challenge encourages grade-school children to choose healthy food and to participate in physical activity.
Participating classes in 104 schools collectively earned a total of 296,383 points, the most since the program began in 2007. Each point equals a serving of fruit or vegetables or 15 minutes of physical activity.
The three other winners were: second-graders at Scherkenbach Elementary School, 9371 Iron Mountain Road; third-graders at Tomiyasu Elementary School, 5445 S. Annie Oakley Drive; and fourth-graders at Clyde Cox Elementary School, 3855 Timberlake Drive.
For information, visit gethealthyclarkcounty.org or call 702-759-1270.
DETROIT CONNECTION PLANS SCHOLARSHIP AWARDS LUNCHEON FOR JUNE 1
Detroit Connection Inc. plans to host its 16th annual scholarship awards luncheon from 1 to 4 p.m. June 1 at Cili at Bali Hai Country Club, 5160 Las Vegas Blvd. South.
The keynote speaker is scheduled to be basketball legend Spencer Haywood, and live entertainment is planned.
Tickets are $60. For more information, call 702-642-2628.
JUNIOR ACHIEVEMENT TO HOST POKER TOURNAMENT JUNE 1
Junior Achievement of Southern Nevada plans to host its fourth annual poker tournament and VIP party from 11 a.m. to 7 p.m. June 1 in The Deuce Lounge at Aria at CityCenter, 3730 Las Vegas Blvd. South.
Entertainment, food and drinks and a grand prize seat at the 2014 World Series of Poker's Main Event is planned. The Texas Hold'em tournament also will feature cash and recreational prizes, a raffle giveaway and a silent auction.
All proceeds will benefit Junior Achievement, which hopes to raise $130,000 to offer educational assistance to students in the community.
Buy-in is $250 per person. Spectator and party passes are $100 before the event and $150 at the door. To register, visit jalasvegas.org.
NEVADA CONNECTIONS ACADEMY PLANS JUNE 5 INFORMATION SESSION
The Nevada Connections Academy plans to host an information session from 5:30 to 7 p.m. June 5 at the Centennial Hills Community Center YMCA, 6601 N. Buffalo Drive. The session is for families interested in meeting the virtual public school's teachers and parents of children currently enrolled.
For more information, call 800-382-6010 or visit connectionsacademy.com.
GIRL SCOUTS, COOPERATIVE EXTENSION TO HOST GARDENING PROGRAMS
The Girl Scouts of Southern Nevada is partnering with the University of Nevada Cooperative Extension's Junior Master Gardener program for three workshops to help Scouts earn gardener badges.
A workshop on replanting is planned from 1 to 3 p.m. May 24 at the Lifelong Learning Center, 8050 Paradise Road.
For more information about Girl Scouts of Southern Nevada, call 702-385-3677 or visit girlscoutsnv.org.
CITY INVITES COMMUNITY TO ADOPT NEIGHBORHOOD SCHOOLS
Las Vegas Mayor Carolyn Goodman and leaders from the Mayor's Faith Initiative Education Workgroup invite the community to adopt neighborhood schools in need of resources through May through the Clark County School District's Focus School Project.
For more information, call the school district's Community Partnership office at 702-799-6560.