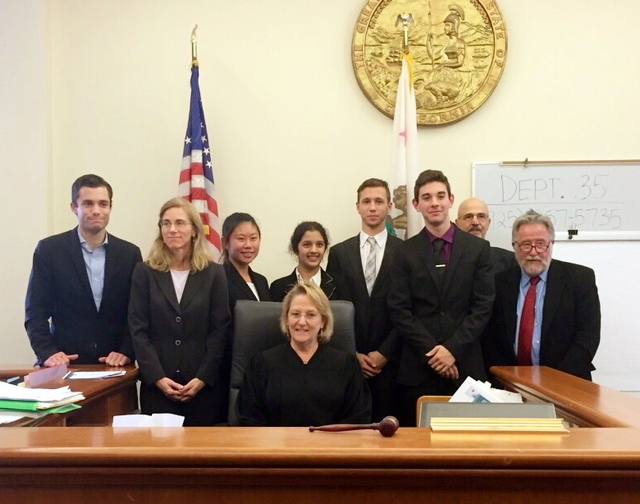 ADELSON STUDENTS TAKE PART IN MOOT COURT COMPETITION
Eighteen Upper School students from the Adelson Educational Campus, 9700 Hillpointe Road, participated in the 10th Annual California Moot Court Competition Oct. 25 in Martinez, Calif. Sophomore Jake Buchman and junior Noah Weller made history by representing the first non-California team to advance to the semifinal round. Of the 56 competing teams from California, Nevada and Texas, only the four teams with the highest scores advanced to the semifinal round. Buchman and Weller advanced to the finals, where they lost by two points to seniors from Cal High School, which is ranked as one of the top public high schools in the country.
Teams of two students presented oral arguments on the campaign finance case, McCutcheon v. FEC (a progeny of Citizens United v. FEC) before three-judge courts at AF Bray Courthouse. This case was decided by the Supreme Court in June 2014 and centered on the constitutionality of the Federal Election Campaign Act (1971) and the Bipartisan Campaign Reform Act (2002).
Prior to the competition, the Adelson students had the opportunity to practice before Las Vegas District Court Judges Ron Israel and Elissa Cadish.
TRONOX DONATION HELPS FUND HAUNTED MINES PARTY
Tronox, a Henderson manufacturing plant, contributed $500 to help fund the annual Haunted Mines party at McCaw Elementary School, 330 Tin St. The McCaw School of Mines Haunted Mines event is an annual celebration that rewards students for their hard work. During Halloween, the entire mine exhibit was decorated and transformed into a Haunted Mine Tour, which was then open to the public.
Tronox also donated many of the equipment displays still used at the mine.
SOUTHERN NEVADA BUSINESS PLAN COMPETITION TAKING ENTRIES
The 2015 Dominic Anthony Marrocco Southern Nevada Business Plan Competition is accepting entries from aspiring entrepreneurs through Jan. 5. The sixth annual contest aims to identify and grow the best new business idea in Southern Nevada. Winners will receive more than $80,000 in cash and prizes to help launch their business ventures.
To help contest entrants learn the fundamentals of creating a business plan, the Nevada Small Business Development Center plans to host free workshops at 6 p.m. Nov. 12 and 14 on the third floor of the Innevation Center, 6795 S. Edmond St. Topics are to include determining startup costs, creating a strong elevator pitch and crafting an effective executive summary.
To RSVP, email entrepreneurship@unlv.edu. The competition is a collaboration between the UNLV Center for Entrepreneurship in the Lee Business School and the Las Vegas Business Press. For more information, visit snbpc.com or call Jamie Hillen at 702-895-4965.
MEADOWS SCHOOL SCHOLARSHIP DEADLINE IS NOV. 14
The Meadows School, 8601 Scholar Lane, is accepting applications for its Founders' 50/50 scholarship until 4 p.m. Nov. 14. The four-year scholarship covers half of a student's tuition to the Upper School. Applicants must be eighth-graders not currently enrolled in The Meadows School.
For more information, contact Laura Ommen at 702-797-5928.
YES! PARTNERS WITH SCHOOL DISTRICT FOR THINK CLEAN CONTEST
Yes! Air Conditioning & Plumbing is partnering with the Clark County School District-Community Partnership Program to raise water conservation awareness in schools through the Think Clean contest.
The contest encourages students in kindergarten through 12th grade to submit their best creative ideas on how to conserve water in the form of essays, drawings and models, showcasing what the impact would be on the community. Two winners will be selected in each category and rewarded with cash prizes. The first-place winners from the high school level will receive $250, the second-place winners from middle school $150, and the elementary school winners will receive third place and $100. In addition, Yes! will donate $100 to each of the winners' schools.
Submissions will be accepted through Nov. 14. All entries must include a thorough explanation of the idea, the potential impact of the idea on the economy and community and how the idea can be implemented throughout the community. Projects must be submitted via email to toyesthinkclean@boltpr.com or mailed to Yes! Think Clean, 9731 Irvine Center Drive, Irvine, CA 92618.
For more information, email yesthinkclean@boltpr.com or visit ccsd.net.
ADELSON EDUCATIONAL CAMPUS TO HOST GALA NOV. 22
The Adelson Educational Campus, 9700 Hillpointe Road, plans to to honor activist, writer and politician Ayaan Hirsi Ali at the 11th annual In Pursuit of Excellence Gala, scheduled for 6 p.m. Nov. 22 at The Venetian. Hirsi Ali will be honored with the campus' highest recognition, the In Pursuit of Excellence Award, for her support of human rights and access to education for all people. She is the founder of the AHA Foundation, which works to protect and defend the rights of women and girls in the United States from harmful traditional religious and cultural practices such as honor violence, forced marriage and female genital mutilation.
Tickets are $250 or $125 for university students, educators, military personnel, retirees, nonprofit employees and Adelson Educational Campus parents. Corporate sponsorships and tables are available. Proceeds will benefit the school's scholarship program to provide funds for students in need.
To purchase tickets or make a donation, visit adelsoncampus.org or call Davida Sims, director of development, at 702-515-8203.
WEST CHARLESTON LIBRARY TO HOST COLLEGE KICK START PROGRAM
The West Charleston Library, 6301 W. Charleston Blvd., plans to host a free Nevada College Kick Start Program from 11 a.m. to noon Dec. 5. Learn how to establish a college savings account with an initial deposit of $50 for all public school kindergarten students in Nevada.
For more information, call 702-507-3964 or visit lvccld.org.
LOCATIONS ANNOUNCED FOR CHILD AND ADULT CARE FOOD PROGRAM
The Culinary Academy of Las Vegas has announced locations for the 2014 Child and Adult Care Food Program, a federally funded program administered by Nevada's Department of Agriculture to youths living in low-income areas. The academy, 710 W. Lake Mead Blvd., is providing the free and nutritious after-school meals to children 18 or younger Monday through Friday.
The academy prepares about 500 meals a day for 14 sites. The following six sites are open to any child, with no registration required: Doolittle Community Center, 1950 N. J St.; Fresh Wind Ministries, 3660 N. Rancho Drive; Pearson Community Center, 1625 W. Carey Ave.; Richard Steele Boxing Club, 2475 W. Cheyenne Ave., Suite 110; The Salvation Army Citadel Corps, 2900 Palomino Lane; and Stupak Community Center, 251 W. Boston Ave.
For more information, email zshah@theculinaryacademy.org or call 702-924-2102.
AFTER-SCHOOL TUTORING AVAILABLE AT CIMARRON ROSE COMMUNITY CENTER
The Cimarron Rose Community Center, 5591 N. Cimarron Road, offers after-school tutoring in mathematics, science and reading to students in grades one through six. Weekly 30-minute sessions may be scheduled from 4 to 6 p.m. Monday, Wednesday or Thursday and from 5 to 7 p.m. Tuesday.
The cost is $45 per month during the school year (prorated for holidays). A licensed Clark County School District substitute teacher is the tutor. To register, visit the center or call 702-229-1607.
DISCOVERY CHILDREN'S MUSEUM AND SPREAD THE WORD PLAN BOOK DRIVE
The Discovery Children's Museum, 360 Promenade Place, has partnered with nonprofit Spread the Word Nevada to host a book drive through Jan. 4.
The museum will collect new or gently used books targeting a pre-kindergarten to eighth-grade reading level, to be distributed to children in Southern Nevada. Anyone donating a book will receive $2 off museum admission.
The book drive is being held in conjunction with the literacy-based traveling exhibit "Storyland: A Trip Through Childhood Favorites," which features seven beloved children's books. It will be at the museum through Jan. 4.
For more information, visit discoverykidslv.org. For more information on Spread the Word Nevada, visit spreadthewordnevada.org.
STUDENTS INVITED TO ENTER LEIF ERIKSON DRAWING CONTEST
Children in grades one through five are invited to enter the Leif Erikson drawing competition sponsored by the Vegas Viking Lodge of the Sons of Norway. Drawings should depict the Viking Leif Erikson and his men traveling to America. The four key traits of Erikson and his men should be incorporated: imagination, vision, collaboration and fearlessness. Leif Erikson Day was Oct. 9.
Drawings must be submitted on 11-inch by 8½-inch or 11-inch by 17-inch paper using any medium. The winning students in each grade will receive Target gift cards valued at $100, $50 and $25 for first, second and third place, respectively.
Entries must be postmarked by Dec. 15 and mailed to the attention of Christian Schoyen, Leif Erikson drawing competition, 1930 Village Center Circle, No. 3-211, Las Vegas, NV 89134. All entries must include the child's name, address, grade, home phone number and school.